ICC Player Rankings
ICC Player Rankings – this is a system for evaluating the players of national cricket teams. The score is made for three types of cricket – Test, ODI and T20I. In each type of cricket, the ratings are divided into three roles: Batters, Bowlers and All-rounders. Players are assigned points – from 0 to 1000. The more points – the higher the place in the rating. The ICC Player Rankings is updated every Wednesday. This page contains sports biographies of cricket players. You can find the ICC Player Rankings on the official website of the ICC.
ICC Player Rankings - men's cricket player rankings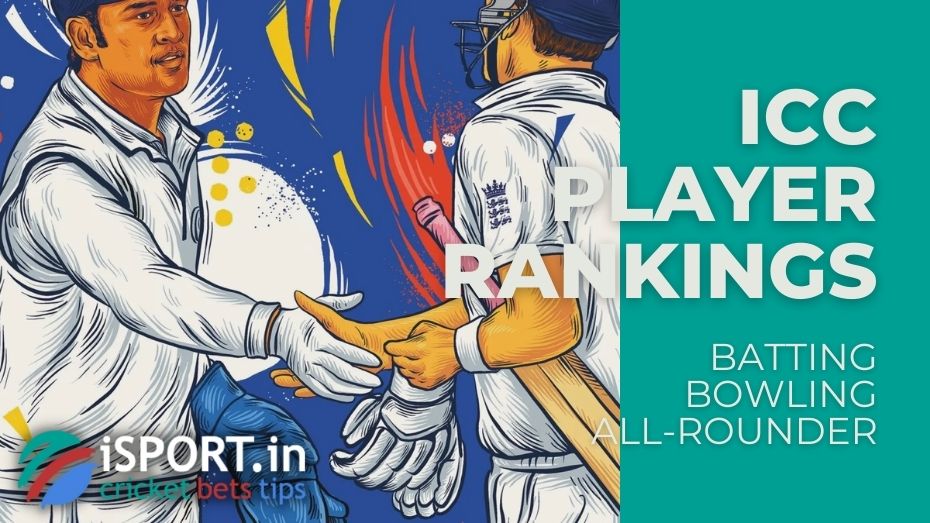 The ICC Player Rankings is a widely used system for calculating the success of each individual athlete taking part in international cricket competitions. The calculation procedure is performed according to the current data that is freely available and has a mathematical justification.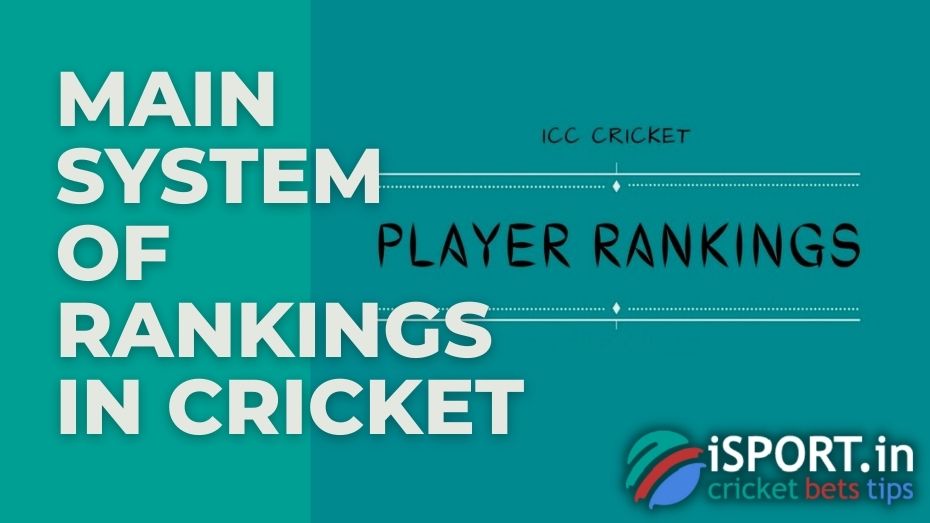 The International Cricket Council (ICC) itself is directly engaged in compiling ratings (men's and women's) with the support of MRF Tyres, with which a 4-year sponsorship contract has been signed.
The ancestor of the rating system is considered to be Ted Dexter, who proposed in 1987 to evaluate players not by their average career indicators, but by the quality of the game, using statistical algorithms. In his opinion, this technique is a kind of measure of the success of a cricketer and gives the audience an idea of him at the moment.
Initially, ratings were compiled only for players participating in the Test, but since 1998, ODI ratings have been introduced, and since 2011, T20I. Subsequently, the ICC Player Rankings were supplemented with historical and women's. Visually, the indicators are presented in the form of the top 10 most productive Test, ODI and T20I players in the positions of batsman, bowler and all-rounder. You can get acquainted with the rating at the end of the article.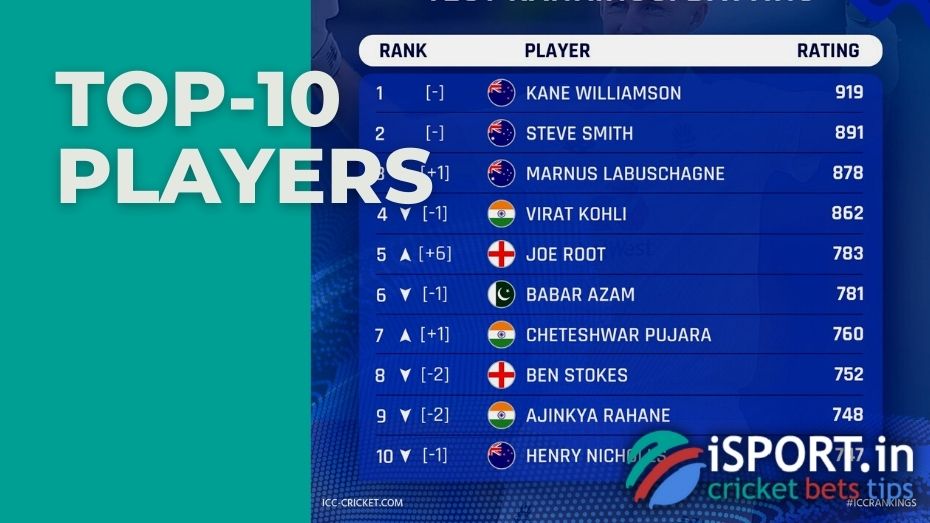 ICC Player Rankings: history
The founder of the rating system in cricket is considered to be an ex-player Ted Dexter, who retired from professional sports in 1968. As he said, he achieved what he wanted on the field, but his interests were not limited to this: later, the Englishman would become a successful journalist, showman, PR man and TV presenter, although it is the rating system that will make him famous.
Some time after the end of his sports career, Dexter actively began to work in the near-cricket direction. The first serious project that the former athlete took up was unusual scouting, the idea of which appeared in 1980. The search for suitable candidates took place among the visitors of bars and eateries together with his friend Bob Willis. The idea, which seemed promising at first glance, quickly failed. But the acquaintance with Gordon Vince and Rob Eastaway turned out to be fateful for the former player.
The Cambridge graduates worked at Logica and ICI but did not know each other. Specialists hatched the idea of developing complex simulations in cricket independently of each other, devoting all their free time to it. At one point, the researchers met to share their own best practices in this area. The result of their research was published in the form of an article in the magazine "The Cricketer", after which they were contacted by the ex-captain of the England national team Ted Dexter. The further fate of the rating system lay in the hands of three amateurs who were ready to bring the idea of ranking players to an end.
Together, the company of enthusiasts managed to develop a system that did not become another way to evaluate a player's career but served as a guide for evaluating the current form of each individual cricketer.
It took months to develop the program. Every time changes were made to the algorithm; everything had to be evaluated anew. A tangible help was a sponsor's appearance, which was made by the boss Rob Eastaway from Deloitte. Thus, it is not surprising that the first rating of cricketers appeared on June 17, 1987, under the name Deloittes Ratings. The very next day, the system was tested in Test on a team from Pakistan. The result was positive, but constant changes and additions were required. Already at the beginning of 1988, new parameters were introduced, after which the algorithm was really talked about all over the world.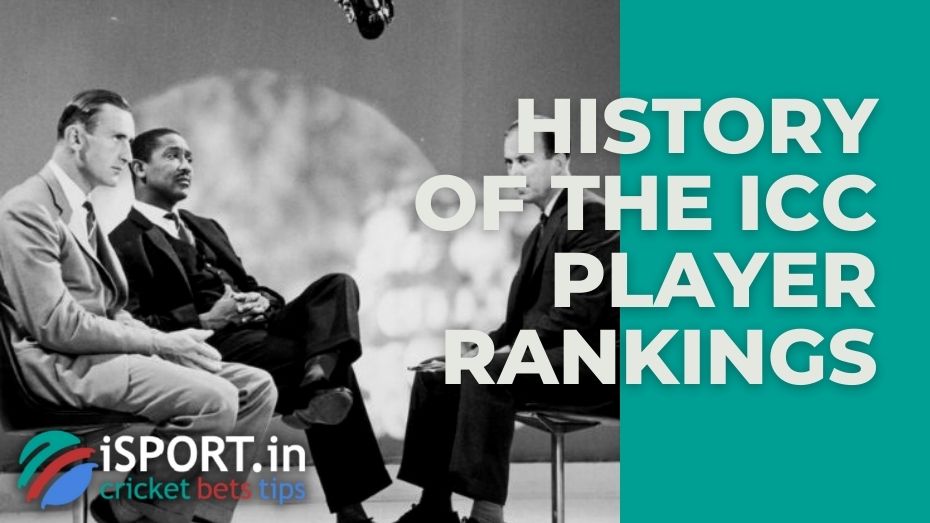 With the growing number of ODIs around the world, Eastaway and Vince thought about creating a ranking system for this form of the game. Obviously, the number of factors taken into account has increased, but this has not affected their determination. In the summer of 1998, the ODI rating appeared.
An important change occurred in January 2005, when the ratings were officially recognized and acquired by the ICC. The then executive director of Malcolm Speed announced that the ICC has been striving to develop an official rating system for a long time. The Deloittes Ratings algorithm provided the most accurate reflection of the merits of international cricketers, so it was decided to take it as a basis.
The popularization of women's ODI matches led to the appearance of the women's ODI rating, which was presented in October 2008. However, the key counting algorithm is identical to the male one with several minor adaptations. Since October 2011, the MRF Tyres player rating for the form of Twenty20 cricket has been launched.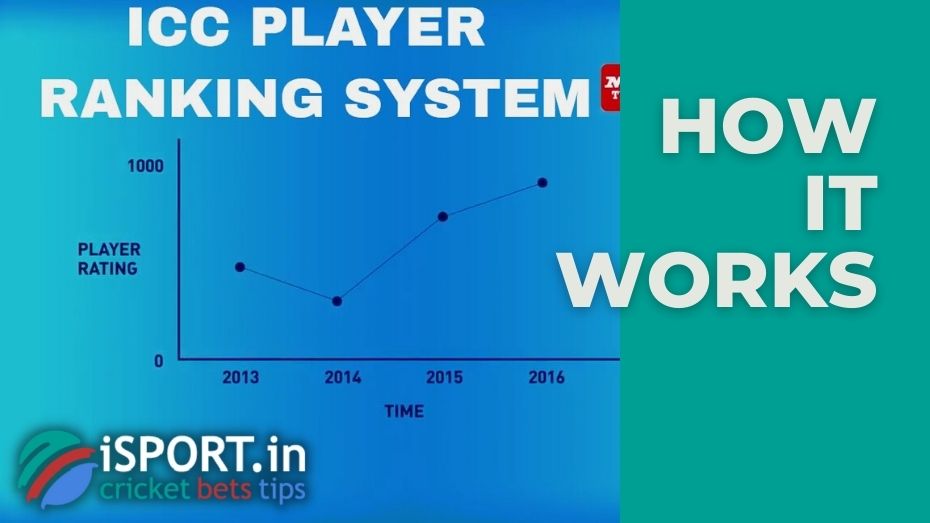 ICC Player Rankings: calculation
The rating of cricketers is a weighted average of the most important game indicators based on the most up-to-date statistical data. Initially, each result is assigned a value equal to 1000, after which it is averaged in accordance with the new results. Thus, the maximum possible rating cannot exceed 1000, and players who have reached the 900 mark become the owners of exceptional achievements.
Individual indicators are maintained for batting and bowling. Additionally, a universal rating is published, formed as a product of the player's rating of batting and bowling and divided by 1000. The batting rating is based on the performance of runs and bowling – as a comparison of private performance with the result of the meeting.
The strength of the rating is considered to take into account many factors, among which even the "player's debut" can be considered as a vivid example of this. In this case, the system will begin to monitor the athlete only after 20 complete Tests closely.
ICC Player Rankings: Top 10 Test, ODO, T20I players
We offer you to get acquainted with the current Player Rankings in cricket in all forms (Test, ODO, T20I).
Player Test Rankings
Test rankings
ICC Top 10 Test Batsmen
ICC Top 10 Test bowlers
ICC Top 10 All-Rounder Rankings
Rank
Name
Rating
Rank
Name
Rating
Rank
Name
Rating
1
Kane Williamson
919
1
Pat Cummins
908
1
Jason Holder
423
2
Steve Smith
891
2
Ravichandran Ashwin
850
2
Ben Stokes
393
3
Marnus Labuschagne
878
3
Neil Wagner
825
3
Ravindra Jadeja
386
4
Joe Root
831
4
James Anderson
822
4
Ravichandran Ashwin
353
5
Virat Kohli
814
5
Josh Hazlewood
816
5
Shakib Al Hasan
338
6
Rishabh Pant
747
6
Tim Southee
811
6
Kyle Jamieson
293
Henry Nicholls
747
7
Stuart Broad
792
7
Mitchell Starc
275
Rohit Sharma
747
8
Jason Holder
755
8
Colin de Grandhomme
258
9
David Warner
724
9
Kagiso Rabada
753
9
Pat Cummins
249
10
Babar Azam
714
10
Mitchell Starc
744
10
Chris Woakes
238
Reference: ICC Rankings, 11 May 2021
Player ODI Rankings
ODI rankings
ICC Top 10 Test Batsmen
ICC Top 10 Test bowlers
ICC Top 10 All-Rounder Rankings
Rank
Name
Rating
Rank
Name
Rating
Rank
Name
Rating
1
Babar Azam
865
1
Trent Boult
737
1
Shakib Al Hasan
387
2
Virat Kohli
857
2
Mehedi Hasan
713
2
Ben Stokes
295
3
Rohit Sharma
825
3
Mujeeb Ur Rahman
708
3
Mohammad Nabi
294
4
Ross Taylor
801
4
Matt Henry
691
4
Chris Woakes
273
5
Aaron Finch
791
5
Jasprit Bumrah
690
5
Rashid Khan
270
6
Jonny Bairstow
785
6
Kagiso Rabada
666
6
Mitchell Santner
268
7
Fakhar Zaman
778
7
Chris Woakes
665
7
Imad Wasim
263
Faf du Plessis
778
8
Josh Hazlewood
660
8
Colin de Grandhomme
257
9
David Warner
773
9
Pat Cummins
646
9
Ravindra Jadeja
245
Shai Hope
773
10
Mustafizur Rahman
645
10
Sean Williams
238
Reference: ICC Rankings, 28 May 2021
Player T20I Rankings
T20I rankings
ICC Top 10 Test Batsmen
ICC Top 10 Test bowlers
ICC Top 10 All-Rounder Rankings
Rank
Name
Rating
Rank
Name
Rating
Rank
Name
Rating
1
David Malan
892
1
Tabraiz Shamsi
732
1
Mohammad Nabi
285
2
Aaron Finch
830
2
Rashid Khan
719
2
Shakib Al Hasan
238
3
Babar Azam
828
3
Ashton Agar
702
3
Glenn Maxwell
226
4
Devon Conway
774
4
Adil Rashid
694
4
Richard Berrington
194
5
Virat Kohli
762
5
Mujeeb Ur Rahman
687
5
Gareth Delany
170
6
Rassie van der Dussen
756
6
Tim Southee
669
6
Khawar Ali
159
7
Lokesh Rahul
743
7
Adam Zampa
663
7
Sean Williams
158
8
Glenn Maxwell
694
8
Ish Sodhi
640
8
Collins Obuya
153
9
Martin Guptill
688
9
Lakshan Sandakan
639
9
Rohan Mustafa
152
10
Mohammad Rizwan
640
10
Wanindu De Silva
623
10
Zeeshan Maqsood
135
Reference: ICC Rankings, 23 May 2021
The full list of the most productive cricketers of the planet is available on the official resource of the International Cricket Council in the corresponding section.
Find more information about teams and players on our website.
ICC Player Rankings: FAQ
What is the ICC Player Rankings and who makes them?
Why is there no one ICC Player Rankings, as in tennis, for example?
How many participants are there in the ICC Player Rankings?