Norman Vanua
Date of Birth:
02.12.1993
Batting Style:
Right-handed
Bowling Style:
Right-arm medium
Test Rankings
ODI Rankings
T20I Rankings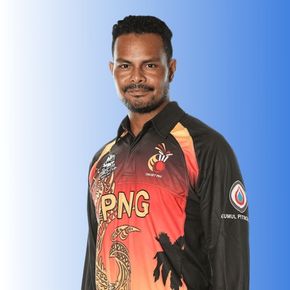 Norman Vanua – Professional Papua New Guinean cricketer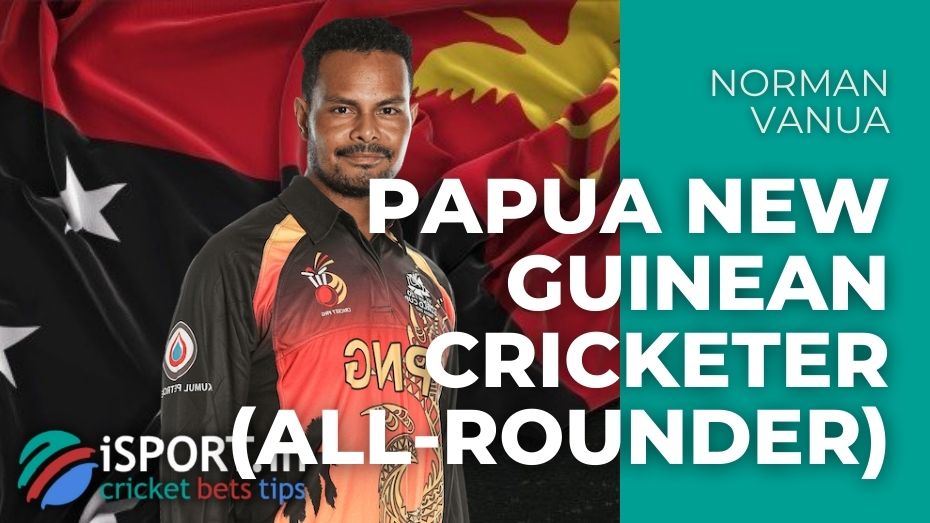 Norman Vanua was born on December 2, 1993, in the village of Hanuabada, Papua New Guinea. One of the most versatile and valuable players of the national team.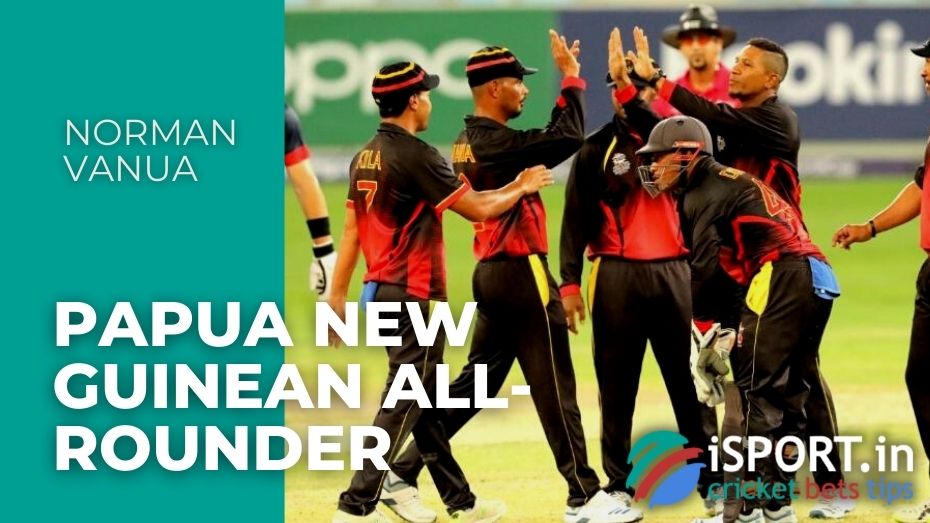 Norman Vanua: career
By Norman's own admission, he made a professional choice quite early, although the conditions for playing cricket at that time left much to be desired:
The village where I grew up and lived for about 17 years is very cheerful. People there are literally obsessed with cricket; cars stop to let children play. My family has always played at local venues, so I was involved in sports one way or another, although my mother did not want me to do contact sports, so when choosing between rugby and cricket, I chose cricket… Of course, even basic amenities were a problem back then. When the guys and I were just starting to go to competitions, we, juniors, had only four or five bits for the whole team.
Norman Vanua: game statistics
He acts as an all-rounder, prefers attacking actions to defense. In particular, Vanua has several local records on his account:
The highest number of wickets in ODI for the national team – 34;
Second place among the team's bowlers by innings (4/24, match against Hong Kong, March 2018).
| | | | | |
| --- | --- | --- | --- | --- |
| Competition category | ODI | T20I | FC | LA |
| Matches | 23 | 25 | 7 | 39 |
| Balls | 1060 | 490 | 1084 | 1753 |
| Average performance | 26.47 | 14.42 | 34.40 | 26.35 |
| Best Score | 4/24 | 5/17 | 5/59 | 4/24 |
Norman Vanua: performances at the international level
Norman Vanua made his ODI debut on November 9, 2014 (against Hong Kong in Australia). In July 2015, he took to the field for the first time in the colors of the national team of Papua New Guinea as part of the T20I – ICC World Twenty20 qualification selection. Norman was included in the national team's bid to play in the ICC World Twenty20 East Asia-Pacific (Group A) qualifying round in August.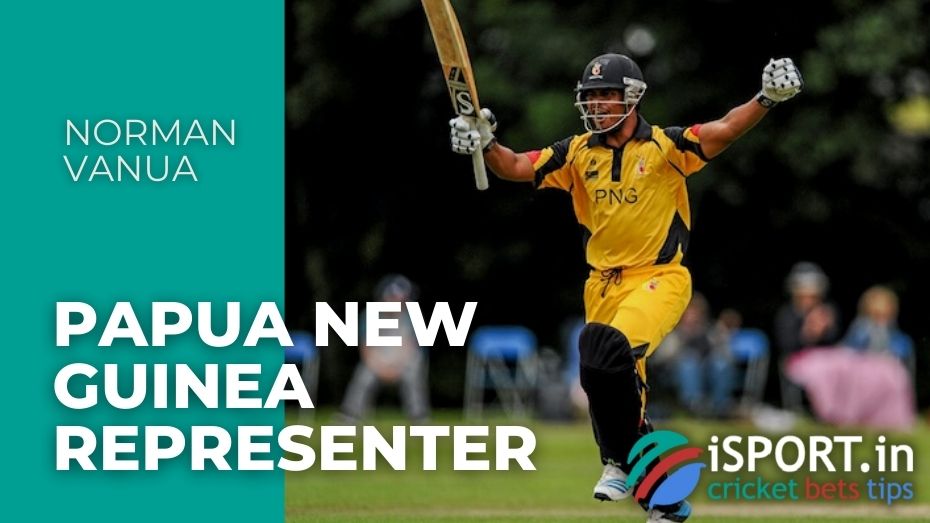 Despite the fact that Papua New Guinea failed to qualify for the next stage of the competition, losing to the Afghans, Norman did not lose optimism:
We have really made good progress. Cricket Australia has helped us a lot – now we can train at the Allan Border Academy, play at Adelaide Oval and the MCG. We are invited to local competitions, and this is a great impulse to develop further. It helps to understand who we would like to become.
In the spring of 2019, he was included in the main team for the Regional Finals games of the same tournament. Thanks to his stable performances, Norman was included in the list of participants of the ICC World Cricket League (second division) from Papua New Guinea.
The second half of the year was exceptionally successful for Vanua. He not only played at the Pacific Games, but also got into the application for the ICC T20 World Cup qualification, which was hosted by the United Arab Emirates. In the first match against Bermuda, Norman scored a hat-trick, and after the victory over the national team of Namibia, he was recognized as the best player of the match.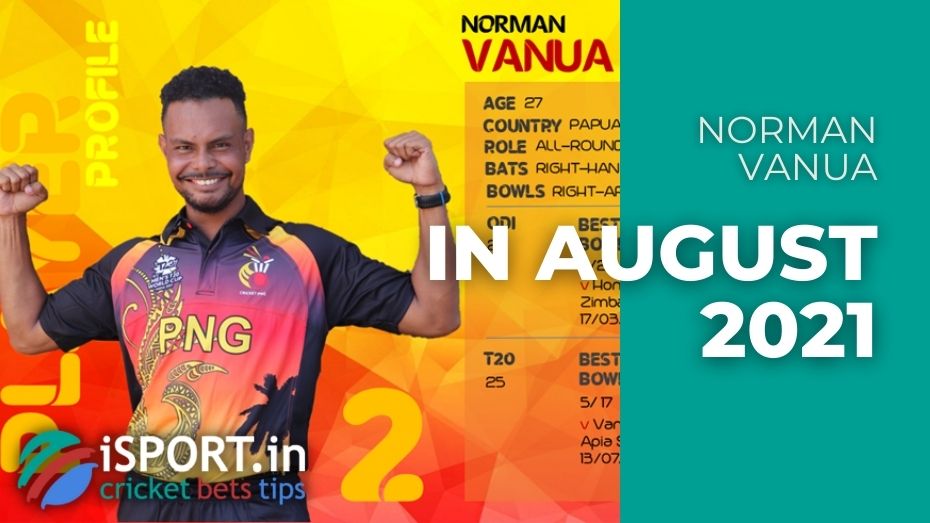 Despite the fact that Papua New Guinea has not yet managed to qualify for the Cricket World Cup, the national team retains a leading position in the Eastern Pacific region.
We are not too self–confident; we just believe in what we do in training, says Vanua. – In the end, we are still the same boys who grew up playing cricket. This has not changed, so we are always full of energy and charged to win. But I hope that one day we will play at the World Cup. We have worked hard, so I expect that we will be able to break into one or two Cups in the next ten years. If this happens, the team will not only have new sponsors – they will learn about us in the international arena.
Norman Vanua: interesting facts
The player's sports nickname is SuperVan;
Norman Vanua's motto is " I am a Barramundi! "(barramundi is a white sea bass that is cultivated in Papua New Guinea. Also the unofficial name of the national team);
Norman is a dedicated fan of the Manly Warringah Sea Eagles rugby team;
He is an active user of social networks, has pages on Twitter and Instagram.
Norman Vanua: questions about the player
What teams does Norman Vanua play for?

Norman Vanua is a Papua New Guinean cricketer since 2014.
What is the role of Norman Vanua?

Norman Vanua is an All-rounded player.
What types of cricket does Norman Vanua play in?

Norman Vanua represents the teams that play in ODI and T20 cricket.