ICC Team Rankings
ICC Team Rankings is a system for evaluating men's national teams for ranking according to the results of matches and competitions. The rating is compiled for different formats of cricket: Test (10 positions), One-Day International (20 teams) and Twenty20 International (all members of the ICC). ICC Team Rankings shows the position of the team, the number of matches played, the points scored according to a complex system and the final rating.
ICC Team Rankings - positions of men's national teams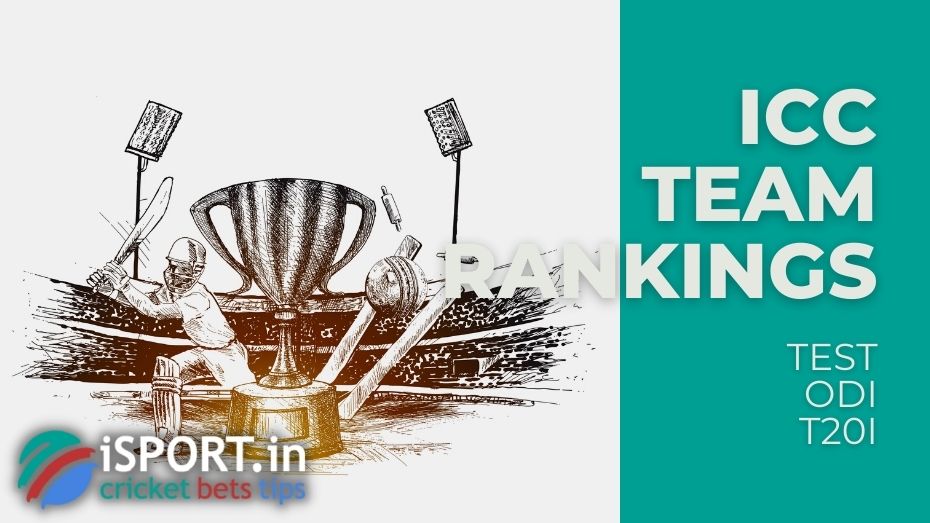 ICC Team Rankings: FAQ
What is the ICC Team Rankings and who makes it?

ICC Team Rankings is the ranking of the national teams playing cricket. It is compiled to assess the success of the team by the International Cricket Council.
Why do I see three different ICC Team Rankings?

ICC Team Rankings are compiled for each cricket format: Test, ODI and T20I.
How many teams participate in the ICC Team Rankings?

The number of teams participating in the ICC Team Rankings depends on the status of a full or associate member country in the ICC. The status depends on what format of cricket the national team plays. In Test Team Rankings the top-10 positions of full ICC members are represented, in ODI Team Rankings - 20 teams (Full and Associate Members), and in T20I Team Rankings all teams participating in such tournaments and competitions are ranked.