Unorthodox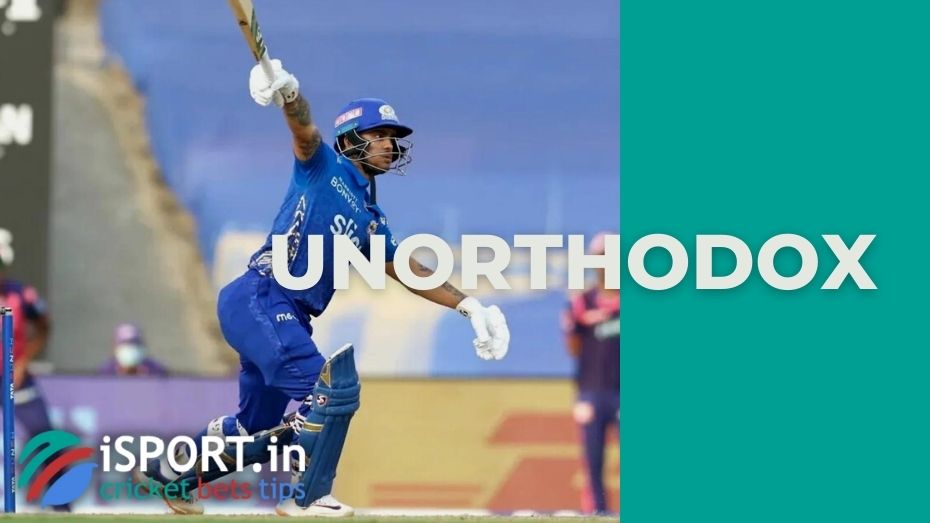 An unorthodox is a fairly common term in cricket, which means a set of non-classical actions and techniques. It applies to both attacking players and batsmen.
In the most general sense, the difference between the orthodox and the unorthodox can be explained as follows. The first implies a standard set of skills required for a player in a particular position (for example, a spin bowler). It is taught in a group, so the element of playful creativity is practically absent here. In the second case, we are talking about the original style, which is rooted in the cricket tradition but is the invention of a single player. Some unorthodox elements subsequently became so popular that they were adopted by other cricketers, for example:
Doosra (author – Saklen Mushtak);
Carrom (by Ajanta Mendis);
Googly by Bernard Bosanquet.
Nevertheless, in most cases, unorthodox styles are strongly associated with specific players (for example, the invention of Reverse swing is almost always associated with Wasim Akrami and Wakar Younis).
The most striking example is the so-called Left-arm unorthodox spin (also Left-arm wrist-spin) – a special type of serve in cricket with a simultaneous wrist rotation. The essence of this element is that after touching the pitch, the ball, spun in a special way, goes to the right (if the projectile is spun in the opposite direction, this hit is defined as Googly).
Even though the history of cricket is fairly well studied, the origin of the Left-arm unorthodox spin is still debated. The generally accepted version is that this type of service owes its appearance to the South African bowler Charlie Llewellyn. During his test tour in North America, Charlie watched a lot of Bernard Bosanquet, the inventor of Googly, and could easily take this blow from him, changing the direction of the serve. In addition, it is known that Left-arm unorthodox spin was actively used in the 30s of the last century by the Australian Chuck Fleetwood-Smith, who was an ambidexter.
Later, Left-arm unorthodox spins began to be mastered by bowlers who started with a traditional type of serving. So, for example, Denis Compton was able to improve this element and use it to take most of the total number of wickets in first-class matches (622 in total). Some bowlers prefer a variant favored by Slow left-arm adept Garfield Sobers, who resorted to a non-standard serve only when necessary. Brad Hogg, Kuldeep Yadav and Paul Adams have also used the Left-arm unorthodox spin on several occasions, which has helped them significantly improve their in-game stats.
It is worth clarifying that some unorthodox elements often have bizarre and even strange names. So, for example, Chinaman (literally "Chinese") has long been synonymous with Googly: this blow was effectively used in the England match against the West Indies in 1933 by the cricketer of Chinese origin Ellis Achong, who outplayed Walter Robins on all counts.
Leaving the field, the latter told the judge: "Just look what this damn Chinese man is doing!" The expression became winged and was freely used for a long time until Australian journalist Andrew Wu drew attention to the "racially offensive subtext", after which commentators and players were officially encouraged to use the more neutral version of Left-arm wrist-spin.
At first glance, it may seem that unorthodox elements are actively used primarily by attackers, but this is not the case in reality. Many batsmen design original stances to confuse bowlers, such as:
Shivnarin Chanderpole turned his shoulder towards Cover, holding the bat along his left leg;
Ijaz Ahmed held the bat with a special grip, like an ax, swinging it from side to side before taking the ball;
Lance Klazner used a baseball-like grip, holding the bat like a club and leaning back and slightly to the side, which allowed him to give the ball crazy speed;
George Bailey preferred to stand half-turned towards the server, opening his back, while his left shoulder was pointing towards Cover;
Steve Smith, on the other hand, more often chose an open stance facing the bowler and swayed slightly from side to side, creating the appearance of relaxation, than confusing the attackers.
Interesting: renowned unorthodox masters – Muttiah Muralitharan, Paul Adams, Said Ajmal, Lasith Malinga, Sohail Tanveer and Jasprit Bumrah.