Spectacles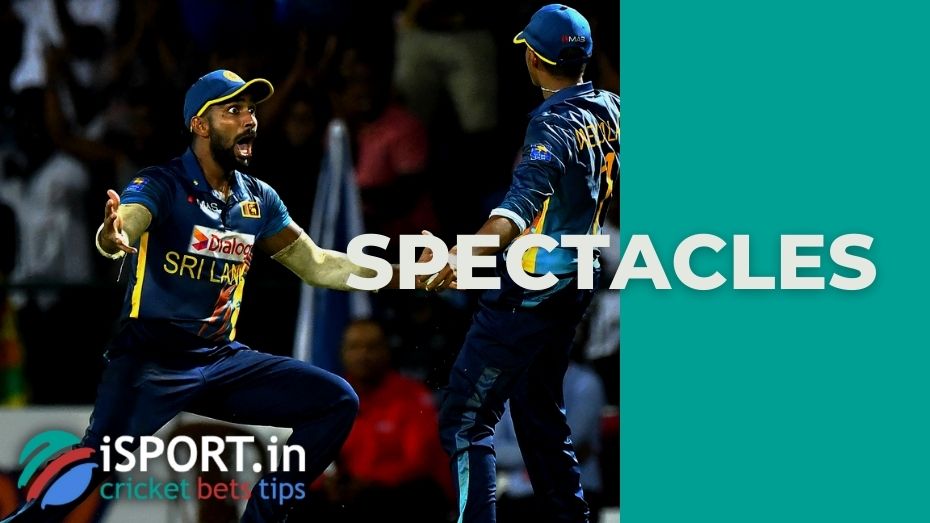 Spectacles (also Pair) – a batsman leaving the pitch with zero balance (duck, originally duck's egg, that is, literally "duck" / "duck egg"). It is used in situations where the batsman was unable to score a single point in both innings. If he was sent out for the golden duck (that is, on the first ball in each of the two innings), then such an episode will be defined as king pair.
Unlike pair, this term is used a little less often. However, it does not need additional interpretation since it has a clear associative link: two zeros (0-0) are similar in shape to glasses (Spectacles).
It should be noted that spectacles, pair and duck have an ironic connotation and, depending on the features of the game episode, can be supplemented with new characteristics. So, for example, duck can become:
Royal, if the match was a failure for the opening batsman;
Laughing if the batsman scored it at the end of his team's inning;
Silver if the batsman hits the ball but is sent out-of-bounds before the next service;
Gold, if the batsman is kicked out of the game with the first ball;
Diamond (this option is also called a golden hairy dick in some countries, that is, "golden shaggy duck"), if the batsman left the field before serving;
Platinum if the batsman was sent out-of-bounds with the first ball in the inning;
Titanium, if the non-striker was sent out-of-bounds with the first ball in the inning (very rare).
Spectacles are recorded in all cricket formats, and each has its record holder. It is noteworthy that the player who has completed this dubious achievement does not always play the batsman's role on the field – often, it is a bowler who was forced to replace a colleague. For example, New Zealander Chris Martin left the field with the spectacles in seven test matches, three more than any other player. Five have designed four spectacles each, and four of them (Indian Bhagwat Chandrasekhar, Muttiah Muralitharan from Sri Lanka, and representatives of the West Indies Mervyn Dillon and Courtney Walsh) were primarily bowlers, and only Marwan Atapattu from Sri Lanka served as a slugger. By the way, his career started out rather poorly on the whole – just one wound for six innings is a failure by any measure.
Fourteen players, including Glenn McGrath, Curtly Ambrose and Andrew Flintoff, made three spectacles each. In general, more than forty people have entered the list of "points" holders in the entire history of test cricket. The last ten are:
| | | | |
| --- | --- | --- | --- |
| Player | Country | Match | Series |
| Christopher Timothy Tremlett | England | England against India | 2007 |
| Mark Gillespie | New Zealand | New Zealand against South Africa | 2007-2008 |
| Dean Elgar | South Africa | South Africa against Australia | 2012-2013 |
| Natsai M'shangwe | Zimbabwe | Zimbabwe against Bangladesh | 2014 |
| Rajendra Chandrika | West Indies | West Indies against Australia | 2015 |
| Alzarri Shaheim Joseph | West Indies | West Indies against India | 2016 |
| Kamrul Islam Rabbi | Bangladesh | Bangladesh against England | 2016 |
| Chadd James Sayers | Australia | Australia against South Africa | 2018 |
| Andrew Balbirnie | Ireland | Ireland against Pakistan | 2018 |
| Abdul Malik | Afghanistan | Afghanistan against Zimbabwe | 2021 |
Another 12 cricketers have registered spectacles in a row. Such an "achievement" is so rare that some of the distinguished players are given rather offensive nicknames. For example, Indian Ajit Agarkar, who left the field with zero seven times in a row during his 1999-2000 tour of Australia, was nicknamed the "Bombay Duck." Mark Waugh (Australia), who designed his first hundred in his debut test match, became famous not because of this, but because of the two Spectacles, which witty teammates changed into Audi, meaning the company's logo – four rings- "zero ". At the same time, Mark was offered to console himself with the fact that with one more duck in a row, he could become the "Olympics" (five rings on the logo).
Wicket-keepers also have their list of losers (more than 50 people). Johnny Bairstow (England) and Gary Wilson (Ireland) set a record, who each scored a pair of points in the same test match in 2019.
Interestingly, the player can issue spectacles both within the framework of both innings and on the super-over in the limited-overs format. However, since the runs made on the super-over do not fall into the player's statistics, such spectacles are called unofficial.
You can bet on your favorite team with Helabet promo code.