Off side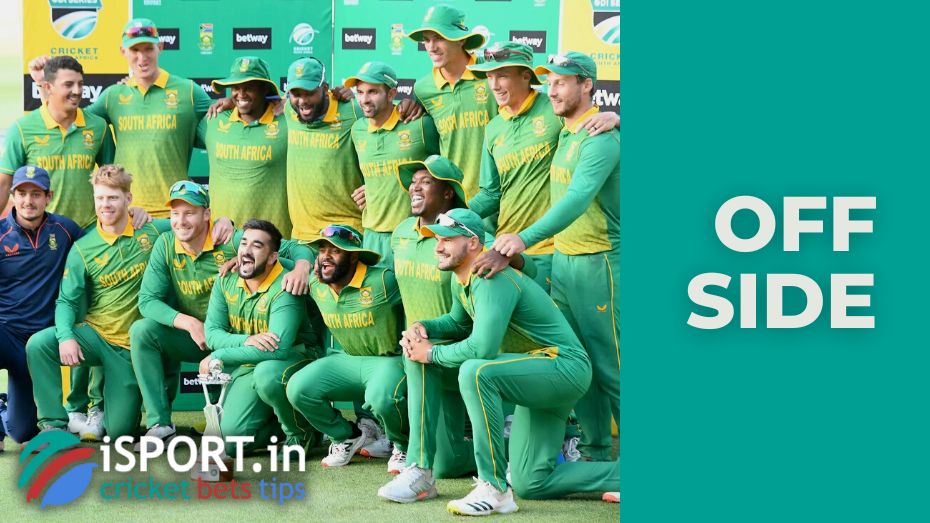 To understand what the term off side means, it is necessary to mentally divide the cricket field into two equal parts (the line should pass through the positions of the bowler and the batsman). If the batsman is right-handed, then for him, when hitting, the off side is on the right, and the on side is on the left. Accordingly, everything is mirrored for the bowler.
Why was the division invented? After the batsman hits the pitch, the fielders must catch the ball and deliver it back to the pitch in the shortest possible time. So in cricket, there are special positions of fielders, thanks to which the ball can be caught faster. And to make it clear to the players and the audience where the fielder is going, the field was divided and named as off side and on side.
Here is a basic list of which game positions can be placed on the off side:
Naturally, this is not the whole list. Below you will see a picture where additional game positions are displayed.
Each batsman can hit balls either on the off side or on the on side. It all depends on the working hand of the player with the bat. Basically, the following blows are played through the off side:
The cover drive;
The square drive;
Reverse sweep;
Square cut;
The uppercut.
In this article, we will not explain what these blows are. You can find separate material related to these (and not only) strikes on our sports website.
Those batsmen who are good at hitting various strikes through the off side often become the favorites of matches. Among such players, the most famous are Sachin Tendulkar, Kumar Sangakkara, Brian Lara, Sourav Ganguly and others.
You can bet on your favorite team with Mostbet promo code.