West Indies — India Prediction on July 22
Fri, 22 Jul 2022, 09:30 (Local Time)
Fri, 22 Jul 2022, 20:00 (IST Time, UTC + 05:30)
1st
Queen's Park Oval, Port of Spain, West Indies
WIN - IND Betting Tips 22 Jul 2022:
The 2nd team (India) will win
Result:
Tips Correct, Passed
Tips Incorrect, Error
Did Not Take Place
There is no data yet
West Indies — India Betting Tips on 22 July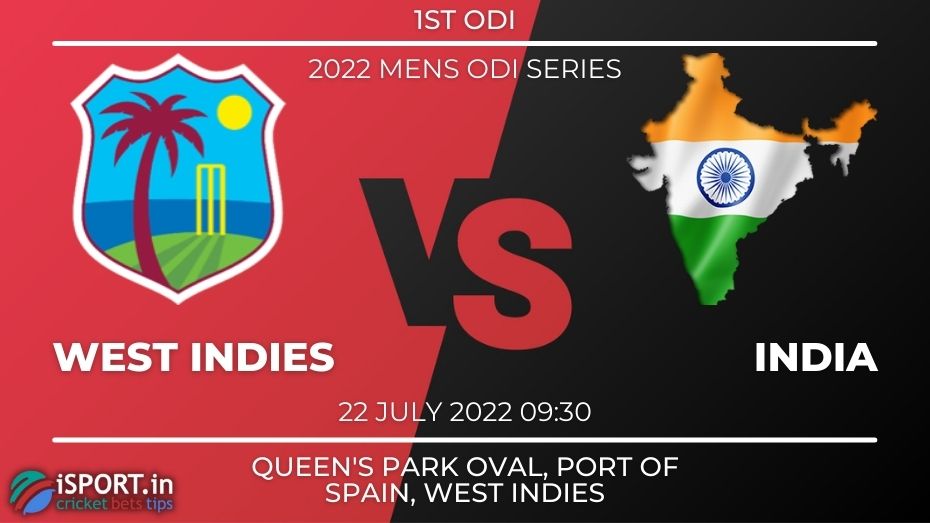 The India national squad managed to win the decisive match of the ODI series with England. Thus, Rahul Dravid's guys took both series from the British in white-ball formats, proving that India is now a very formidable team. Will the West Indies be able to cope with a difficult opponent? Read our prediction for the West Indies – India match, which will take place on July 22, 2022.
West Indies
The summer stretch for the West Indies started off great – Phil Simmons' team dryly won the ODI series with the Netherlands. But this victory can hardly be taken seriously – the "orange" ones are frankly not impressive today. After the series with the Netherlands, the West Indies lost very badly in the ODI format: first, the team failed to Pakistan three times in a row, and then there was a dry defeat by Bangladesh. Moreover, the West Indies lose most of the matches with a fairly serious lag. Today, Simmons' guys will have to face a very powerful opponent, and it is not entirely clear what can help the West Indies, who are on the decline, cope with the wards of Rahul Dravid.
India
The India national team approaches the series with the West Indies in a great mood – Rahul Dravid's team alternately beat England in the T20 and ODI series. The Indian national team continues to prepare for the T20 World Cup, which will be held in Australia this autumn. There is severe competition in the India national team, so all players must give 100%. I don't think India will be able to lose: Rohit Sharma and company are in great shape, and the West Indies are certainly not an impassable opponent for India. Dravid's guys should calmly confirm the status of the favorite.
Prediction
The West Indies are on the decline now — the team has lost 6 ODIs in a row, and certainly not in the series with India to Simmons' guys to interrupt an unsuccessful stretch. Rahul Dravid's team is in great shape and a great mood, so the India team should win without any problems. Bookmakers believe:  the victory of the Indian team for 1.38.