West Indies — India Prediction on August 6
T20I
2022 Men's T20I Series
Sat, 6 Aug 2022, 10:30 (Local Time)
Sat, 6 Aug 2022, 20:00 (IST Time, UTC + 05:30)
4th
Central Broward Regional Park Stadium Turf Ground, Lauderhill, USA
WIN - IND Betting Tips 6 Aug 2022:
The 1st team (West Indies) will win
Result:
Tips Correct, Passed
Tips Incorrect, Error
Did Not Take Place
There is no data yet
West Indies — India Prediction on November 6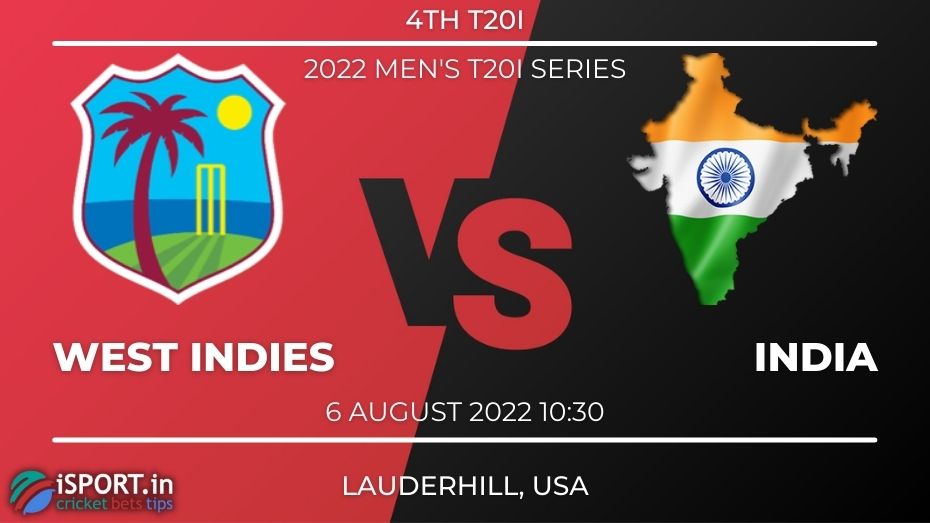 Phil Simmons' team won the second contest of this series, thus ending a long unsuccessful streak. But the Indian team won again in the third match, regaining the advantage. The squads of Simmons and Dravid will play the 4th match of the T20 series on August 6. Who will be able to win? Read our prediction for the West Indies – India match, which will take place on August 6, 2022.
West Indies
Phil Simmons' guys have had an awful time over the last three weeks: West Indies have lost the ODI series to Bangladesh and India, and Puran and company have failed the first match of the T20 series. However, in the second confrontation of the series in the shortest format of the game, the West Indies took revenge, winning in 5 wickets. After the third T20, which the West Indies again lost, the club took a short break. Of course, Phil Simmons' squad is exposed as a severe underdog in the 4th match of the T20 series, and it isn't easy to disagree with this: India looks like a much higher-level team. But do not forget that the West Indies are historically good in the T20 format. And during this series, Phil Simmons' team has already managed to cope with its opponent. Today, the West Indies can surprise.
India
The India national squad under the leadership of Rahul Dravid managed to add a lot after the defeat in the test match with England at the start of July. India is in great shape — Rahul Dravid's team continues to prepare seriously for the upcoming T20 World Cup. At the moment, Rohit Sharma and company are 2-1 in the T20 series, but today the score in the series may well be equal. The captain of India has already stated that Rahul Dravid's team will continue to conduct experiments. And this means that in the 4th match of the T20 series, the India national club will seriously change its composition. In this case, the West Indies may catch on to something serious.
Prediction
Phil Simmons' club has a chance to win this fight. West Indies beat India during this T20 series. Today Puran and company can surprise again. The India cricket team will continue to conduct experiments, so today a sensation can happen: the victory of the West Indies for 2.74.