Afghanistan vs Ireland Betting Tips 28 October 2022
Fri, 28 Oct 2022, 15:00 (Local Time)
Fri, 28 Oct 2022, 09:30 (IST Time, UTC + 05:30)
1st T20I
MCG, Melbourne Cricket Ground, (The 'G), Melbourne, Australia
AFG - IRL Betting Tips 28 Oct 2022:
The 1st team (Afghanistan) will win
Result:
Tips Correct, Passed
Tips Incorrect, Error
Did Not Take Place
There is no data yet
Afghanistan vs Ireland Prediction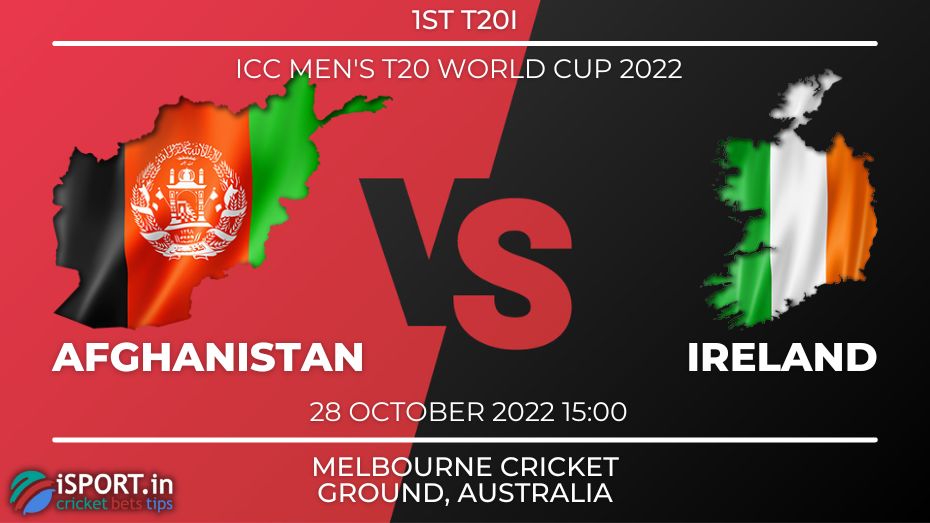 The Ireland national team sensationally defeated England after the expected defeat by Sri Lanka and retained a real chance of getting into the playoffs. But will Balbirnie and the company be able to develop success and win a second victory in a row? Read our prediction for the Afghanistan — Ireland match, which will take place on October 28.
Afghanistan
The Afghanistan national team managed to hold only one confrontation during the current T20 World Cup: Afghanistan lost to England with a handicap of five wickets. Today, Trott's guys will have to face far from the easiest opponent – Ireland will be up against the Afghan squad, which, after defeating England, can catch the courage and give out another fantastic duel. But still, Afghanistan looks like a severe favorite today: Nabi and the company are well aware that defeat by Ireland will seriously reduce the chances of the playoffs, so Afghanistan definitely has plenty of motivation. Trott's guys played a good competition with England, and if the favorite shows his game today, then Afghanistan should have no problems.
Ireland
In the first round of the second group stage of the T20 World Cup, the Ireland national club expectedly lost to Sri Lanka with a handicap of nine wickets. It seemed that the Irish, having failed to cope with the recent triumph of the Asian T20 Cup, lost real chances of a place in the top 2 of the table. However, in the second round, Balbirnie and company created the loudest sensation of this tournament in Australia so far: Ireland defeated England. Of course, a victory over the British can give the Irish confidence in their abilities, but it is still difficult for the greens to leave a real chance of success today. Afghanistan is a higher-level national team, and Nabi and the company certainly have no less motivation than the Irish.
Prediction
It's not worth going against the bookmakers today. The Afghanistan national team looked good in the match with England, but it did not work to break the British resistance. And today Trott's wards should still get their first victory in Australia. Ireland, of course, surprised with a victory over England, but that's probably enough surprises: the victory of Afghanistan for 1.68.