England — South Africa Betting Tip on July 31
T20I
2022 Men's T20I Series
Sun, 31 Jul 2022, 14:30 (Local Time)
Sun, 31 Jul 2022, 19:00 (IST Time, UTC + 05:30)
3rd
The Rose Bowl, Southampton, England
ENG - ZAF Betting Tips 31 Jul 2022:
The 1st team (England) will win
Result:
Tips Correct, Passed
Tips Incorrect, Error
Did Not Take Place
There is no data yet
England — South Africa Prediction on 31 July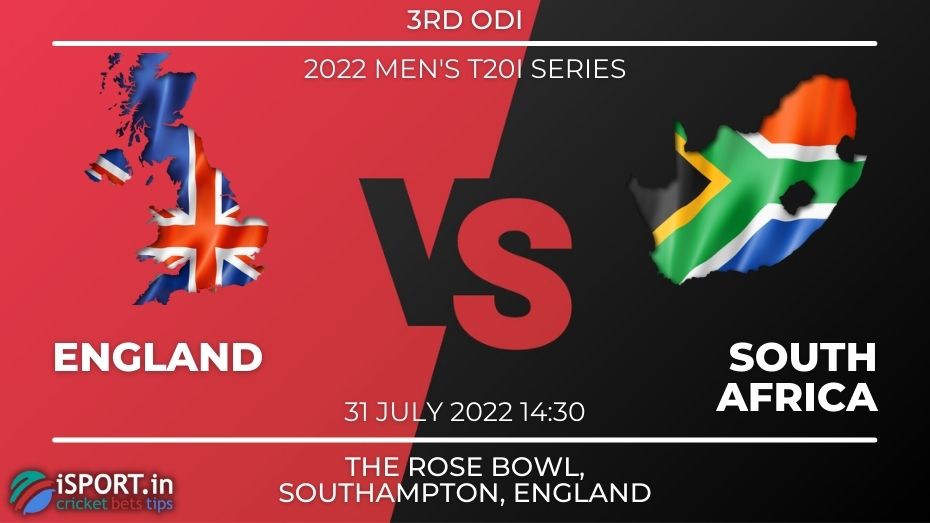 The top national teams continue to systematically prepare for the upcoming World Cup in the T20 format, which will be held this fall in Australia. The decisive match of the series between England and South Africa will take place on July 31. Will Matthew Mott's team be able to justify the bookmakers' trust? Read our prediction for the England — South Africa match, which will take place on July 31, 2022.
England
The England national squad won a test match with India in early July, but the British noticeably lost – the "three lions" team alternately lost the T20 and ODI series with India. And now, Matthew Mott's team is conducting a long series of confrontations with South Africans. The British took the first match of the T20 series to their asset with a handicap of 41 runs, but South Africa took revenge in the second match. Jos Buttler and the company will have to hold the decisive game of this confrontation on the last day of July. And in this match, the British, of course, look like a clear favorite. The "three lions " squad has not pleased its fans with a series of victories for a long time, so England has plenty of motivation. Matthew Mott's team can't afford to slip up again.
South Africa
For South Africa, the T20 format is very convenient — today's guests had a good series with the team of Rahul Dravid in June, in this format. The South African team looked good in the second match of the series with England, but it's hard to believe that South Africa will be able to put the squeeze on this series. England is a severe opponent, and Matthew Mott's team is highly motivated right now, so it isn't easy to believe in South Africa. Do not forget that in the T20 format, the England national club is a difficult opponent for South Africa — 7 of the last 10 full-time matches in this format ended with victories for the British.
Prediction
The South Africa national club managed to even the score in this series, but it is unlikely to win England for the second time in a row. The British continue to prepare for the upcoming World Championship. The competition in Matthew Mott's squad is very high, so the whole England squad should give 100%. The "three lions" temm should take this series: the victory of the England team for 1.57.