England — South Africa Prediction on July 22
Fri, 22 Jul 2022, 13:00 (Local Time)
Fri, 22 Jul 2022, 20:30 (IST Time, UTC + 05:30)
2nd
Old Trafford, Manchester, England
ENG - ZAF Betting Tips 22 Jul 2022:
The 1st team (England) will win
Result:
Tips Correct, Passed
Tips Incorrect, Error
Did Not Take Place
There is no data yet
England vs South Africa betting tips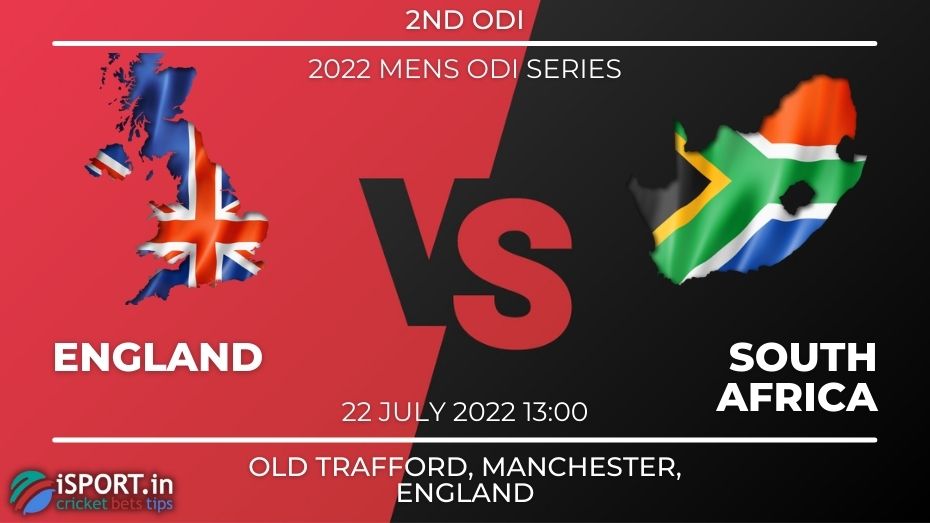 The England national team, which lost the T20 and ODI series with India, failed to start a series of high—quality confrontations with South Africa – the South African squad took the first match of the ODI series with a handicap of 62 runs. Today, Jos Buttler and the company will obviously try to take revenge, but will it be possible to do it? Read our prediction for the England — South Africa match, which will take place on July 22, 2022.
England
July started well for the England national club — Brendon McCullum's wards confidently took the fifth postponed test from the India national team and reduced the series to a final draw. However, the British did not do well in the formats with a white ball: first, the "three lions" team lost to the Indians T20 and then merged the ODI. England was quoted as a fairly serious favorite in the first match of the series with South Africa, but it did not work out to justify this status. Today's game is significant for the British: Matthew Mott's team continues to hold good positions in the ranking, but it is unlikely that the British, who talk so much about their successful reforms, want to lose the third series in a row. The hosts have plenty of motivation, so England should even score in the series today. A lot will depend on Adil Rashid — if he shows his level, England is unlikely to lose the second ODI in a row.
South Africa
The South Africa national team continues to fight for a place at the 2023 World Cup, but a new T20 league will start on the territory of South Africa in January, in which the country's best players should come. The South Africa Cricket Board has already announced that the national squad refuses to ODI with Australia, which means that the South Africa national team does not mind going through the qualifying stage. The victory of South Africa in the first ODI with England was a surprise because today's guests had not played in this format for almost 4 months before that. I don't think South Africa will be able to win this series ahead of schedule: England will not allow this.
Prediction
In fact, this match is more important for England than for South Africa. The British can lose the third series in a row on their territory, and Matthew Mott's team should not allow this in any way. As part of the second ODI, bookmakers in South Africa believe much more than in the first match of the series, so there is an opportunity not to invent anything but take the victory of the England team for 1.64