West Indies — India Prediction on July 27
Wed, 27 Jul 2022, 09:30 (Local Time)
Wed, 27 Jul 2022, 20:00 (IST Time, UTC + 05:30)
3rd
Queen's Park Oval, Port of Spain, West Indies
WIN - IND Betting Tips 27 Jul 2022:
The 1st team (West Indies) will win
Result:
Tips Correct, Passed
Tips Incorrect, Error
Did Not Take Place
There is no data yet
West Indies — India Betting Tips on 27 July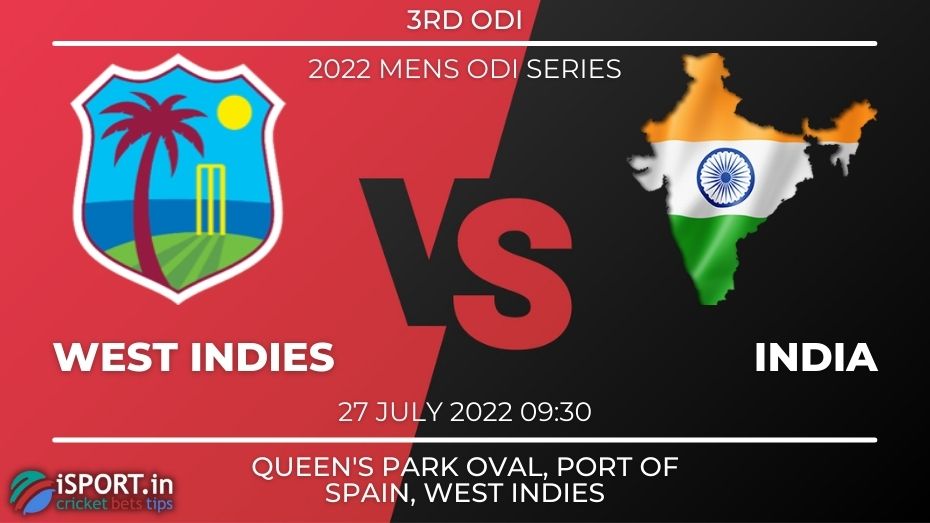 Our information portal has prepared a prediction for the West Indies – India match, which will take place on July 27. The India national squad has already taken the ODI series, but maybe Phil Russell's wards will be able to take the prestige match? Let's figure it out.
West Indies
The West Indies are in terrible shape — today's nominal hosts have lost five matches in a row. Phil Simmons' guys first lost the ODI series to Bangladesh, and then they lost to India twice in a row. Today, the West Indies will face India for the third time. Rahul Dravid's club is no longer motivated, so the Indian team is unlikely to give 100%. The West Indies have lost 8 matches in a row in the ODI format, but sometime this unsuccessful series should be interrupted. And why wouldn't that happen today? Seeing that Simmons' team is now on the decline, bookmakers have written the West Indies into obvious underdogs, but Phil Simmons and his charges may well create a sensation.
India
The India national squad is in excellent condition — Rahul Dravid's team successfully held the T20 and ODI series with England, and now the Indians have won a series of confrontations with the West Indies. The India national team continues to prepare for the T20 World Cup in Australia and the home ODI World Cup. Rahul Dravid's squad is never against experiments, so India may be surprised with its composition in a match that already means nothing to nominal guests. The India national team has a good reserve, and some leaders can afford to rest, so Rahul Dravid's squad may lose in this meeting.
Prediction
There is a feeling that it's time for Phil Simmons' guys to interrupt a series of unsuccessful performances. Frankly speaking, the West Indies looked good in the first two ODIs with India: the first match was lost with a handicap of 3 runs, the second with a margin of 2 wickets. The India team is much less motivated, so I'm ready to believe in the sensation: the victory of the West Indies for 3.25.