West Indies — New Zealand Prediction on August 19
ODI
2022 Men's ODI Series
Fri, 19 Aug 2022, 14:00 (Local Time)
Fri, 19 Aug 2022, 23:30 (IST Time, UTC + 05:30)
2nd
Kensington Oval, Bridgetown, West Indies
WIN - NZL Betting Tips 19 Aug 2022:
The 2st team (New Zealand) will win
Result:
Tips Correct, Passed
Tips Incorrect, Error
Did Not Take Place
There is no data yet
West Indies — New Zealand Betting Tip for August 19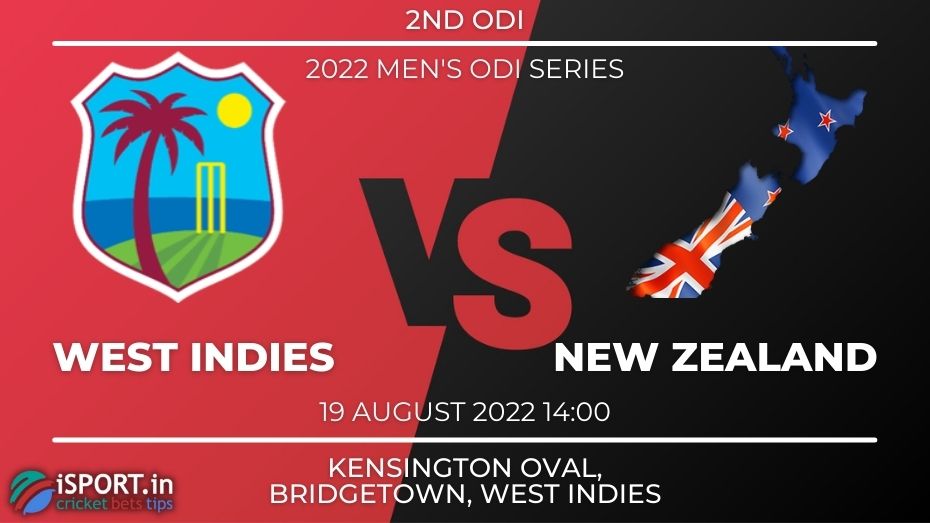 Phil Simmons' guys very unexpectedly managed to start the ODI series against New Zealand with a victory with a handicap of 5 wickets. Of course, the New Zealand national team, which is famous for playing well in this format, is not going to merge this series, so Kiwi has plenty of motivation. What can we expect from the second contest of the series? Read our prediction for the West Indies – New Zealand match, which will be on August 19, 2022.
West Indies
The West Indies team looks awful this summer – Simmons' team lost the ODI series to Bangladesh without a chance in July, then failed to oppose the Indian squad at all. New Zealand defeated Simmons' team 2-1 in the T20 format, so there was no strong belief that the West Indies would be able to show a good game during a series of ODI matches. However, Puran and the company took the starting meeting to their asset. Today, however, it is not easy to believe in the West Indies: New Zealand is the best team in the world in the ODI format, and it is unlikely to beat such a heavy opponent twice in a row. One win does not change anything: the West Indies team still has serious game problems, which it is hardly possible to solve at the click of your fingers.
New Zealand
The New Zealand national team has already lost two contests in a row: first, the Kiwis lost the third T20 match to the West Indies, and there was an ODI defeat the day before. But before these two defeats, New Zealand had a 13-win streak in a row. The New Zealand national team tops the ODI rankings, so Kane Williamson and company do not want to lose the series to the West Indies, which is not impressive at all this summer. Stead's guys probably just underestimated their opponent. Defeat in the first match will obviously force the New Zealanders to get together and give their maximum. But Williamson and company will not concede again — New Zealand should get even the score in the series.
Prediction
The West Indies managed to create a sensation the day before, but it is hard to believe in another New Zealand club failure. Stead's guys feel relaxed in the ODI format, so there is no second surprise in a row: New Zealand wins for 1.62.