Twenty20
There are several different tournament formats in cricket, and each of them has its own rules. One of the main such formats is Twenty20, which is the main one along with test cricket and Lista A.
In this article, we will tell you all the details about the Twenty20 format tournament. You will find out what the format is and read its history and its impact on international cricket. In addition, here you can find a list of competitions held in various countries in this format.
Twenty20 in cricket: definition, tournament format
Before diving into Twenty20, let's first give it a short definition.
Twenty20 is an abbreviated cricket format where the duration of a match is not determined by a time limit, but by a set number of innings.
Now let's see what kind of limitations are present in the T20. In matches of this format, there are two innings, in one of which one team beats off, in the other – the second. In one inning, a team throws 20 overs (hence the tournament's name), each of which includes six innings. On average, one game lasts about three hours. The interval between innings is 10 minutes. If the tournament ends in a tie, the winner is determined by Super Over.
This format has some interesting features that distinguish it from test cricket. For example, teams during the Twenty20 may play in random colors, while only white equipment is used in test events. In addition, a white ball is used in Twenty20 matches, and a red ball is used in all tests. The choice of the color of the ball is due to the fact that, until 2012, test matches could not be played under artificial lighting.
The Twenty20 format has been very successful commercially. The shortness of the match in this format made it incredibly popular. In addition, this format has become an impetus for the development of professional cricket leagues in Europe, Oceania and Asia.
Twenty20: a brief history
The history of the appearance of the Twenty20 tournament is simple and short. The idea of ​​a shortened cricket format was developed back in the 1990s. The author and initiator of this was former New Zealand batsman Martin Crowe.
However, they did not want to adopt the rules for a long time. The Twenty20 terms were formally finalized and adopted only in 2003 by the England and Wales Cricket Board. The reason is simple: the desire to increase public interest in cricket and one of the ways to achieve this goal was to reduce the playing time of the tournament, which made the game look more dynamic. Plus, broadcasting the shortened format on TV is more beneficial.
The first Twenty20 game was played in 2003 between clubs from English countries. Other countries quickly adopted the new way of playing matches. Thus, the first international T20 match took place in 2005 between the national teams of Australia and New Zealand.
Twenty20: impact on cricket
The goal of the Twenty20 format was to popularize cricket. Such tournaments take place much faster than test matches. Therefore they are able to attract a larger number of spectators both in stadiums and on TV. I must say that this goal has been achieved: it is the Twenty20 tournaments that are the most attended in cricket.
It is also believed that the Twenty20 format has led to a sportier and more explosive form of cricket. For example, the famous Indian fitness trainer Ramji Srinivasan noted in one of his interviews that the T20 "raised the bar" in terms of the level of physical fitness for all players, requiring them to have a higher level of strength, endurance, speed, agility and reaction. At the same time, it does not matter what role the player plays in the team, this applies to everyone.
In addition, it was widely believed that Twenty20 cricket should become an Olympic sport. Former Australian wicket-keeper Adam Gilchrist insisted on this. According to the athlete, this would be the fastest and cheapest way to popularize the game worldwide.
However, athletes also have completely opposite opinions regarding Twenty20. For example, former Australian captain Ricky Ponting criticized the T20 for being harmful to test cricket and hindering the development of skill and concentration for batsmen. Another former Australian captain, Greg Chappel, expressed much the same opinion. He believes that young players will deliberately strive to get into the T20, which will prevent them from fully developing their batsman skills. Similarly, only in relation to bowlers, the English athlete Alex Tudor spoke out.
But, as they say, how many people – so many opinions. The Twenty20 format continues to be popular and continues to draw even more attention to cricket.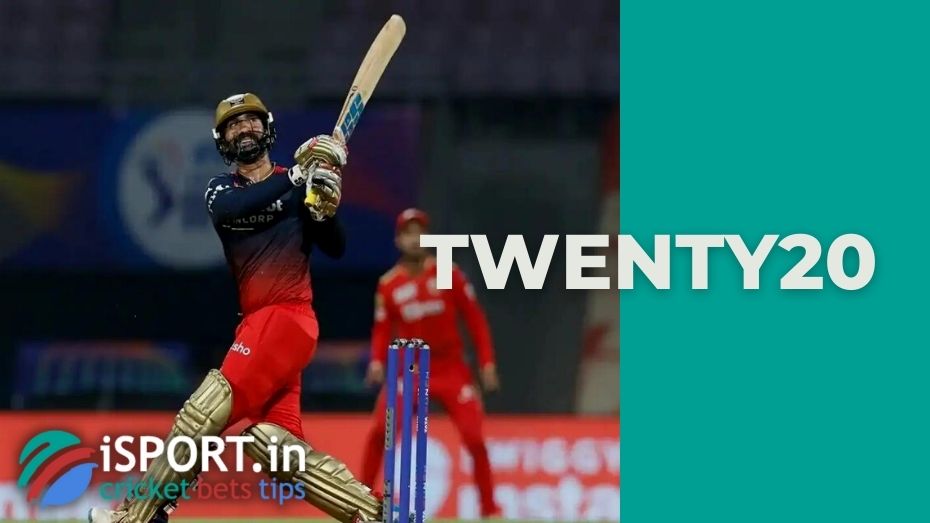 Twenty20: exceptions to the rule
As you know, in T20 tournaments, the same rules apply as in the basic Laws of Cricket. However, some points have been adjusted specifically for this type of competition.
We will now list the main exceptions for Twenty20 games:
Each bowler may bowl no more than one-fifth of the total overs per inning. For a full and continuous match, that's about four overs for each bowler.
If the bowler does a no-ball outside the crease, it costs one or two runs (depending on the competition) and their next serve is designated a "free-hit". In this case, the batter can only be fired by applying the rules run out, hitting the ball twice, or obstructing the field.
The following restrictions apply to the use of fielding: no more than five field players can be on the leg side at any time. During the first six overs, a maximum of two field players can be outside the 30-yard circle (this is called powerplay); after the first six overs, a maximum of five field players may be out of bounds.
If the fielding team does not start to bowl their 20th over within 75 minutes, the batting side is credited an extra six runs for every whole over bowled after the 75-minute mark; the umpire may add more time to this if they believe the bowling team is wasting time.
All other rules for Twenty20 are standard, as in all cricket (except the Super Over, which we wrote about above).
Twenty20: list of competitions in this format
Thanks to the explosive popularity of the Twenty20 format, many countries where cricket is popular have created entirely new leagues that run under the T20 rules. In this section of the article, we have drawn up a table, thanks to which you can get acquainted with the list of T20 leagues around the world, from what year they are held, and the number of teams taking part.
Country
Tournaments
Period
Number of teams
Afghanistan
Afghanistan Premier League
from 2018
5
Shpageeza Cricket League
from 2013
6
Australia
Big Bash League
from 2011
8
Bangladesh
Bangladesh Premier League
from 2012
8
Canada
Global T20 Canada
from 2018
6
England
T20 Blast
from 2003
18
Hong Kong
Hong Kong T20 Blitz
from 2016 till  2018 годы
5
India
Indian Premier League
from 2008
8
Syed Mushtaq Ali Trophy
from 2006
38
Ireland
Inter-Provincial Trophy
from 2013
4
Netherlands
Dutch Twenty20 Cup
from 2007
16
Nepal
Everest Premier League
from 2016
6
Dhangadhi Premier League
from 2017 till 2019
6
Pokhara Premier League
from 2018 till  2019
6
New Zealand
Super Smash
from 2005
6
Pakistan
Pakistan Super League
from 2016
6
National T20 Cup
from 2004
6
Scotland
Murgitroyd Twenty20, Regional Pro Series
from 2008, from 2016
3
South Africa
Mzansi Super League
from 2018
6
CSA T20 Challenge
from 2003
6
CSA Provincial T20 Cup
from 2011
15
Sri Lanka
Lanka Premier League
from 2020
5
West Indies
Caribbean Premier League
from 2013
6
USA
Major League Cricket
Planned from2023
6
Zimbabwe
Stanbic Bank 20 Series
from 2006
4
Now you know all the basic information about the Twenty20 cricket tournament format. Which one is your favorite and which bands do you like the most? You can share your opinion in the comments under this article.