Toe-crusher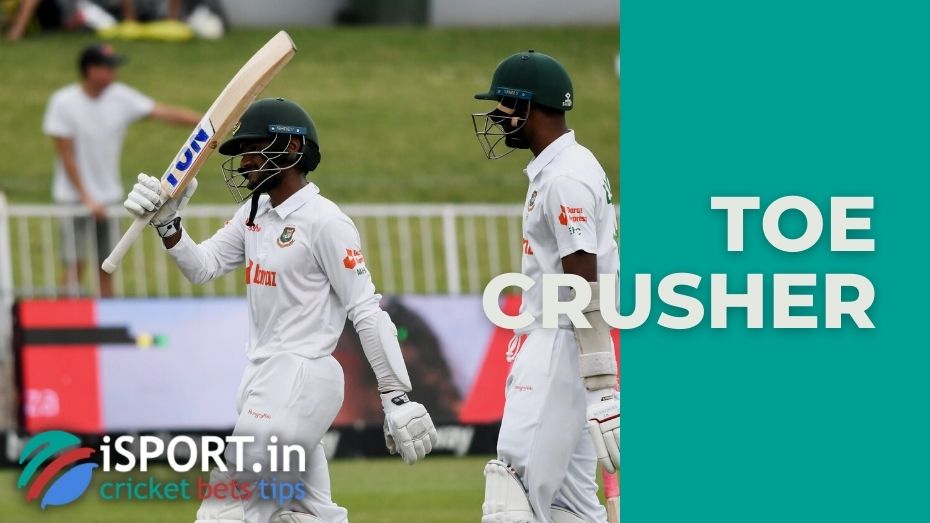 Toe-crusher is a specific slang term, a synonym for Yorker. It has a humorous connotation and implies a potentially dangerous ball strike for the batsman's toes. Sports commentators widely used it in the 90s of the last century to describe the serves of Pakistani bowlers Waqar Younis and Wasim Akram.
The main feature of the toe-crusher is that it is one of the most difficult strokes for a batsman. It can not be called absolutely unbreakable, but it is usually very difficult for a player with a bat to prepare for this type of pitch. If the batsman maintains a standard stance, he may not have time to lower the bat low enough to meet the ball, which is often used by bowlers, checking the reaction of batsmen (a shell that the batsman managed to block on the Toe-crusher serve is sometimes called a Dig out).
Fast bowlers most often use Toe-crusher with a high feed rate. And although it is rightly called difficult to perform, attack players tend to include this type of serve in their arsenal since it is effective even against the most skilled batsmen. The fact is that it is extremely difficult for a player with a bat to redirect it so that there are no gaps between the ball and the wicket. Even in cases where the toe-crusher does not go towards the stumps themselves but hits the batsman's legs, this increases the probability of leg before wicket and subsequent dismissal.
You can find different opinions about the dangers of toe-crusher in general. On the one hand, a properly executed serve of this type is in itself a test for a batsman, especially if the batsman knows how to spin the ball well, making its trajectory unpredictable. On the other hand, some bowlers deliberately bet not on a twisted, but a normal serve made with maximum effort on a short swing. As a rule, a powerful toe-crusher makes a batsman instinctively retreat, losing the most advantageous position, which can negatively affect the score (first of all, this applies to T20 competitions, where batsmen strive to score the maximum number of runs in a short time).
Even though the rules do not limit the use of the toe-crusher, bowlers generally try not to abuse this stroke since its main goal is not so much to score points but to put the batsman out of action. Even if the toe-crusher does not send him out, in any case, it will make him doubt himself and look for more effective ways to repel the attack, which is only to the advantage of the serving side.
Toe-crusher is usually served no more than a few times per match. They look especially spectacular closer to the end (if we are talking about games of a shortened format) when batsmen strive to score as many runs as possible to ensure their team wins and are prone to make mistakes. Many bowlers note that the toe-crusher is an effective weapon even against those batsmen who are immune to other tactical tricks.
The recognized masters of performing toe-crusher include:
Waqar Younis, Wasim Akram, Shoaib Akhtar (Pakistan);
Lasith Malinga (Sri Lanka);
Brett Lee, Mitchell Starc, Pat Cummins, Mitchell Johnson (Australia);
Trent Boult, Shane Bond, Tim Southee (New Zealand);
Dale Steyn, Allan Donald (South Africa);
Patrick Patterson, Malcolm Marshall, Courtney Walsh, Curtly Ambrose, Jerome Taylor (West Indies);
Zaheer Khan, Bhuvneshwar Kumar, Jasprit Bumrah, Thangarasu Natarajan (India);
Andrew Flintoff, Chris Jordan (England).
It is noteworthy that a batsman who failed to cope with a toe-crusher is usually referred to as a Yorked, that is, as a missed stroke. If the Toe-crusher was sent inaccurately or the player with the bat was able to hit it, then the episode is characterized as an Attempted Yorker.
This is interesting: The Yorker, a synonym for Toe-crusher, also essentially has a slang origin. According to the most popular version, it appeared in the county of Yorkshire; in addition, it is possible that the Yorker is an abbreviated form of the expression "to pull Yorkshire" (literally "to deceive someone").