Batting average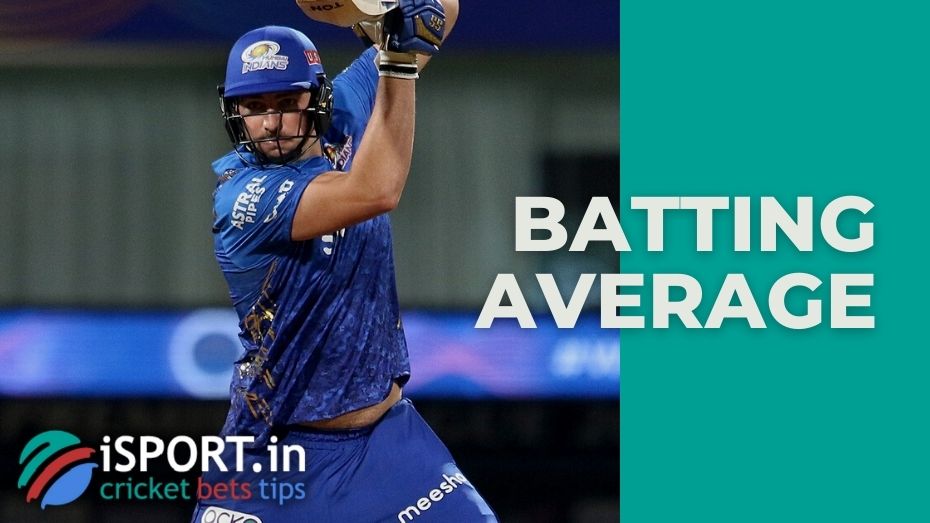 Batting average is one of the factors by which the effectiveness of the actions of cricketers is determined. To calculate the batting average, you need to divide the total number of runs by the number of times a player is eliminated from the game. This indicator is usually rounded to a decimal value. It has been used in cricket since the 18th century.
Batting average: the basic meaning
Why is the batting average considered an important indicator for any cricketer? This factor does not depend on the actions of teammates, like many others. However, there are also skeptics of this system for determining the strongest players. The batting average is not so difficult to calculate, even for a beginner in cricket. If all innings have been completed, then this indicator is considered the average number of runs they score per inning. If an innings has not been completed, then this number is the estimate of the unknown average number of runs that cricketers score for each inning. The batting average may be affected by the number of not outs. If the batsman was not removed from the game in any of the innings, then he does not receive statistics on the results of the match since dividing the total by zero will give zero.
It is important that individual calculations are applied in each cricket format and according to different criteria:
Often, the batting average is calculated for individual series or seasons. Also, the indicators are considered for the entire career.
Sometimes, you can see data on specific opponents.
In the Test batting average format, players usually have a higher average than in other formats because the task is to score points faster in One Day International and Twenty20 International. Because of this, batsmen make more risky strokes and focus less on individual indicators.
Batting average: leaderboard indicators
At the end of the 19th century, about 25 was considered an excellent indicator. At that time, the heavy roller was not yet developed. Now the elite batting average is considered from 20 to 40 for attacking players. Ideally, wicket-keepers should adhere to the same rank. However, usually, players of this role compensate for this disadvantage with other strengths. Thanks to the improvement of the cricketers' attacking qualities and the field's reduction, it became possible to reach a batting average of around 50. For some categories, the landmarks remain at the level of the 19th century – the rank is about 25:
For cricketers who are 15 or younger.
For all-rounders. For them, an excellent result is the indicator 30.
For exceptional bowlers. Now there are practically no such people left, but experienced fans will remember the names of Alf Valentine, B. S. Chandrasekhar.
To get a batting average, it is often enough to play for 20 innings. This limit is made so that the statistics figures are as close to reality as possible. For example, if we take a short period of time, then the keeper-batsman from Trinidad and Tobago, Andy Ganteaume, who has a rank of 112, will be the leader in this indicator. In 1948, the cricketer played the only time for the West Indies national team in a test match against England and set a hitherto unbeaten record. He was not called up to the national team until the 1957 season. Another invitation again fell on tour with England, but nine years later, Gantenaume did not get the opportunity to enter the field because of his slow scoring.
Another thing is Don Bradman from Australia, who is considered the greatest batsman of all time. During his career, he has a batting average of 99.94. His rise in his career was rapid. Already at the age of 22, Brandman has set several impressive records. He continued to perform successfully during his 20-year career. An attacking style of play distinguished Don. Spectacular blows characterized his performances.
Batting average: leaders in three formats
No one managed to reach Don Bradman's record. At the same time, six players have a score above 60 at once, among them four Australians.
Test matches
Cricketer     Average      Career Years
Don Bradman (Australia) 99,94 1928–1948
Adam Voges (Australia) 61,87 2015–2016
Steve Smith* (Australia) 61,80 2010–present
Graeme Pollock (South Africa) 60,97 1963–1970
George Headley (West Indies) 60,83 1930–1954
Marnus Labuschagne* (Australia) 60,80 2018–present
Herbert Sutcliffe (England) 60,73 1924–1935
Eddie Paynter (England) 59,23 1931–1939
Ken Barrington (England) 58,67 1955–1968
Everton Weekes West Indies 58,61 1948–1958
*Current players
In First Class matches, nine players have a batting average above 60 at once. Among them are representatives of five countries, most of them from India.
First Class
Cricketer     Average      Career Years
Don Bradman (Australia) 99,94 1928–1948
Vijay Merchant (India) 71,64 1929–1951
George Headley (West Indies) 69,86 1927–1954
Pathum Nissanka* (Sri Lanka) 67,54 2016–present
Ajay Sharma (India) 67,46 1984–2001
Bill Ponsford (Australia) 65,18 1920–1934
Bill Woodfull (Australia) 64,99 1921–1934
Shantanu Sugwekar (India) 63,10 1987–2002
K. C. Ibrahim (India) 61,24 1938–1950
Hanuma Vihari* (India) 59,82 2010–present
*Current players
In the One Day International format, the best indicator is the representative of not the most famous country in cricket — the Dutchman Ryan ten Doeschate (67.00). The runner-up Virat Kohli from India can only boast a rank of 59.33.
One Day International
Cricketer     Average      Career Years
Ryan ten Doeschate (Netherlands) 67,00 2006–2011
Virat Kohli* (India) 59,33 2008–present
Babar Azam* (Pakistan) 54,84 2015–present
Imam-ul-Haq * (Pakistan) 53,82 2017–present
Michael Bevan 53,58 1994–2004
AB de Villiers (South Africa) 53,50 2005–2018
Shai Hope* (West Indies) 51,90 2016–present
Jonathan Trott (England) 51.25 2009–2013
Joe Root* (England) 51,05 2013–present
MS Dhoni (India) 50,57 2004–2020
*Current players
In the Twenty20 International format, only two players have a batting average of more than 50 — Virat Kohli (India) and Dawid Malan (England).
Twenty20 International
Cricketer     Average      Career Years
Virat Kohli* (India) 52,65 2010–present
Dawid Malan* (England) 50,15 2017–present
Babar Azam* (Pakistan ) 48,05 2016–present
Ryan ten Doeschate (Netherlands) 44,41 2008–2019
Manish Pandey* (India) 44,31 2015–present
KL Rahul* (India) 39,92 2015–present
JP Duminy (South Africa) 38,68 2007–2019
Aaron Finch* (Australia) 38,40 2011–present
Mike Hussey (Australia) 37,94 2005–2012
Kevin Pietersen (England) 37,93 2005–2013
*Current players
The batting average system is also effectively used in baseball.