Timed out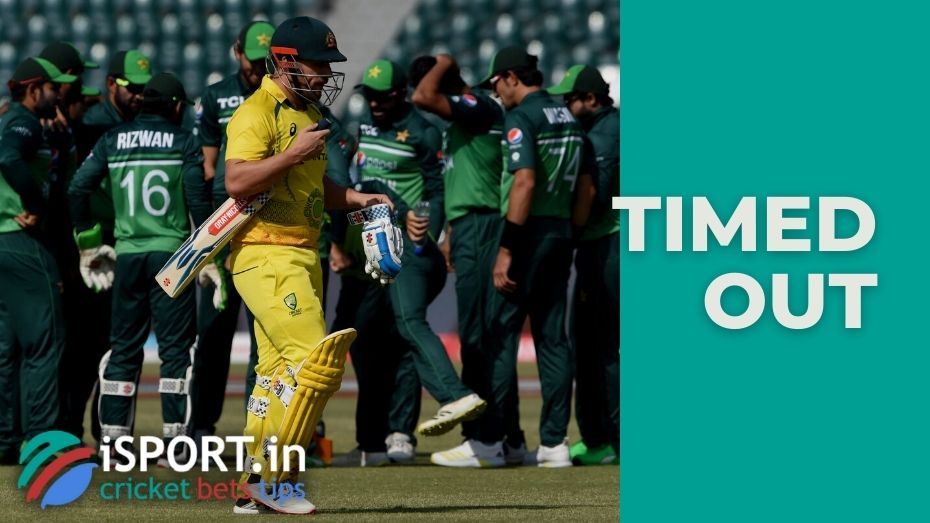 Among the huge number of cricket rules, you can find something unusual — for example, the methods of dismissing batsmen. There are many reasons why the referee can remove a player from the field, and many of these reasons seem strange, but sometimes they still happen. One of the rarest methods of dismissing a batsman is Timed out. It has happened a few times in the entire history of cricket; there are enough fingers to count all these cases. In this article, we will tell you everything about this method, as well as give real examples of dismissing players in this way.
Timed out: the meaning of the cricket term
Before you dive into the history of Timed out and give examples, you need to understand what this term means. Therefore, we give a brief definition:
Timed out is a method of dismissal in cricket when an incoming batsman is not ready to play for three minutes after the previous batsman leaves.
Simply put, if a player with a bat has not appeared on the field for a long time, he is dismissed. The goal of Timed out is to avoid unnecessary delays in cricket matches.
The rules of cricket stipulate that an incoming player is given three minutes to take a seat. If this requirement is not met, the incoming batsman will be removed. There is also such a moment: the captain can sacrifice his worst batsman if the next player was only slightly delayed.
However, in some cricket formats, the rules may change. For example, in Twenty20, it is stipulated that a batsman must appear on the field within 90 seconds instead of three minutes. That is why the players in this format do not sit in the pavilion, but on a bench on the border, as they do in many other team sports (for example, rugby).
Timed out: the history of the method of dismissal
Interestingly, Timed out has a long history, although this concept was included in the rules of cricket quite recently. Moreover, they even managed to correct it once. But we will tell you about everything in order…
It is known for certain that the first printed rules of cricket in 1775 already required that the umpires give two minutes for each player to take their position while the other players are absent from it. But this rule has not been widely applied; at least not a single case has been documented for many years.
One of the first known cases of a batsman being dismissed by Timed out occurred in 1919. Then the Sussex cricketer Harold Heygate was dismissed by the referee Alfred Street because he did not appear on the field for a long time (more precisely, for two minutes) during the match against Somerset in Taunton. He was simply marked "missing". The decision was controversial, but the MCC, which at that time intervened in such situations, considered this approach fair. The match, by the way, ended in a draw.
Officially, Timed out as a method of dismissal was added to the Laws of Cricket in 1980. Then it would give the batsman two minutes to get on the playing field. However, later, in 2000, this rule was adjusted. According to it, the batsman is currently given three minutes to get into position and be ready to take the next ball. However, as you already know, this rule may change depending on the format of a cricket match.
Timed out: real examples of dismissing batsmen by this method
Of course, our review would not be complete if we did not give real examples of the use of Timed out in cricket. As already noted, this phenomenon is quite rare.
For example, in first-class cricket, there are (as of 2021) six cases of dismissal by the Timed out method:
Andrew Jordaan – Eastern Province against Transvaal in the 1987-88 season. The situation was very unpleasant: the player could not get to the field because of flooded roads.
Hemulal Yadav –Tripura against Orissa at Cuttack in the 1997-98 season. The player was just talking to his manager at the border and didn't even try to get to the crease.
Vasbert Drakes – Border vs. Free State in 2002. It will sound strange, but at the time when Drakes should have already been standing on the field, he was still flying in a plane from his native West Indies.
AJ Harris – Nottinghamshire vs. Durham UCCE in 2003. The athlete suffered from a groin strain, which took him too long to get to the crease. In this regard, he was dismissed on appeal.
Ryan Austin –Combined Campuses and Colleges against the Windward Islands at Kingstown in the 2013-14 season. Austin was the number 11 player and just didn't have time to get to the crease in a certain time. The source does not specify why.
Charles Kunje – Matabeleland Tuskers vs. Mountaineers in the 2017-18 season. This case is the most extreme of the known ones. The source also does not provide explanations of why the batsman did not have time to take a position.
In addition, there are other cases of players being removed due to Timed out. For example, in one of the matches of New Zealand against Australia, a New Zealand player Trent Boult found himself in such a situation.
Now you know all the necessary information about Timed out. As you can see, this phenomenon is really very rare, and every dismissal in cricket by this method is a whole event.