Sri Lanka vs Bangladesh Betting Tips 1 September 2022
T20I
ACC Men's T20 Asia Cup 2022
Thu, 1 Sep 2022, 18:00 (Local Time)
Thu, 1 Sep 2022, 19:30 (IST Time, UTC + 05:30)
5th
Dubai International Cricket Stadium, UAE
LKA - BGD Betting Tips 1 Sep 2022:
The 2nd team (Bangladesh) will win
Result:
Tips Correct, Passed
Tips Incorrect, Error
Did Not Take Place
There is no data yet
Sri Lanka vs Bangladesh Betting Tips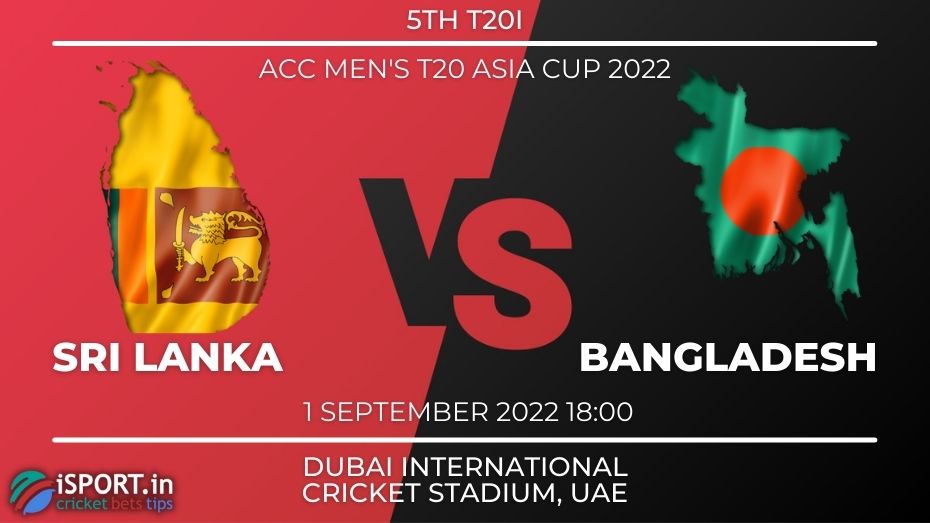 Our information portal has prepared a forecast for the Sri Lanka – Bangladesh match, which will take place on September 1, 2022. This match will decide who will get second place in the playoffs in Group B because both Bangladesh and Sri Lanka have already lost to Afghanistan. Who will be closer to success?
Sri Lanka
Sri Lanka approached the contest with Afghanistan in the status of a very obvious favorite, but there was a defeat with a handicap of 8 wickets. Even today, Silverwood's guys may not justify the BM's trust. Of course, Sri Lanka will try to beat Bangladesh and still reach the playoffs. But I wouldn't put the Silverwood guys out as the obvious favorite.: Bangladesh performed no worse against Afghanistan, so the Bengali team has every chance. Do not forget that Sri Lankan players are now experiencing stress because their home state suffers a tremendous economic crisis. Likely, many players cannot fully concentrate on cricket.
Bangladesh
The Bengali national team lost its first match of the Asian Cup 2022 to sensational Afghanistan, which shows a perfect game within the framework of this event. Bangladesh is highly motivated today because the winner of the face-to-face confrontation with Sri Lanka goes to the playoffs. However, there is plenty of motivation from Sri Lankan players. It should be noted that today Bangladesh is a clear underdog for bookmakers, which we can disagree with. Bangladesh and Sri Lanka are not in the best shape, but the chances are at least equal in a face-to-face game. The bookmakers didn't do the right thing by giving Sri Lanka a noticeable advantage.
Prediction
In this match, the odds do not reflect the real state of affairs. Bangladesh and Sri Lanka are equal rivals, and it's hard to explain why Silverwood's team was given such a serious preference. Let's push off from the underdog: the victory of Bangladesh for 2.35.