India — Pakistan Prediction on August 28
T20I
ACC Men's T20 Asia Cup 2022
Sun, 28 Aug 2022, 18:00 (Local Time)
Sun, 28 Aug 2022, 21:30 (IST Time, UTC + 05:30)
2nd
Dubai International Cricket Stadium, UAE
IND - PAK Betting Tips 28 Aug 2022:
The 1st team (India) will win
Result:
Tips Correct, Passed
Tips Incorrect, Error
Did Not Take Place
There is no data yet
India — Pakistan `betting Tip on August 28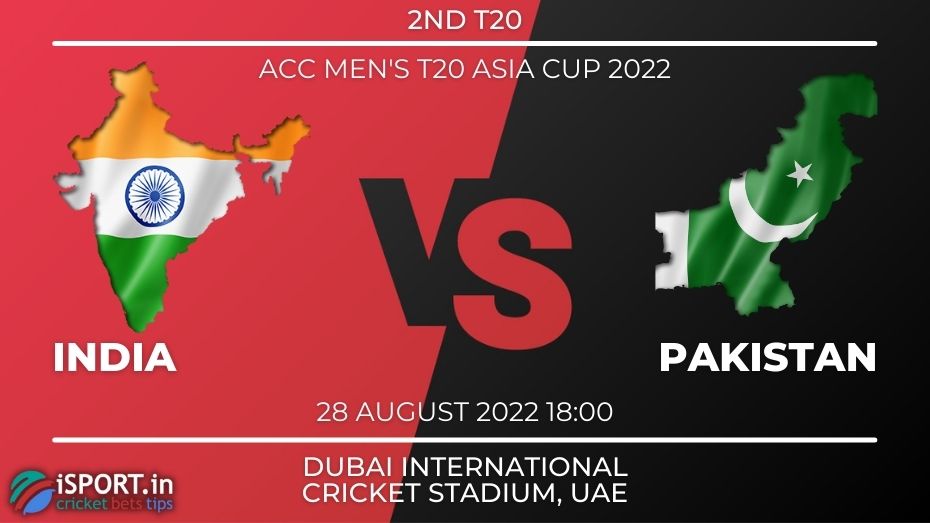 The India national club lost its head coach in the person of Rahul Dravid on the eve of the Asian Cup 2022 — he caught a coronavirus. For the first time, VVS Laxman will be at the helm of the Indian team. But does this mean that the main favorite of the tournament will fail in a duel with the main competitor? Read our prediction for the India — Pakistan match, which will take place on August 28.
India
The India national squad has won the last two Asian Cup draws, and the strongest team in the region will not stop there. The India national team has had a great time over the past few months, showing an excellent willingness to solve big problems. Of course, while there are serious questions for Virat Kohli, who will have to compete with Babar Azam, but Virat is still an experienced player who can open up from a new side at a major event. In general, India is doing great now: all the leaders are in the ranks and there has been no news about COVID-19 infections. Yes, the absence of Rahul Dravid is an unpleasant factor. But let's be honest: The India national team is experienced, stellar and masterful. So even without their helmsman, the Indians must show the game of the highest level. Moreover, today Pakistan will face India, which is a fundamental rival for the India national team.
Pakistan
The Pakistan national club continues to progress and improve its results. Yes, Pakistan has Babar Azam, who claims to become one of the strongest players in the world, but it is still hard to imagine that the Pakistani national team will seriously fight India. Do not forget that before the Asian Cup 2022, Pakistan suffered severe personnel losses. Afridi and Wasim will not be able to help their national team — this significantly affects the potential of the Pakistan team. The battle of India and Pakistan has a special status, and special attention is focused on it, so there is plenty of motivation on both sides. And all other things being equal, India looks noticeably preferable to Pakistan.
Prediction
It is unlikely that Pakistan will be able to give battle to the India national team. Yes, the generation of Pakistan is talented, and Babar Azam is very strong, but India as a team looks like a much more streamlined system. I am sure that Laxman's squad will show the seriousness of their intentions on the first game day: the victory of India for 1.46.