Skipper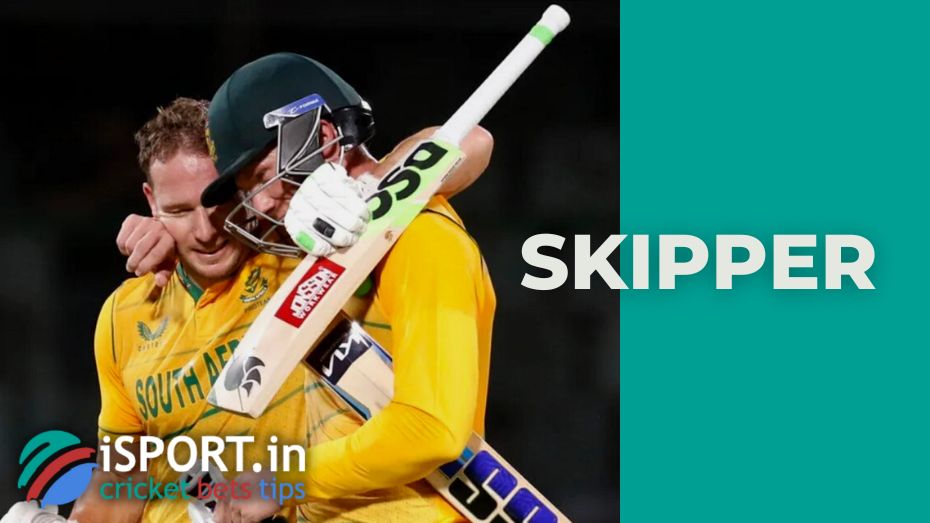 A skipper is an alternative to the term captain on a cricket team. In professional circles, you can often hear the replacement of the definition of captain with skipper, which is associated with his leadership qualities and several additional roles and responsibilities in addition to playing.
As in other sports, the role of captain usually goes to the more experienced player with excellent leadership and communication skills. Representatives of the team, with their assigned captain's duties, are permanent members and responsible for morale in the team.
Skipper has several tasks on its shoulders, including:
toss – participate in the toss of a coin to select the order of entering the field;
bowling and batting order – selecting a list of players for the match, as well as determining the order of their entry into the game;
fielding positions – defining the order of filing, i.e. who will play each ball and where each field player will be;
declarations – the right to statements on behalf of the entire team (announcement of the end of the innings, request for a change of ball, informing about damage to the field, etc.);
miscellaneous – consultations with a representative of the opposing team about the continuation of the meeting or the possibility of replacing an injured player;
and other tasks such as responsibility for the functioning of the cricket club (training process, rewards, playing practice, testing newcomers).
Even though the last word rests with the captain, all decisions are discussed together with the team.
Due to the continuous reduction in the role of the coach and other support personnel, the range of functions and tasks of the cricket team captain is regularly increasing. Moreover, the responsibility for the club's results, like other sports disciplines, also lies with the skipper.
Don't confuse captain/skipper with vice-captain. The last one is the captain's assistant and performs his duties if the leader is forced to leave the playing field during the game. Some teams assign the vice-captain a more or less formal role in assisting: in selecting the team, creating discipline, and so on. Sometimes the role of the vice-captain is seen as preparation for the subsequent captaincy.
You can bet on your favorite team with PinUp promo code.