Pie Chucker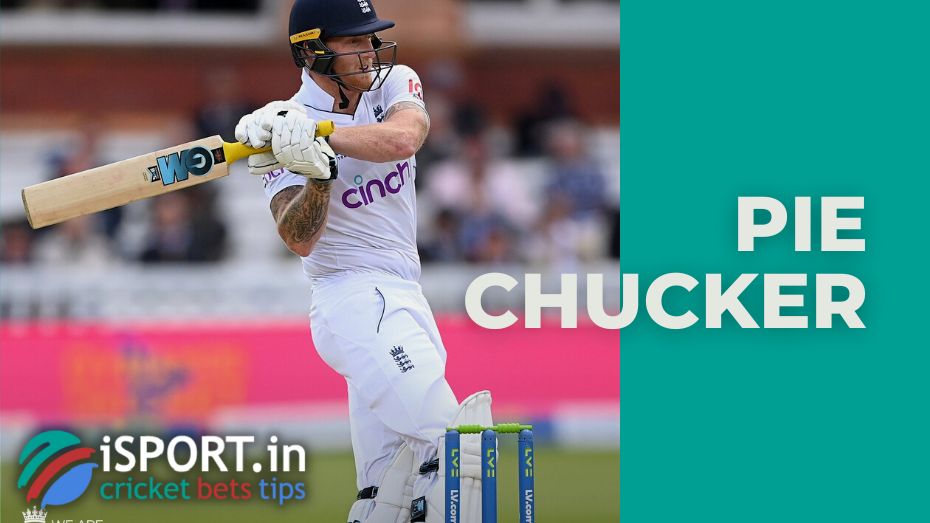 There is such a player in every club – the Pie Chucker. It looks harmless, but it is a truly formidable force. True, only to harm your team because rivals have nothing to be afraid of here. Evil tongues argue that such a player does not need a stretch because he is more likely to get injured during a tea break than during a match. The Pie Chucker refers to an unlucky bowler who cannot control where he throws the ball. Therefore is not dangerous for the opponent's wicket.
What is the Pie Chucker in cricket, and where does this expression come from?
Pieing has its origins in the silent film era. Pies were thrown by Fatty Arbuckle, Keystone Kops, Three Stooges, and other comedians. So, it is likely that initially, the pie-throwing technique in the opponent's face was an exclusively American method of attack and comedic technique. Over time, it spread throughout the world and now is a comedic element and a way to raise funds for charity, when someone from famous people or just from college or university teachers allows you to throw a pie for money in yourself.
Pieing became a political gesture for the first time in 1970 – it happened during a meeting of the American presidential commission on obscenity and pornography: Thomas King Forcade, a founder of High Times magazine, threw a cake in the face of Otto Larsen, a sociologist. The tradition of throwing the cake became so popular that even Nicolas Sarkozy (then the President of France) and Bill Gates got it.
Pies have not literally been thrown yet on the cricket field. So, where did the Pie Chucker's expression in cricket come from? At the moment, the etymology of this term is not reliably known. But some facts can still be asserted with a fair degree of confidence:
Webster's Third New International Dictionary (Unabridged) suggests "something easy or much desired" as one of the meanings of "pie." For example, you can come across the expression "it was easy as pie." Maybe from this meaning of the word "pie" that the cricket term originated, it is a slow and easy throw that any batsman will not miss.
Another version is that the expression Pie Chucker comes from the comedic overtones of this gesture. When one person throws a cake at another, he does not look like a threat, as befits a bowler in a cricket match. Moreover, this gesture cannot be called a model of honor and discipline. The thrown pie flies slowly and is hardly the kind of projectile that can destroy the opponent's wicket.
Most likely, the first phrase Pie Chucker was used in cricket in 1993. Says its wicket-keeper Rod Marsh regarding English bowlers before The Ashes. Australia won that series (4: 1), and it was the first tournament series that England lost with such a devastating score. In those days, even a draw with England was an honor for the national teams of many countries, so such an impressive victory gave the Australians a reason to increase their international ambitions. Despite this, it was in the Australian team that the level of bowlers was very low. Among the players who played more than one match in the series, only Mark Willott took eight wickets at 51.50. But among the British, the best bowler was Peter Such, who took 16 wickets at 34. Now, these dark times are behind, and the Australians are formidable opponents. In addition, the name Rod Marsh will remain in cricket history as the name of the one who first aptly used the word Pie Chucker in relation to bowlers.
This caustic term has not lost its relevance now: Yuvraj Singh, using it, teased Kevin Pietersen on social networks. So if your favorite team's bowler suddenly starts to throw like he's throwing a cream pie in the enemy's face, you can safely say that he is playing like the Pie Chucker.
Our team always prepares interesting and informative articles about cricket and gambling for example Jeetwin promo code for you. Follow this sport on our website!