Nightwatchman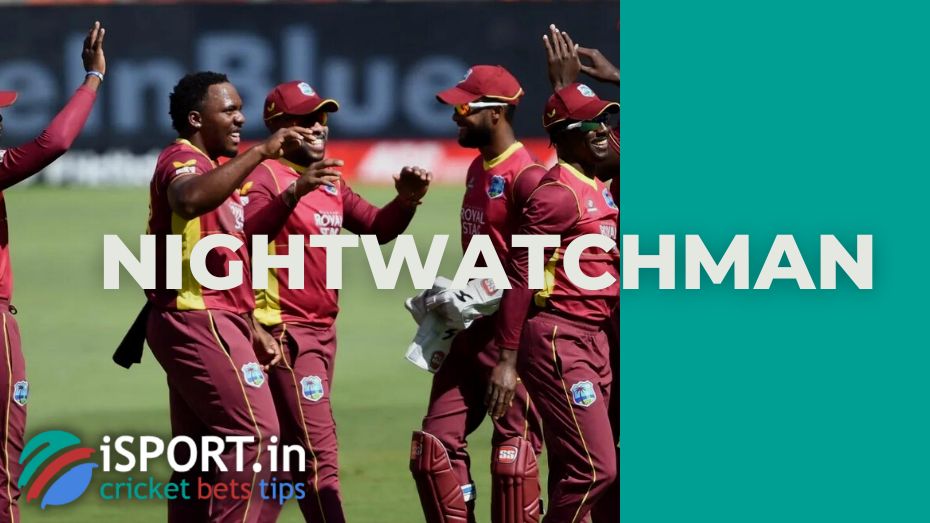 Did you know that in Test or First-class tournaments, there is such a role as nightwatchman? In fact, this is a weak player who just has to stand and defend the wicket 15-30 minutes before the end of the game day. But, there are cases when these players took 100 or more runs for their performance. Read more in our material.
Nightwatchman – general information
The term nightwatchman refers to Test or First-class matches. As you know, such games take place within a few days. Any batting team has its own list, according to which players with a bat take turns on the court (batting order). Basically, the batting order is divided into three groups:
A Nightwatchman is a batsman who goes on the field near the end of the game day. Most likely, he will belong to the middle order or tail enders groups. Now we'll figure out why a player like a nightwatchman is needed at matches.
There are situations when the batting team loses a wicket with a strong batsman at the end of the game day. To avoid including the next professional batsman in the game (who will earn more runs in daylight), the team captain exposes a weaker player. This player is with a bat and is named a nightwatchman. The main task of such a batsman is simply to finish the inning, that is, not to take risks and stand in defense. Thus, the team reduces its chances of losing two or more experienced batsmen in one day.
And what if nightwatchman is knocked out before the end of the inning? Needless to say, there are no pure advantages in any tactic. It is absolutely necessary to sacrifice something. In this case, this is the disadvantage of such a strategy. If the nightwatchman is eliminated before the end of the game day, the team will still have to send a more experienced player with the bat (in order to prevent unnecessary loss of wickets, for sure). Therefore, team captains do not always use nightwatchman. For example, at one time, Englishman Steve Waugh, being the captain of the England national team, categorically refused to use such tactics.
Nightwatchman – positive examples
Of course, if nightwatchman goes on the field, this does not mean that the team will be set up only to keep the wicket. At any opportunity, a batsman is obliged to score runs. In the entire history of cricket, such matches have been recorded when nightwatchman was able to score 100 or more runs (century).
Unfortunately, we cannot give exact information about the number of batsmen who have played as a nightwatchman and have taken 100 or more runs. But, with confidence, we will write about five such players:
Pakistani cricketer Nasim-ul-Ghani. In 1962, he became the first nightwatchman to score 101 runs in a test match against England (it was also the first century of a Pakistani in England);
The player from Australia is Tony Mann. In 1977, in a match against India, he took 105 runs;
Syed Kirmani is an Indian wicket-keeper. He became famous in 1979 in a game against Australia (101 runs);
South African Mark Boucher. Twice, in 1999, Mark appeared as a nightwatchman for a match against the Zimbabwe and England national teams. In one case, he took 125 runs, in the second 108;
And the last player from Australia is Jason Gillespie. The cricketer made his first double century (201 runs) in 2006 in a match against the Bangladesh national team. To date, Jason is the only nightwatchman who has been able to score that many runs in Test matches. By the way, he did it on his birthday.
To a great disappointment, there were also nightwatchmen who stopped a step away from the coveted century. For example, in 1999, Englishman Alex Tudor, in a match against New Zealand, was knocked out on the 99th run. Harold Larwood (also an Englishman) found himself in a similar situation. At the final of The Ashes 1932-1933, Harold was able to score 98 runs.
You can bet on your favorite team with 10cric promo code.