Military medium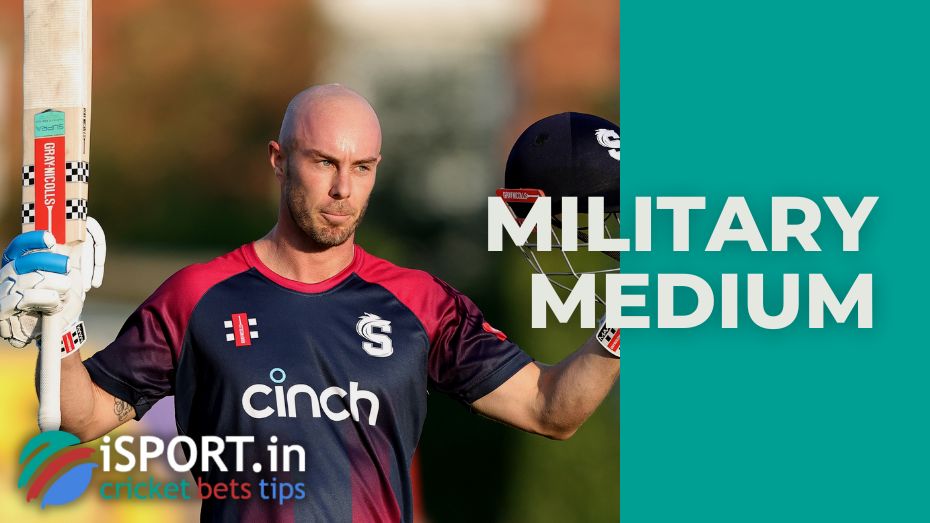 Did you know that the phrase military medium can sound at the same time as an unpleasant insult or as praise for bowlers? We are dealing with this issue, and also give an example of 5 bright representatives of cricket, who are famous for their specific serves. In addition, we will find out who and when uses the phrase mine and why it is important in any team game.
Military medium – player's stability
Traditionally, there are two approaches to throwing in cricket: fast bowling and spin bowling. Military medium serves are between two approaches. Players who use such serves are called as military medium pace bowlers. What does it mean?
The phrase has a double meaning. On the one hand, bowlers with military medium serves are considered those who do not have enough speed in their serves. These are boring, monotonous throws that are not interesting to watch. Sometimes the phrase military medium can humiliate a throwing cricketer.
On the other hand, bowlers who serve the same deliveries (along the same length and trajectory) are considered stable players. The speed of their serves is about 65-75 miles per hour. This style is more effective in games with a limited number of overs. Unlike test cricket, batsmen must constantly look for opportunities to get runs quickly. And with military medium serves, it will be extremely difficult to do this. Moreover, if the bowler serves 6 identical shots per over and the batsman cannot hit them, sooner or later, this will lead to serious consequences for the batsman. Thanks to this, the phrase military medium can sound like praise.
Here is a list of the TOP 5 players who are known as military medium pace bowlers:
Pakistani player Mudassar Nazar. He is the first player to have played 76 test matches, and 122 limited overs matches for Pakistan during his career. To a greater extent, he was known as an excellent batsman, but his specific serves also did not go unnoticed. In 1982, Nazar received the Golden ArmAward for a match against England, in which Mudassar knocked out 6 wickets per innings;
Australian player Steve Waugh. In the period 1997-2004, he was the captain of the Australia national team. It was with him that the national team won 15 matches in a row in various test tournaments. He managed to take 92 wickets in 168 test games and 195 in 325 ODI matches. His style of serving more than once radically changed the situation at competitions with the participation of the Australia national team;
New Zealand cricketer – Gavin Larsen. Gavin has played for one team in the domestic championship all his career – Wellington. As a useful batsman and a handy bowler, he was constantly taking places in the team at ODI format games. During his entire career, he played in 8 test matches, where he took 24 wickets, and in 121 games with a limited number of overs, Gavin was able to knock out 113 wickets. Due to his economical style of serving (military medium), the player was jokingly called The Postman.
New Zealander Chris Harris. In the 1990s, Chris was considered a folk hero in New Zealand. In cricket, he was an all-rounder. He hit balls with his left hand and served them with his right. Harris was a real military medium pace bowler. His slow serves often caused batsmen to make mistakes in their strikes. This style of the cricketer was taught by another popular New Zealand player – John Bracewell. During his international career, Chris played 23 test matches, where he knocked out 15 wickets and 205 ODI matches, where he was able to take 203 wickets of opponents;
Englishman Alec Bedser. A professional cricketer who was considered one of the best English players of the XX century. Thanks to the specific serves, Alec was able to knock out 236 wickets in 51 test matches! It is worth noting the first-class matches, where for 485 matches, the player hit the opponent's wicket 1924 times! In addition, Alec Bedser was able to knock out the holder of numerous Australian records, Donald Bradman, 6 times for all time (considered the greatest batsman of all time).
We are well aware that any fan wants a bright and exciting game, which is almost impossible to see when serving military medium. However, such throws are necessary for any team, and this cannot be avoided.
You can bet on your favorite team with 1win promo code.