Specialist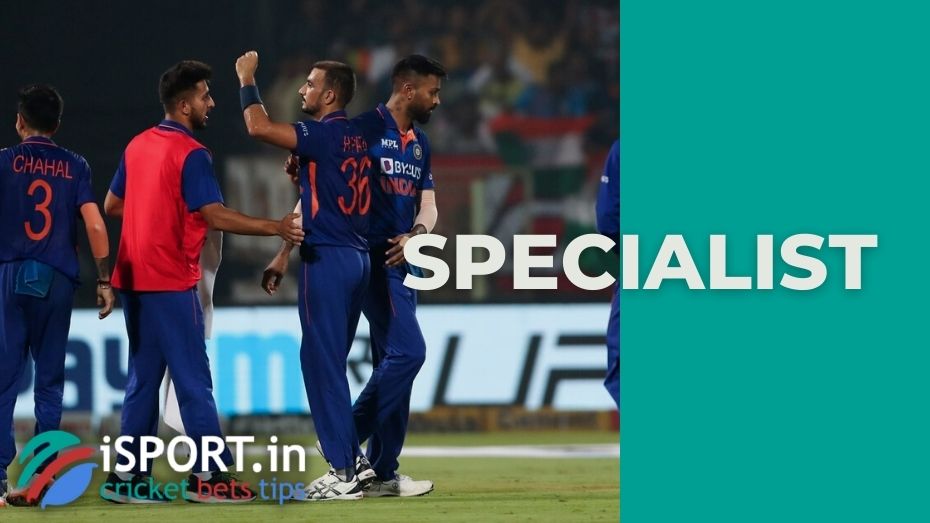 A specialist is a cricketer with specific skills that allow his team to prevail in a match. Another meaning of specialist is slightly different from its classical understanding – a player who has received professional training and the privilege of participating in matches at a professional level. The presence of three formats in modern cricket forces players to adapt to each of them to achieve maximum success, and, consequently, the demand for a specialist is growing.
According to the rules of official matches, a cricket team consists of 11 players who change to hit before the innings or batting order is completed. In this regard, each team must have a specialist batsman responsible for the team's success in this aspect of the game. Naturally, this role goes to the batsmen, who are always in the first positions. As a rule, a specialist batsman is a rather honorable and popular role in cricket, to which a lot of attention is paid not only from the coaching staff but also from commentators.
In addition to professionals in any specialization of cricket, it is possible to single out specialists in a separate format, say, a specialist in the field of limited-overs (ODI). The most famous example is the Australian left-handed bowler Nathan Bracken, whose career spanned from 2001 to 2009. Despite the transience of his professional career, he gained a reputation as one of the best bowlers of his time and was known for the fact that thanks to his skill and talent, he could almost single-handedly win the most difficult match. After the T20 format began to gain popularity, Bracken managed to adapt to it and once again demonstrated its indispensability. In total, Nathan played 116 ODI matches, capturing 174 wickets and averaging 11.64 points.
Undoubtedly, specialists are assigned a leading role in the team. They may not occupy the captain's post, but they weigh the team. Despite the specific specification, their task is universal and requires adapting to the current situation because each new match is a separate story. The specialist as a batsman should handle any ball serving, while the Specialist Bowler should be able to serve and score points.
However, not all players are capable of this. Many aspiring cricketers, even with talent, cannot fully reveal it. For this, special programs have appeared and even cricket schools around the world. Intensive training of young players involves studying a professional program that improves their skill level and sports intelligence. In addition, participation in this kind of program, as a rule, guarantees a place in the squad at regular matches because after completing the training, the wards of such institutions receive a certificate of awarding a specialist degree or the like.
You can bet on your favorite team with Sportsbetting promo code.