Hat-trick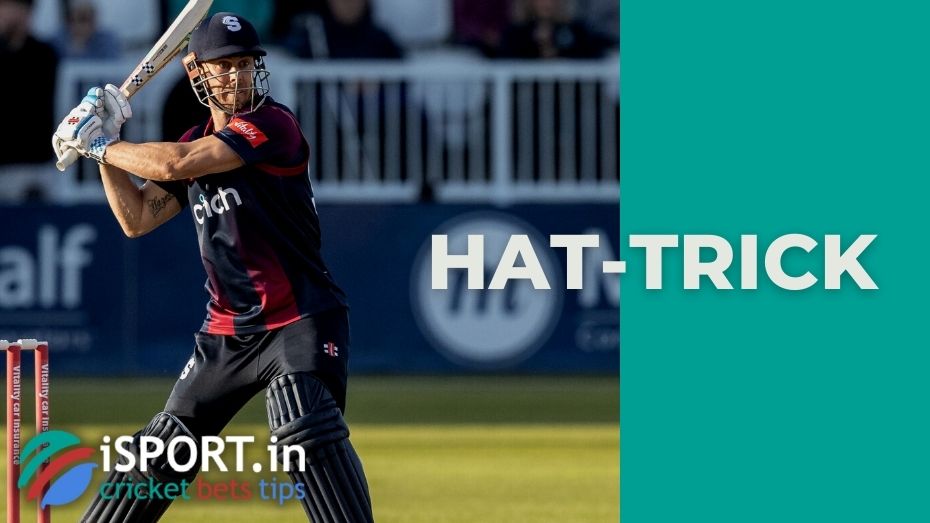 Hat-trick is three wickets that a bowler takes on consecutive serves. These serves can be "intercepted" by, for example, another bowler's overs, but wickets must be taken on consecutive serves (wounds do not count).
Hat-trick is a rare and valuable phenomenon even among experienced bowlers, so it is not surprising that not every player can boast of even one such achievement.
So, in the history of test cricket, only 46 hat-tricks are registered, the first of which was drawn by Fred Spofforth, who played for Australia, in a match against England (1879). His compatriot Jimmy Matthews chalked up two hat-tricks against South Africa in 1912. Subsequently, only three players were able to repeat this feat:
Hugh Trumble (Australia) – matches against England in 1902 and 1904;
Wasim Akram (Pakistan) – two separate matches against Sri Lanka in 1999;
Stuart Broad (England) – matches against India and Sri Lanka (2011 and 2014).
At the same time, the only one who managed to score a hat-trick on the first three serves in test competitions was the representative of Sri Lanka Nuwan Zoysa (match against Zimbabwe, 1999). Indian Irfan Pathan scored a hat-trick in the first over of a test match against Pakistan in 2006.
Some test hat-tricks have become memes. For example, Australian fast bowler Peter Siddle, who took three wickets on consecutive innings in the match against England on November 25, 2010, unwittingly became the author of the iconic Siddle's hat-trick on his birthday, since it was his birthday that day.
The ODI recorded slightly more hat-tricks than the test matches – only 49. The first one was scored by Pakistani Jalal ud-Din in the match against Australia in 1982. The last bowler who succeeded at the moment was the representative of India Kuldeep Yadav, who distinguished himself in the 2019 ODI three-match series, where his national team confronted guests from the West Indies.
The only bowler to score three hat-tricks in a single international series (in this case ODI) is Sri Lankan native Lasith Malinga. Four more players issued two each:
Wasim Akram (Pakistan);
Saqlain Mushtaq (Pakistan);
Chaminda Vaas (Sri Lanka);
Kuldeep Yadav (India) with a total of four international hat-tricks to his credit.
Chaminda Vaas is the only cricketer to score an ODI hat-trick in the first three innings (2003 against Bangladesh in Pietermaritzburg). In addition, he managed to take the fourth wicket on the fifth ball of the same over, but Chaminda still failed to score a double hat-trick. This result was improved by Lasith Malinga in 2007, who took four wickets on four goals (match against South Africa). The Sri Lankan native later repeated his achievement in T20I, where his national team faced New Zealand.
Seasons earlier, Hampshire player Kevan James had scored four wickets plus a hundred in a County Championship match, an achievement that is still considered unique in cricket. Albert Trott and Joginder Rao are the only bowlers to score two hat-tricks in one inning in a first-class match. Another curious record belongs to Gloucestershire player Charlie Parker, who took five wickets on five goals against Yorkshire in 1922. Almost a hundred years later, Wainuiomata player Scott Babot managed to do the same in one of New Zealand's junior cricket series. In this case, it took several playing days to repeat the record.
A triple hat-trick was recorded at the T20 competition in Brazil in 2017: Carioca's off-spinner Rafi Ur Rahman took five wickets on five balls. The episode recorded two clean serves and two cats, so it was voted best at the national awards ceremony at the end of the year.
It is worth clarifying that different leagues have their definitions of both the hat-trick itself and the achievements close to it. For example, two wickets taken on two consecutive serves are often referred to as a "pair", and four wickets on four balls are called "double hat-tricks" since there are two ways to build a sequence of wickets (1-2-3 and 2-3-4 respectively).
Interestingly, the term Hat-trick is rarely used to mean "winning the same tournament three times in a row." For example, Australia scored a hat-trick by winning the Cricket World Cup in 1999, 2003 and 2007, and Lancashire won the English County Championship in 1926, 1927 and 1928.
You can bet on your favorite team with 10Cric promo code.