Bowling analysis or bowling figures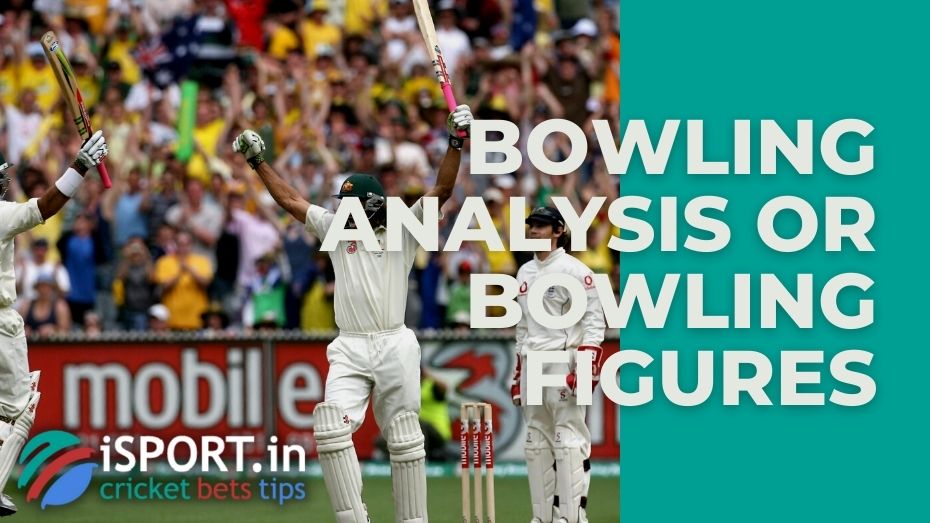 This sport uses bowling analysis or bowling figures to understand what a particular cricketer is capable of. It usually adds up the number of overs, maidens, total runs missed and wickets taken.
Bowling analysis or bowling figures: the basic meaning
Bowling analysis or bowling figures can be found after every inning. At the end of the matches, the statistical calculations can be found in newspapers and magazines. Wisden Cricketers' Almanack pays particular attention to numbers in cricket. Typically, the indicators are given in the following form: Overs – Maidens – Runs conceded – Wickets. Sometimes only Wickets and Runs conceded are indicated.
Bowling analysis or bowling figures: top performers
Jim Laker from England performed better than others in Test matches. He has 10 wickets and 53 runs per inning. Laker is considered one of the greatest bowlers in cricket history. England and Australia played Laker's Match at Old Trafford Stadium in 1956. Jim Laker took 19 out of 20 possible wickets, which is a unique achievement. It is not surprising that the British confidently defeated their principal rival.
Chaminda Vaas from Sri Lanka is leading in the One Day International format. This player is called the greatest fast bowler in the history of cricket in this country. Only three bowlers have taken more wickets in their careers than Vaas. In the Twenty20 International format, Deepak Chahar from India is considered the best. It has a score of 6/7. In 2020, the player received the T20I Performance of the Year prize presented by the International Cricket Council.
Hedley Verity is a leader with a unique record – 10/10 in first-class matches. The cricketer played in the first half of the 20th century. He was a left-handed slow bowler and had good results thanks to his accurate throws.