Wicket maiden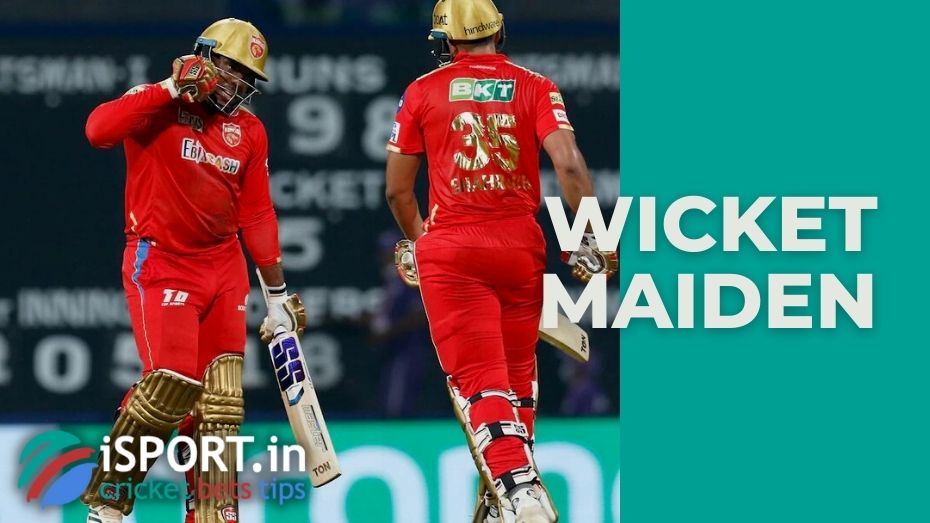 Wicket maiden – an over in which the batting team was unable to organize a single run. This term can often be heard in extensive sports commentary. The most common synonym is Maiden over, but with one important caveat: Wicket maiden can only be talked about if, in addition to the zero results for the runs of the beaters, the attack was able to destroy one or more wickets.
Wicket maiden is recognized if six full serves have been completed, none of which ended in Wide or No ball. If this condition is not met, the judge adds additional runs to the slugger team's piggy bank, so the over cannot be classified as a Wicket maiden. Another exception is run that is the result of Bye or Leg-bye: since they are not counted in the personal statistics of batsmen, the episode is treated as Wicket maiden.
The wicket maiden is considered one of the best ways to put pressure on a slugger. The individual statistics of the batsman and the final score are directly dependent on the number of runs performed, so if a batsman fails to score points, this tends to infuriate him and make him take risks (often unnecessary and thoughtless). Professional cricketers with extensive test-level experience argue that multiple Wicket maiden's in a row significantly reduce the batter's chances of winning, as it is very difficult to recover from such a black streak.
It is worth noting that Wicket maiden is more often recorded in traditional cricket formats, where batsmen are not under such strong pressure. But in the limited-overs format (T20 and ODI), batsmen are usually much more charged to achieve a quick result and therefore try to make at least six runs per over. Simply put, they are ready to move and take more risks than in the test format to gain the necessary points faster, and therefore, according to statistics, Wicket maiden is somewhat less common here.
However, in limited-overs, the Wicket maiden is a mark of quality for the bowler and only emphasizes the level of his individual skill. As a rule, attacking players try to design them towards the end of the battering team's inn. In such situations, batsmen are more nervous than usual and are easily knocked out of the rut using an unexpected trick.
During TV broadcasts, player statistics are displayed, and the total number of Wicket maiden can be seen in the second column (between overs and runs).
The five players with the maximum number of Maiden overs issued at the test level are:
Muttiah Muralitharan. The Sri Lankan legend holds the record for the total number of wickets taken at the test level (more than 800) and, quite logically, has issued more Maiden overs than any of his colleagues (1794 in test games and another 198 in ODI).
Shane Warne. The great Australian spinner chalked up 1871 Maiden overs internationally: 1761 in test games and 194 in ODI.
Glenn McGrath. Another great Australian, Glenn was considered a master of fast bowling for a reason. He was renowned for his unsurpassed hitting accuracy, which helped him complete a total of 1,470 Maiden overs in test games and 250 in ODI.
Anil Kumble. The best wicket-taker in Indian cricket history, Camble performed 1685 Maiden overs in his career. 1,576 were for international performances, the rest for limited overs.
Shaun Pollock. The South African was often compared to Glenn McGrath since he was not less accurate in serving. Shaun took part in 108 test matches with 1,222 Maiden overs and added 314 more in limited-overs.
Interestingly, Wicket maiden should not be confused with Maiden Century, which means the first hundred, decorated by this or that professional cricketer. It is considered a kind of "baptism of fire" of the batsman, confirming his high level.