Switch hit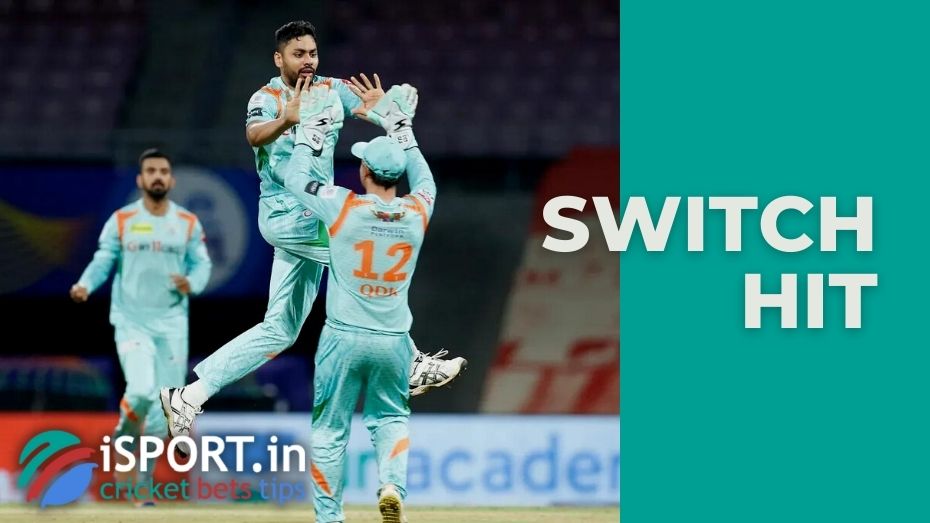 In cricket, not only the skill of serving the ball is valued, but also the ability to hit it. Batsmen train a lot, using various techniques to achieve high results in matches. One of the most unusual techniques that is rarely found but which is always impressive is "Switch hit". There was a lot of controversy around it; they even tried to ban it once. But no one has ever denied that this skill is really spectacular and effective. Details about this cricket term are in our material.
Switch hit: what is it
Let's figure out what Switch hit is because, to enjoy cricket, it's better to know every little thing about this game.
Switch hit is a type of hit in cricket, which consists of a batsman quickly and effectively switching from right-handed to left-handed just before the bowler serves the ball.
We can say that this is such a kind of deceptive tactical move. This type of blow is also called a kind of reverse sweep.
In general, using Switch hit in cricket is very difficult. A batsman should play equally well in both positions and be able to switch to the other quickly. Look at the YouTube video with Switch hit; it looks really impressive. In addition, in most cases, this strike achieves its goal.
Switch hit: a very brief history
There are different versions of when Switch hit was first used on the cricket field. So, officially, the first such perfectly performed strike is attributed to the English cricketer Kevin Pietersen. It is believed that for the first time, Pietersen played a Switch hit against the innings of Muttiah Muralitharan in a test match against Sri Lanka in May 2006. He used this trick again only two years later, on June 15, 2008, at a one-day international tournament against New Zealand.
Even though the Switch hit became known precisely because Pietersen successfully performed it, it is believed that Jonty Rhodes tried to implement it before him in the match between Australia and the Republic of South Africa on March 27, 2002.
One of the modern players who most often uses Switch hit is Australian Glenn Maxwell.
Recognition of Switch hit in cricket
As we have already said, the use of Switch hit causes a lot of controversies. Representatives of one side believe that this strike is a sign of a batsman's highest level of skill since it is extremely difficult to implement it. And their opponents have a different opinion: they believe that the batsman gets an unfair advantage over the bowler by using a Switch hit, and therefore, this type of hit should be banned.
However, The Marylebone Cricket Club, the guardians of the Laws of Cricket, has decided that no laws will be passed against the Switch hit and that the hit complies with the rules of cricket. Moreover, this attracts more attention to the game; it becomes more exciting and interesting.
In June 2012, a bold dot was put in the controversial Switch hit issue: the International Cricket Council committee declared that this hit was legal. There will be no changes to the rules of cricket that would prohibit it.
In turn, we note that the entertainment of the Switch hit implementation is really impressive. What do you think? Tell us about your opinion in the comments.