Sledging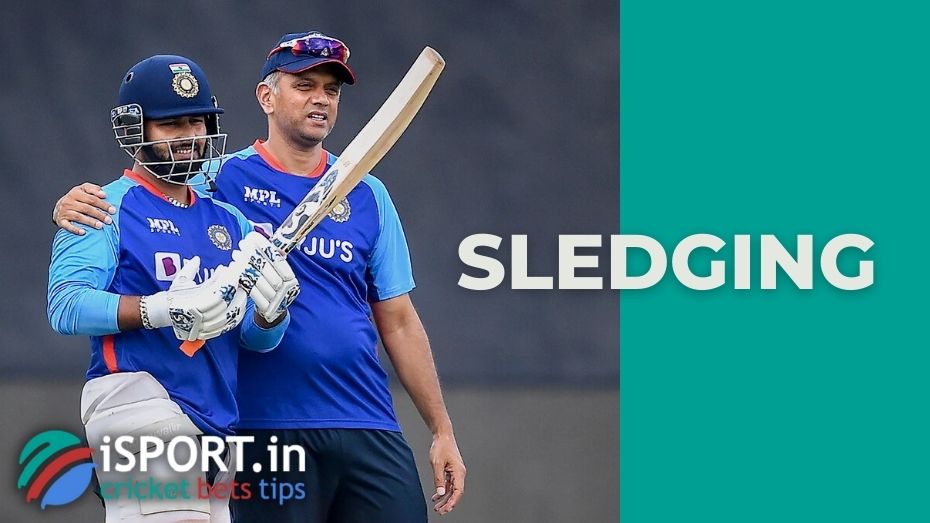 Many cricket fans follow the game not only because of the process itself. Yes, cricket matches are exciting and interesting, but there is a moment that is no less attractive – this is the players' behavior during the match and what they say to each other. Sometimes this goes beyond the bounds of decency, and the term Sledging is used to refer to such situations. In this article, we will tell you in detail what this word means, when it appeared, how cricketers from different countries treat it, and also give some of the most striking examples of this situation.
Sledging: what does it mean
Sometimes it happens (and not only in cricket) that athletes do not watch their mouths on emotions or deliberately throwing various insults at each other. This, of course, is not very good from the point of view of morality, but it adds entertainment to the game.
Sledging is a term used in cricket to describe an insidious tactic in which players seek to gain an advantage by insulting or verbally intimidating opponents.
We can say that the main goal of Sledging is to attempt to weaken the opponent's concentration, make him play worse or make a mistake. And, we must say, this method can be effective: the batsman is within earshot of the bowler and several close fielders, and vice versa.
It is important to note that insults can be either direct, purposefully reported to the player, or simply appear in conversations between players and be overheard by others.
There is an ongoing debate in the cricket world about whether Sledging is a sign of unsportsmanlike behavior or whether it is just an element of good-natured banter. However, periodically athletes abuse Sledging, really crossing the line of what is allowed, which eventually leads to a personal conflict of the players.
But another opinion is also widespread, which says that Sledging is a playful way to distract yourself. For example, former Australian captain Steve Waugh called this practice "mental disintegration".
Do you think Sledging is good or bad? Share your opinion in the comments below this article.
Sledging: the origin of the term
The practice of "witty banter" has been used in cricket since the game was founded. Judging by historical evidence, this has always been done by cricketers. For example, the brothers W. G. Grace and E. M. Grace were noted as "noisy" players throughout their careers. Moreover, W. G. Grace believed that teasing opponents is a real game skill that requires certain skills.
According to the famous cricketer Ian Chappell, the term Sledging itself originated on the Adelaide Oval sports ground at the Sheffield Shield competitions in the 1963-1964 or 1964-1965 season (exact information is not given). However, it was not until the mid-1970s that Australian newspapers recognized Sledging as an official cricket term. Since then, this word has been actively used to describe situations when cricketers throw insults at each other.
Attitude to Sledging in different countries
The interesting point is that different players from different countries perceive Sledging differently. Some people treat this practice well, and some try to limit it, realizing that it is impossible to exclude the phenomenon of Sledging from cricket completely.
We tell you about the most famous statements about Sledging from players from some countries:
The Australian team often supports the Sledging culture. According to Australian cricketer Mark Taylor, cricket fans like the "fighting game". Batsman Ricky Ponting believes that Sledging helps players "get out of their comfort zone", which only brightens up what is happening on the field.
The position of the cricketer Steve Smith is slightly different. He believes that "it is not worth getting too personal on the field, since this goes beyond all boundaries." At the same time, he does not speak categorically against Sledging, but there should be a framework everywhere.
The situation began to change dramatically after the famous ball tampering scandal in Australia in 2018. Then there was an opinion that the culture of Australian cricket should undergo reforms. Australian Prime Minister Malcolm Turnbull called for an end to Sledging immediately after the scandal. However, this call was not received positively: former Australian cricketer Justin Langer said that "cricket would be a boring game without Sledging". Batsman David Warner, who received a one-year ban from participating in matches because of the scandal, also said that he "plays with aggression on the field, but tries not to cross the line." In general, it all came down to the fact that the authorities received a promise from the team "to make fun, but never to abuse it and not to turn to insults."
Another Australian cricketer, Chris Lynn, suggested that franchise cricket would help reduce cases of Sledging. The fact is that under such circumstances, players often find themselves on the same team, so it's not in their interests to be rude to each other somehow.
However, Sledging continues to persist in Australian cricket, as many players and fans of this sport believe that it is an integral part of the cricket culture.
The Sledging culture is also widespread in India. So, one of the first "aggressive" captains who used this method of influencing rivals was Sourav Ganguly. Also, many Indian cricketers believe that without Sledging, cricket becomes not such an exciting sport. For example, Gautam Gambhir believes that this is normal, but only as long as the insults do not begin to get too personal. Another cricketer, MS Dhoni, claims that Sledging is a certain kind of art, but only if you do not cross a certain line. Mohammad Kaif holds the same position and believes that insults on the field are normal, but they should not extend to the family.
There are not many categorical opponents of Sledging in Indian cricket, so this phenomenon continues to be common.
England. In England, Sledging is not so well treated. For example, the coach of the English national team, Trevor Bayliss, expressed disapproval of this phenomenon since censorship is necessary when broadcasting cricket matches in this case. Sledging can sometimes be excessively hard, and children can watch the game.
Before England toured New Zealand in 2018, former English cricketer Geoffrey Boycott called on English players to completely abandon Sledging.
Sri Lanka. The Sri Lankan cricket team has a reputation for trying its best to avoid Sledging on the field. The former captain of the team, Arjuna Ranatunga, at the beginning of 2008, called for an official ban on this method of influencing rivals. And indeed, the players of this national team very rarely insult their opponents during matches.
Despite the different points of view on Sledging, the majority of both cricketers and managers of cricket organizations believe that this phenomenon is an integral part of the game and is unlikely ever to leave it.
Five Examples of Sledging
We could not leave our readers without vivid examples of Sledging. Of course, there have been many more of them in cricket history, but we have selected the most interesting ones.
Robin Smith and Allan Border. During the match of England against Australia in 1989, Robin Smith asked for a drink to which Alan Border from the opposing team replied: "Do you think we have a tea party here? No, you can't drink a glass of water; you can wait, just like the rest of us."
Merv Hughes and Javed Miandad.In 1991, during a test match between Pakistan and Australia, Javed Miandad tried to insult Merv Hughes by shouting: "Merv, you are a big, fat bus conductor". Just a few balls later, Merv knocked out Miandad, ran past him and shouted the phrase "Tickets, please".
Michael Clarke, Sachin Tendulkar and Virender Sehwag. In 2003, Australian player Clarke called Indian rival Tendulkar "old". Sehwag stood up for his colleague, asking Clarke what breed of dog he belongs to. Since then, the Australian has been given the nickname "Pup".
Viv Richards and Greg Thomas. In one of the matches, when Richards missed a lot, Thomas decided to remind his opponent about what the ball looks like: "It's red, round, weighs about five ounces, in case you're interested." However, Richards knocked the next game out of the cricket field directly into the nearby River Taff. He turned to the bowler and responded to his Sledging: "Greg, you know what it looks like, now go and find him."
Eddo Brandes and Glenn McGrath. After the Zimbabwe player Brandex missed delivery from MacGrath, the Australian told him: "Hey, Brandex, why are you so fat?". But the latter was not at a loss and yelled out to him in response: "Because every time I sleep with your wife, she gives me cookies."
Now you know everything about this unusual term. If you have ever heard about interesting cases of Sledging, share them with us in the comments.
You can bet on your favorite team with Riobet promo code.