Scorer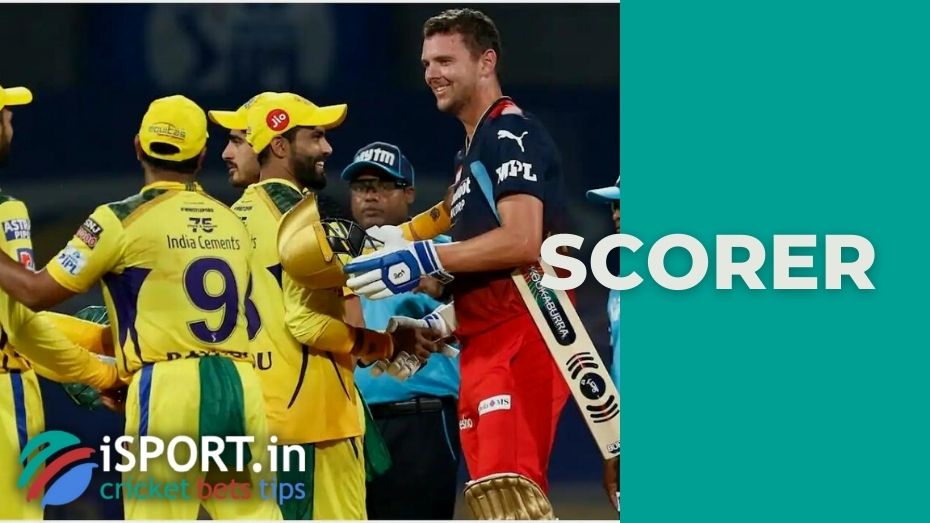 Scorer – the person officially responsible for the detailed statistics of the game. In this case, we are talking about an extra assigned to record all the points, wickets taken and other relevant information about the game.
During professional cricket matches (according to the Laws of Cricket), two scorers must always be present – one specialist per team. These two people are responsible for taking into account the results of not only their own, but also the opponent's team.
Comparing with other sports, scoring in cricket has a double system, which complicates it a little, i.e., it depends on the total number of runs and wickets taken. In this regard, the scorer must be guided by all judicial decisions and appeal to them in difficult situations. It should be understood that statistics are more of an accounting nature. These specialists do not have the authority and need to understand how runs are counted, additional points are scored, or wickets are taken. The referees are responsible for everything that happens on the field, so the scorer's task is reduced only to fixing. The umpires give all the signals to the statisticians in case of ambiguity: they indicate the players' positions, violations (if any), show the points earned.
Previously, scorers could use individual counting systems, but the accounting was conducted based on traditional methods. For example, some statisticians used different colors of ink (pens) to highlight events at the wicket or in the field, used graphic designations to distinguish actions between teams, as well as bowlers and batsmen. At the moment, the indicator system has become more detailed; it records not only the main points with a scoring record, but also the time or even the direction where the batsman hits the ball. Detailed information about what is happening can be easily found on score cards.