Offer the light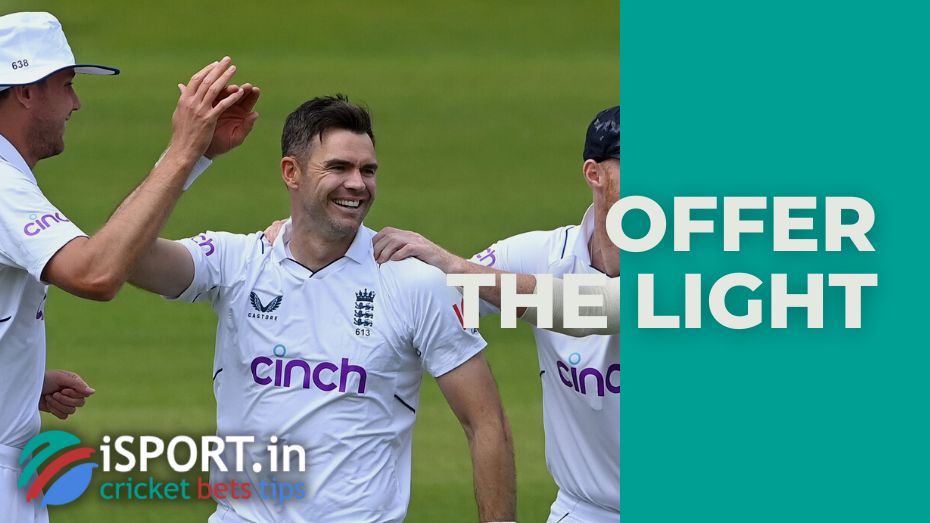 As you know, the cricket game can be played in 3 main formats: test cricket, one day international and twenty20 international (the same formats are held within the country). According to the rules of twenty20, the game can pass quickly (in just a couple of hours). Matches in the ODI format are a little slower (somewhere within 8 hours). And the game of the test cricket format is generally held for several days.
By and large, the sports term "offer the light" refers to games that take place in the test and ODI format. The fact is that such matches almost always end at night. Until 2010, due to poor lighting, the match referee could suggest that the teams finish the match ahead of schedule. Now there is no such bonus, and only the game judges decide whether to stop or end the game.
In fact, there may be several reasons for poor lighting:
twilight (the main reason);
bad weather conditions (rain, clouds);
bright sun (yes, we were not mistaken).
It is difficult for one team to serve and catch balls in poor lighting, and it is difficult for the second team to hit them. In addition, under such circumstances, players can cause each other various degrees of injury. Therefore, the team captains ask the judge to offer the light. Then the referee suspends the match and orders the employees of the sports field to turn on the floodlights (if, of course, there are any). The game resumes after all the floodlights are fully turned on.
Why was the Law canceled when the referee could suggest that the players finish the match ahead of schedule? In fact, the judge played only a small role. Since, according to the Laws of Cricket, poor lighting was a valid reason to leave the playing field, quite often, teams used this as a tactic. A simple example: one team is in the lead, and it simply leaves the field not to risk its advantage due to poor lighting.
Therefore, since October 2010, only the match referee makes the final decision whether to continue the game. To date, the game can be canceled or suspended due to poor lighting only if the players are in danger.
You can bet on your favorite team with Helabet promo code.