List A cricket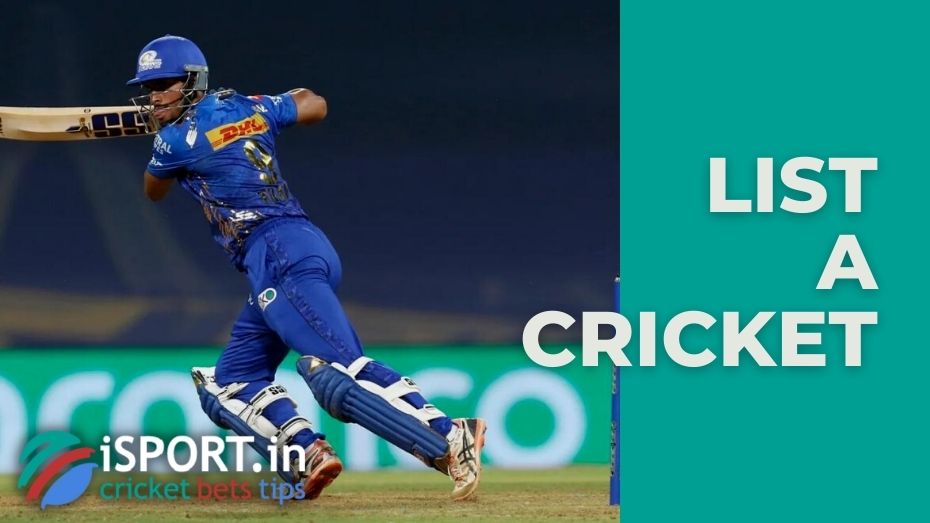 List A cricket is a classification of a one-day (Limited-overs) cricket competition where matches last no more than eight hours. The list A cricket includes One Day International (ODI) games and various home competitions, where the number of overs per inning for each team can range from forty to sixty. In addition, this also includes some international competitions in which teams that do not have an official ODI status take part. Along with Twenty20 and first-class games, it is one of the three basic cricket formats endorsed by the International Cricket Council (ICC).
Home competitions list A cricket are held in almost every country where cricket is played. Moreover, in most cases, games are limited to fifty overs.
It is worth noting that the list A cricket classification itself appeared relatively recently, in 2006, and was proposed by Philip Bailey, an English cricket statistician. Even though the ICC hesitated for a long time with the adoption of the appropriate decision, in the end the representatives of the organization had to admit that a new format was necessary. The involved specialists of the Association of Cricket Statisticians and Historians have developed the appropriate standards, which made it possible to systematize the career records and statistics of the participants according to the model adopted in the first-class competitions.
Thus, the list A cricket includes the most notable ODI competitions of each of the participating countries and test matches against the guest team. All games have been divided into three categories:
List A – matches that are included in the final list and are reflected in the statistics;
List B – matches whose participants generally meet first-class standards, but the game itself does not have the required status (for example, an exhibition one);
List C – matches whose participants were previously included in the first list (thanks to this, the statistics retains the required accuracy).
Thus, in this context, we can talk about two types of matches – those included in the list A cricket and those not included in this list.
Matches from list A cricket Matches outside of list A cricket
One Day International (ODI) Twenty20 (classified separately)
Selected International Games World Cup Warm-up Games
One Day Premier Tournaments Away matches between first-class teams that do not participate in major domestic competitions (eg, varsity)
Official matches hosted by the guest test team against the main first-class teams Holiday and friendlies
Matches that take place within the ICC Cricket World Cup Challenge League, as well as at the highest levels of the ICC World Cricket League Matches that are played according to rules that differ from the generally accepted ones (for example, there are more than 11 players on the field on each side)
Of course, like any other format, List A cricket has its own records. So, in particular:
The maximum number of runs on account of Graham Gooch (England) – 22211, Graeme Hick (England) – 22059 and Sachin Tendulkar (India) – 21999.
Sachin Tendulkar – 60, Virat Kohli (India) – 47 and Graeme Gooch – 44 have completed the largest number of hundreds in their careers.
The maximum number of fifty were scored by Graham Gooch (139 for 601 innings), Graham Hick (139 for 630 innings) and Kumar Sangakkara (Sri Lanka) – 116 for 385 innings.
Top individual performers Alistair Brown (England) – 268, Rohit Sharma (India) – 264 and D'Arcy Short (Australia) – 257.
The most effective batsmen roster came from Morne van Wyk and Cameron Delport (367 runs on the first wicket), Chris Gale and Marlon Samuels (372 runs on the second wicket), and Sanju Samson and Sachin Baby (338 runs on the third wicket).
The maximum number of wickets was awarded by Wasim Akram (Pakistan) – 881, Allan Donald (South Africa) – 684 and Muttiah Muralitharan (Sri Lanka) – 682.
Best bowling performers Shahbaz Nadim (India) – 8/10, Rahula Sanghvi (India) – 8/15 and Chaminda Vaasa (Sri Lanka) – 8/19.
Graham Hick (651), Graham Gooch (613) and Wasim Akram (594) played the most games in the list A cricket.
Interestingly, the first match, which was later included in the list A cricket, took place in May 1963 as part of the preliminary round of the Gillette Cup. The teams from Lancashire and Leicestershire took part in it, and each got the right to 65 overs, and the bowlers were limited to fifteen.