Half century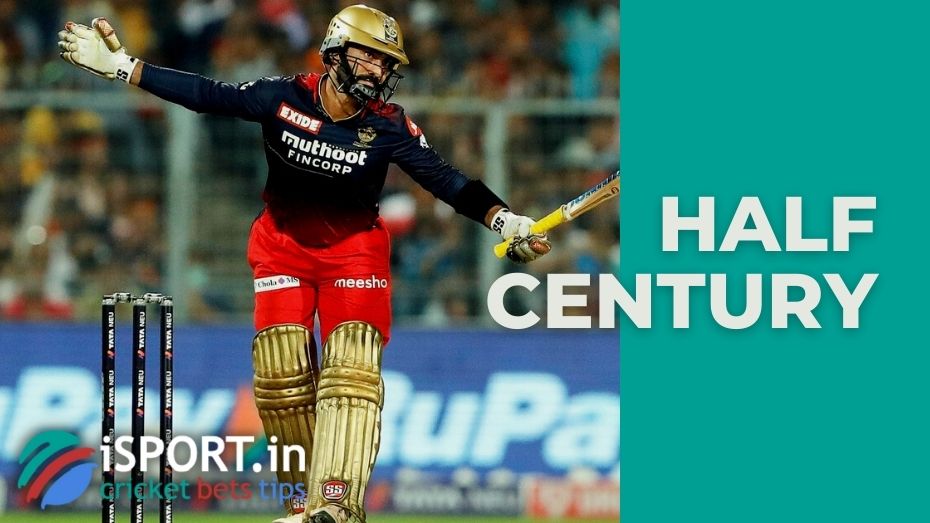 Half century – ½ Century, one of the main criteria for a batsman's success. Century is one hundred runs (runs) performed in one inning. In addition, there is such a thing as a Century partnership, that is, a hundred runs issued by two batsmen working in conjunction.
The kudos of the Century can be compared in part to the five wickets taken by a bowler. This achievement is also often referred to as "ton" or "hundred". Accordingly, 50 runs are Half century (fifty or half a ton). Even though it is statistically less significant than Century, the presence of even one fifty can significantly improve the career performance of a batsman. The main reason is the method of counting runs, where:
50-99 runs are considered Half century;
100-199 – Century;
200-299 runs – Double Century or just Double;
300-399 runs – Triple Century or Triple;
400-499 runs – Quadruple Century.
Each of the formats has its own record holders for the Half century number. In particular, the top five internationally include:
Sachin Ramesh Tendulkar (165 Half century), who owns the famous phrase: "If thanks to my fifty, the team wins, then it makes no difference whether I go out or not." Master Blaster (sporting nickname Tendulkar) has taken part in 781 innings over the years and is remembered by fans as one of the most effective and tough batsmen of all time.
Kumar Sangakkara (152). An irreplaceable player for the Sri Lanka national team, Sangakkara is rightly considered a pillar of its defense. Even though he repeatedly missed the opportunity to issue another hundred, stopping a few runs from that mark, his numbers still remain unattainable for most batsmen.
Jacques Kallis (149). Paradoxically, this South African batsman is considered one of the best all-rounds of all time and surpasses Sachin Tendulkar's # 1 list in a number of ways. Last but not least, Kallis is effective on both the bat and the ball.
Rahul Dravid (146). Despite being overshadowed by Tendulkar for most of his career, his stats (604 innings since 1996) are still impressive. One of the most striking performances of the Indian came in a test match against Australia (2003), in which he spent a total of 835 minutes on the field, becoming one of the main creators of his national team's victory.
Ricky Ponting (146). Australia's best batsman since Donald Bradman, Ponting has led the team throughout his career. He was distinguished by an aggressive style of play and a unique flair that allowed him to shape the Half century in the most intense moments of the game, increasing the lead over his rivals.
As a rule, players do not celebrate Half century the way hundreds do since many perceive them as a missed opportunity rather than a real achievement. Nevertheless, it is often the Half century that tilts the scales on the side of the team of the distinguished batsman. Moreover, some records in this area are considered almost unshakable, so surpassing them is a great achievement in itself. A striking example is the match of Sri Lanka against Bangladesh (April 2021), in which the representative of the second team Tamim Iqbal issued the Half century with a minimum score of 52/2, updating the record of 131 years ago.
Another indirect indicator of a batsman's success, in this case, is the speed with which he completes the required number of runs. So, for example, ODI has its own list of batsmen who completed the Half century in record time:
AB de Villiers, South Africa – against the West Indies, 2015;
Kusal Perera, Sri Lanka – match against the Pakistan national team, 2015;
Sanath Jayasuriya, Sri Lanka – match against the Pakistani national team, 1996;
Brandon McCallum, New Zealand – against England, 2015;
Simon O'Donnell, Australia – match against the national team of Sri Lanka, 1990.
Interestingly, the only player who has ever managed to formalize the Quadruple Century internationally is Trinidad and Tobago Brian Lara. In addition, the player has two Triple Century, nine Double Century, 34 Century and 48 Half century.
You can bet on your favorite team with Linebet promo code.