Golden Pair (King Pair)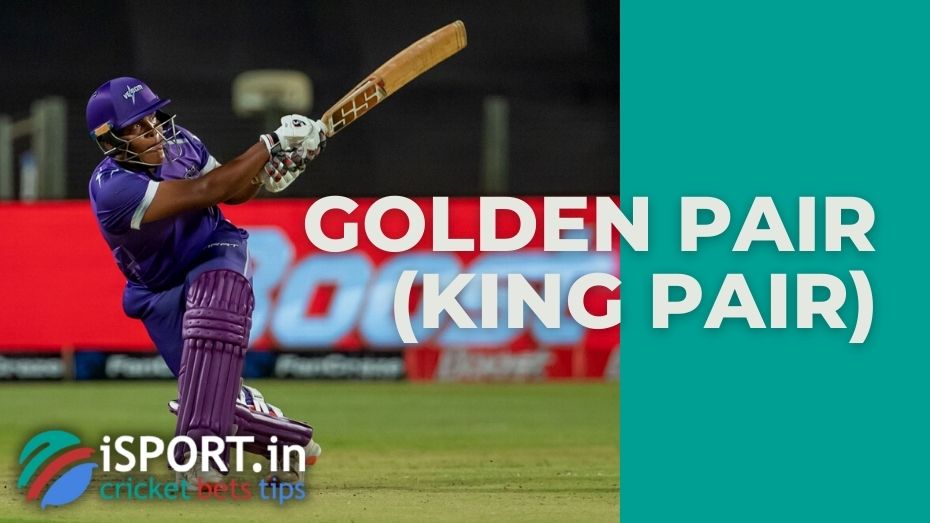 A Golden Pair (King Pair) – this may sound honorable. These words are pronounced sarcastically and mean a complete failure of the batsman in cricket. Let's talk about what the term King pair means in cricket, who was awarded this "honorary" title and what other pairs are there in cricket.
What is a king pair in cricket?
The term "pair" in cricket refers to a situation where the batsman is dismissed in both innings as Duck (zero points). The situation when a player is knocked out from the first ball in the innings is called the golden duck.
But if the batsman is knocked out from the first ball in both innings, such an unfortunate situation is sarcastically called the King Pair. Another name is Golden Pair.
The King Pair is perhaps the most unpleasant of the many possible humiliating and unpleasant situations in cricket.
When did the term King pair appear?
The first player to be disqualified from the first goal in both innings and not earned a single wound for the team was Englishman William Attewell.
William played for the Nottinghamshire County Cricket Club and was also called up for the England national team. Playing as a bowler, he was famous for accurate and economic strikes, but he was ineffective against the Australian players of his time.
He entered the field for the first time in Nottinghamshire thanks to a strike by the team's top players, and he made a splash in 1884, taking 100 wickets in less than 13 runs each (100 wickets for less than thirteen runs each).
At the international level, he has never been able to consolidate his position, and he played only 10 matches in test cricket. As a batsman, he went down in history as the first player to receive a royal pair.
How many players did the King pair earn?
At the moment, twenty-one cricketers in test history have such a dark page on their resume.
Player name and team Match in which the King pair is earned Year
William Attewell (England) England – Australia 1892
Ernie Hayes (England) England – South Africa 1906
Bert Vogler (South Africa) South Africa – Australia 1910
Tommy Ward (South Africa) South Africa – Australia 1912
Robert Crisp (South Africa) South Africa – Australia 1936
Ian Colquhoun (New Zealand) New Zealand – England 1955
Colin Wesley (South Africa) South Africa – England 1960
Bhagwat Chandrasekhar (India) India – Australia 1977
Gary Troup (New Zealand) New Zealand – India 1981
Dave Richardson (South Africa) South Africa – Pakistan 1995
Adam Huckle (Zimbabwe) Zimbabwe – Pakistan 1998
Ajit Agarkar (India) India – Australia 1999
Adam Gilchrist (Australia) Australia – India 2001
Javed Omar (Bangladesh) Bangladesh – India 2007
Ryan Harris (Australia)
Australia – England 2010
Virender Sehwag (India) India – England 2011
Rangana Herath (Sri Lanka) Sri Lanka – Pakistan 2014
Dhammika Prasad (Sri Lanka) Sri Lanka – Pakistan 2015
James Anderson (England) England – India 2016
Nuwan Pradeep (Sri Lanka) Sri Lanka – Pakistan 2017
Nurul Hasan (Bangladesh) Bangladesh – West Indies 2018
Of course, the royal couple is rare. To date, more than 2,500 cricket matches have been played, but only 21 players have been knocked out in both innings by the first shots during that time and covered themselves with shame.
One could assume that a significant part of such situations happened before the First World War when the modern rules of the game were not yet fully formulated; there were only four such situations at that time. The next one falls in 1936 (Robert Crisp), and then it took a whole 19 years before another player did this feat again (Ian Colquhoun).
Only three batsmen earned royal pair in the next forty years of test cricket: Colin Wesley, Bhagwat Chandrasekhar and Gary Troup.
Dave Richardson, who later took over as ICC's (chef executive), became the tenth player to face this disgraceful situation. A significant proportion of royal pairs took place in the 21st century: over two decades, ten cricketers have been knocked out from the first ball in both innings. For all the time, most of the batsmen were knocked out in this way by players from Australia (6) and Pakistan (6).
As you can see from the table, the black list of batsmen who received the royal pair includes not only unknown players but also those whose names are inscribed in cricket history due to outstanding achievements:
Bhagwat Chandrasekhar. A member of the famous Indian spin quartet, he has won numerous cricket victories as part of the Indian national team, including victories over formidable teams such as New Zealand, England and the West Indies. He was part of the India's tour to Australia in the 1977 – 78 season. The Indians then smashed the hosts, which was the first victory of the Asian national team over Australia. Without the brilliant play of Bhagwat Chandrasekhar, such a result would not have been achieved. He was great as a bowler, taking 12 wickets in one match, but the batsman's position was not his forte, so he got the King Pair. This situation is due to Wayne Clark (first innings) and Gary Cosier (second innings).
David Richardson. He became the first wicket-keeper of the South African national team after the team was admitted to international matches in 1991 by the ICC. David was part of a historic match at Eden Gardens in Kolkata when South Africa faced India in 1995. Although the player was knocked out in both innings from the first goal, the rest of his team performed brilliantly and beat India by 324 runs.
Ajit Agarkar. One of India's greatest players of all time, a bowler who has become a salvation for his team. During his career, he played only 26 test matches but forever inscribed his name in the history of the Indian national team. Ajit is the third-largest Indian player of all time for wickets won in ODI format. During the Australian tour in 1999, Ajit experienced one of the worst moments of his career and earned the King pair, for which he received the nickname Bombay Duck.
Adam Gilchrist. Perhaps one of the best wicket-keeper-batsman in cricket history, his outstanding performance clearly illustrates this. Australia won 16 test matches before reaching Eden Garden in 2001 to play a test match that will later go down in history thanks in large part to the brilliant performance of Rahul Dravid and VVS Laxman. During this meeting, Adam fell victim to successively Harbhajan Singh and Sachin Tendulkar and got one black spot on his resume as a brilliant cricketer.
Virender Sehwag. Today this player is one of the most formidable and aggressive batsmen in the world. He is the only Indian cricketer to earn three hundred (triple century) in a test match. This achievement simultaneously became the fastest triple century in the history of international cricket. In addition, Sehwag is one of only four batsmen in cricket history to have scored three hundred times or more in a single test cricket match two or more times in their entire career. But he also has a Golden pair on his account, earned during a tour of India to England.
What other couples are there in cricket?
In addition to the King Pair (Golden Pair), there are also the following combinations:
A Queen Pair (Silver Pair) – a situation where the batsman is knocked out with the second ball in every innings.
A Jack Pair (Bronze Pair) – this is the name of the situation when the batsman is knocked out with three balls in both innings.
Although the Golden Pair is an unpleasant situation, it is by no means a verdict.
You can bet on your favorite team with 10Cric promo code.