Fruit salad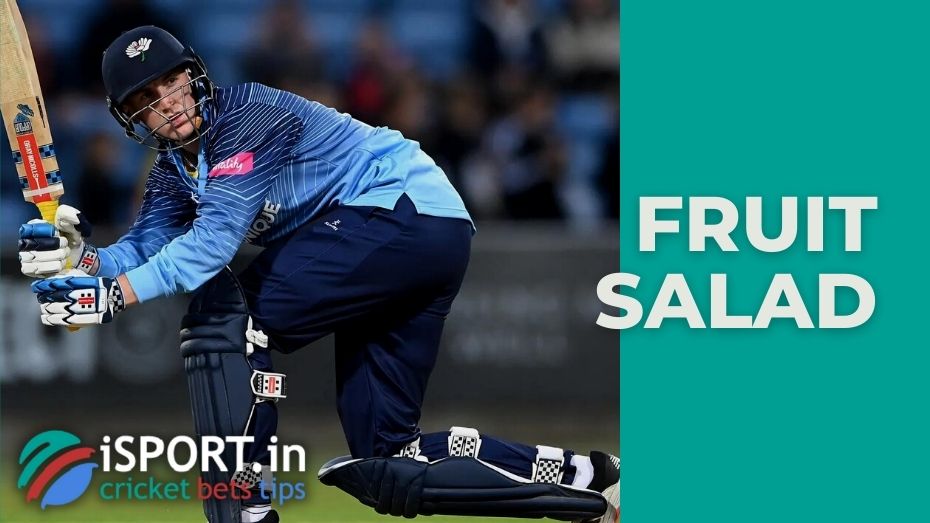 Cricket is a popular sports game with a bat and a ball. Two teams of 11 people each play it. Each team has bowlers (serving balls), batsmen (hitting balls), fielders and a wicket-keeper (catching balls).
Fruit salad is a comic expression of a bowler's specific serving technique. If a bowler is told at a match that he is playing fruit salad – this means that the bowler serves different pitches during his over. They may differ in speed, trajectory, length, and even in the bounce from the pitch.
Fruit salad throws are most often used in competitions with a limited number of overs (especially at Twenty20). This is done so that batsmen cannot get used to the same innings. Players, spectators, coaches – everyone can use the phrase fruit salad to describe a team that did not have any consistency in serves or strikes during the game (by the way, quite often, this technique leads to the defeat of the club).
According to the ICC-cricket sports website, one of the best bowlers for June 2021 in the T20I championships are:
Wanindu De Silva;
Rashid Khan;
Adil Rashid;
Mujeeb Ur Rahman;
You can bet on your favorite team with Betwinner promo code.