Flipper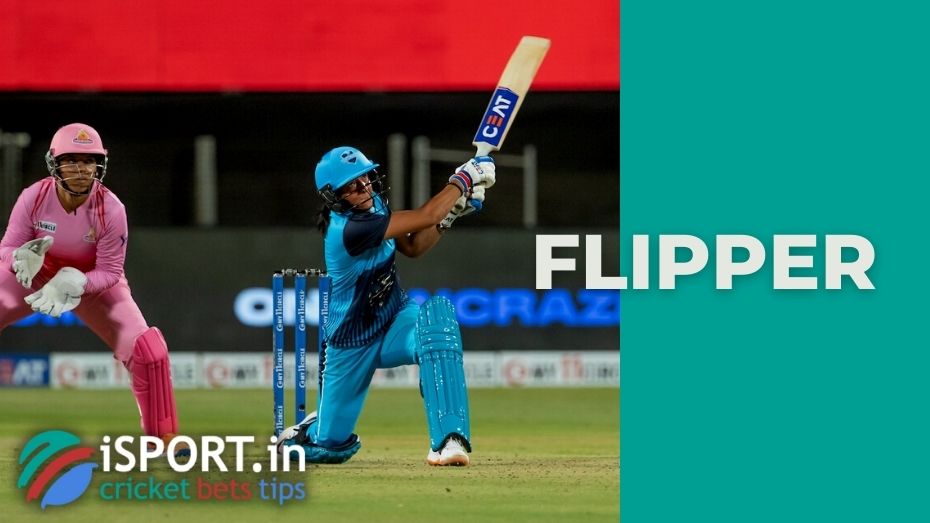 Flipper is the name of a pitch in cricket used by a leg spin bowler. To get such a throw, you need to hold the ball with three fingers (the index and middle are located in the upper part of the ball, the thumb holds the lower part). When releasing the ball, the bowler clamps or clicks his thumb and forefinger so that the ball flies out of his hand; there must be sufficient tension in the fingers; this will give a good rotation back or down.
The flipper delivery is also associated with the Magnus effect. Due to the reverse rotation, the ball falls slowly in the air but further than with a normal throw. With a slow descent, as a rule, the bounce from the pitch is very low. The batsman expects that the rebound will be simple and predictable with a flipper, but this is not quite true. As a result of the flipper, the ball can fly under the bat after the bounce and either immediately knock out the stumps or hit the batsman's leg in front of the wicket.
If the cricketers hear a clap at the very beginning of the throw, then the flipper will turn out to be of very high quality. A clap means that the bowler has squeezed the ball hard with his fingers, and the harder he squeezes, the better the rotation will be.
Sometimes the term flipper was used to describe other types of serves. So, the Australian cricketer Bob Holland served balls with reverse rotation, but he got such an effect due to pushing the lower part of the palm of the ball. This rotation is made easier, but it is also less effective. Today, the serve that Bob Holland used is referred to as a zooter.
As for the history of the flipper, it is generally believed that the Australian player Clarrie Grimmett invented special serves in the 1920s. He was so passionate about such serves that he used only a flipper in almost every match. One day, another famous cricketer Don Bradman addressed Grimmett with irony, asking him about his ability to serve other innings. Shortly after the conversation, at one of the exhibition matches, Bradman was hit by a base throw, where the ball perfectly hit the batsman's protected wicket. Flipper was also the signature serve of Anil Kumble from India and Australian leg-spinner Shane Warne.
In matches, flipper throws are difficult to disguise since the characteristic click of the fingers stands out very much when serving. However, Clarrie Grimmett found a way out. He made a click with his other hand to confuse the batsmen, and, of course, he served other pitches. To be honest, that's why we love cricket. This game will always be unpredictable, interesting and exciting.
Read other sports material about cricket on other pages of our website and about different materials about gambling including Betwinner promo code.