All-rounder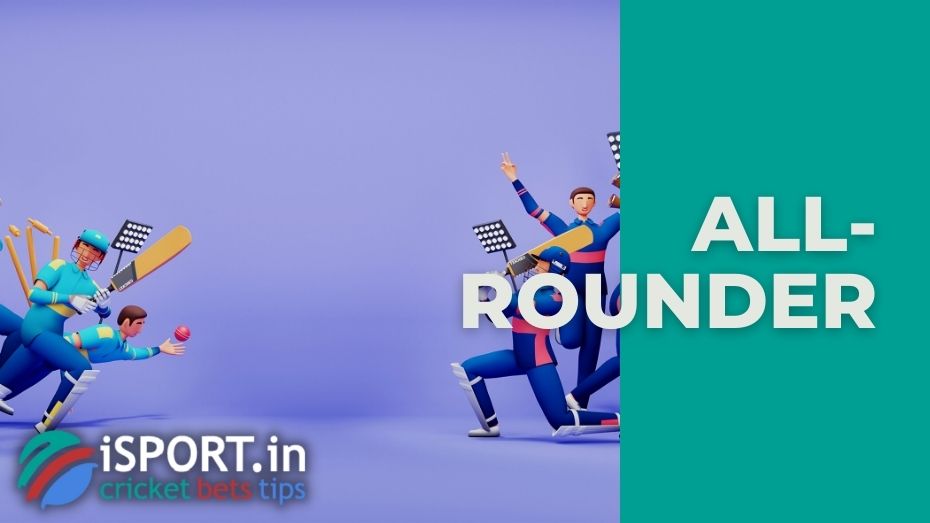 Generalists are appreciated in any field of activity. In cricket, there is a bowler, batsman, wicket-keeper. But if a player can perform batting and bowling functions well, then he is called an all-rounder.
All-rounder: the basic meaning
As in football, cricketers can play in different positions in training. Another thing is that in official matches, everyone strives to act where they feel most confident. So on our website, citing biographies of the most famous players, we often divided players into bowlers, batsmen, wicket-keepers. Theoretically, in cricket, it is allowed to use the term all-rounder about a player who is both a good wicket-keeper and a reliable batsman. However, more often, the expression "wicketkeeper-batsman" is applied to such players.
In both cases, the use of terms is subjective. There are two versions:
Usually, experts and fans are ready to name a player an all-rounder if his playing qualities are enough to get into the starting lineup (11 players) in both roles.
A less popular version of the existence of the term all-rounder is considered a moment if a player is able to bring points to the team by performing in two positions.
The main thing that people from the cricket world agree on is the undoubted benefit of all-rounders for the team.
All-rounder: who becomes one?
There were vivid examples of strong bowlers at the end of the last century who could be called all-rounders. Bowler Malcolm Marshall from the West Indies was called a "useful lower-order batsman" or "a bowler who bats a bit" because he averaged less than 19 points per match in his career. At the same time, he had a streak: in 107 innings in a row, he scored more than 10 points. Among the batsman in the 80s of the 20th century, Allan Border from Australia stood out. At the same time, he took 11 runs from 96 runs in the match of the Australian national team against the West Indies. Border made good use of a left-handed spin throw against an opponent.
In cricket, especially for women, there are not many all-rounders because players reach their best playing positions at different times:
In the batsman position, women feel well under the age of 30.
In the fast bowler position, girls play well in 20-25 years. Bowlers who know how to spin the ball well reveal their potential at an older age.
Ali Bacher was the South African national team captain in the 60s and 70s of the 20th century. After completing his career, he worked as a coach for his national team. In 1992, Bacher proposed using the video-review system in cricket, without which it is difficult to imagine this sport now. In 2013, he presented a statistical analysis, based on which it can be concluded that before the 2013 season, only 52 real all-rounders played in cricket.
Ali Bacher considers Garfield Sobers, who played for the West Indies national team from 1953 to 1974, to be the best all-rounder in history. In 2021, Sobers celebrated its 85th anniversary. Since 2009, he has been a member of the ICC Cricket Hall of Fame. Garfield started his great career as a bowler but later became an all-rounder. In 1958, in a match against Pakistan, he brought 365 points to the West Indies national team. This record was held until 1994 when it was broken by Brian Lara (also played for the West Indies).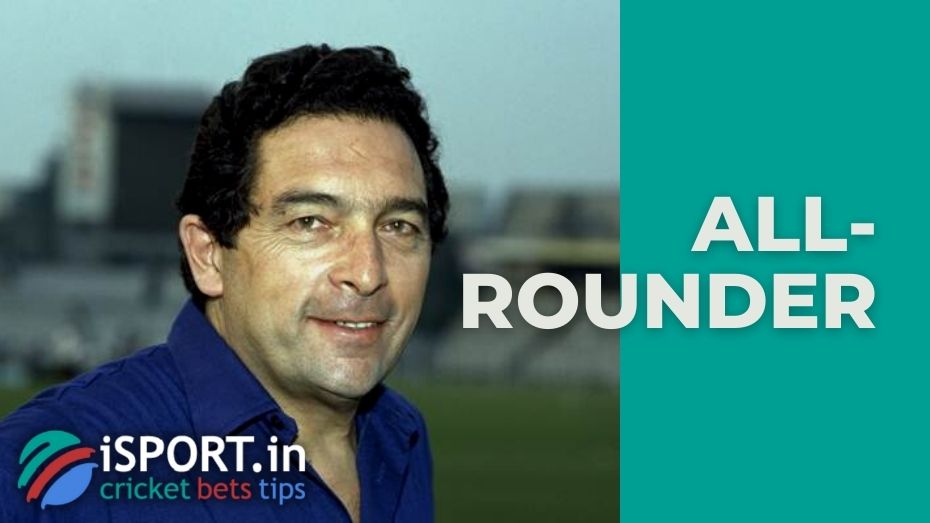 All-rounder: interesting facts
There are several cases in cricket history when the all-rounder has been written and talked about a lot. For the first time, W. G. Grace from England received great attention. In 1873 he made a double: 1000 runs and 100 wickets in a season. In 1876 Grace confirmed his achievement. In the 1882 season, the double was won by C. T. Studd. George Herbert brought cricket to a new level, who in 1906 made a double double: 2000 runs and 200 runs per season. In the same season, Herbert scored a century in one match and 5 wickets in one match, which was considered a unique achievement. Later, even more significant records were set:
Australian Betty Wilson became the first player (including among men) who managed to make a century in a test match. It happened in 1958 when the Australian national team hosted the English women in Melbourne. In men, Alan Davidson was the first to distinguish himself with such an achievement, and playing with a broken finger. It happened in Australia's match against the West Indies in the 1960/61 season.
In cricket history, 27 players have managed to make a century and score 5 wickets in one match. The record holder for this indicator is Ian Botham from Australia, who has five similar achievements on his account.
Only five players managed to score 10 wickets in test matches: Ian Botham, Enid Bakewell, Betty Wilson, Shakib Al Hasan and Imran Khan.
In 2013, Bangladesh national team player Sohag Gazi made a century and hat-trick in one match. It happened when his team was facing New Zealand.
Indian player Kapil Dev is the only player who has scored over 5,000 runs and over 400 wickets in test matches.
Only three players managed to make a century and score 5 wickets in One Day International matches: Viv Richards, Paul Collingwood and Rohan Mustafa.
New Zealand cricketer Amelia Kerr scored 232 runs and 5 wickets in the match against Ireland, held in Dublin in 2018. This is the best indicator among women in the One Day International format.
Three men's players managed to make more than 10,000 runs and score more than 5,000 wickets during their careers in all formats: Jacques Kallis, Shahid Afridi and Shakib Al Hasan.
In 2015, Shakib Al Hasan from Bangladesh became the first player in cricket history to top the rankings in all three formats. Now Al Hasan continues to play for the national team and is a Kolkata Knight Riders player who is represented in the Indian Premier League.