Bowl-out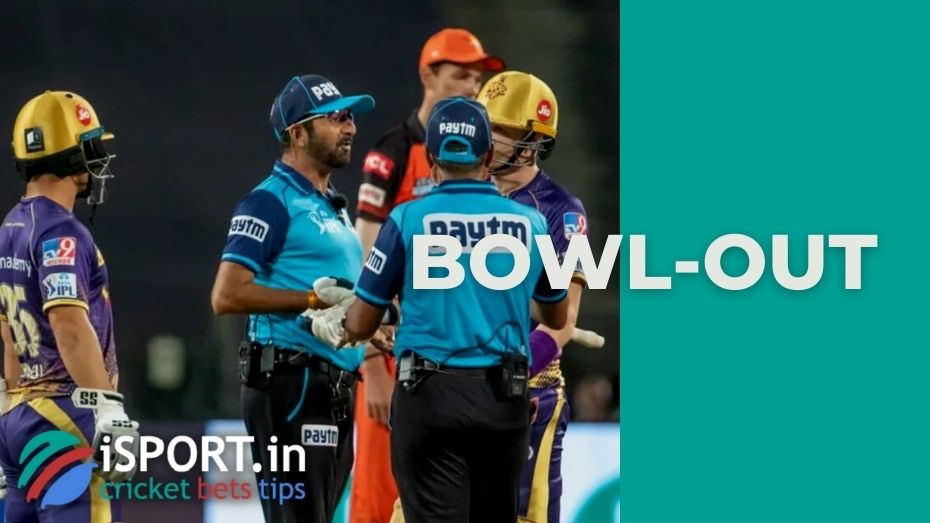 This expression in cricket is relevant for matches that could end with a draw. The bowl-out is just intended to determine the winner of the meeting. During this playing segment, five players from each team serve one or two balls in the direction of the unguarded wicket.
Bowl-out: the basic meaning
Bowl-out is very similar to a penalty shootout in football. If, after five throws, the winner is not revealed, then the game continues until the first failure of one of the teams. The only difference is that in football, players take penalties alternately. In cricket, firstly, one team comes into play, then another tries its hand. For the first time, such a system was tested in cricket as part of the NatWest Trophy, where Derbyshire and Minor County clubs met. This tournament was in 1991. The bowl-out series in the designated meeting did not last long. Steve Goldsmith made one successful shot for the Derbyshire. His partners Ole Mortensen, Alan Warner, Frank Griffiths and Simon Base were not so lucky. Minor County had every chance to end the match with a victory, which the club did. Andy Needham converted one of his two throws. John Carr couldn't beat the opponent's batsman just once. But then Bill Merry helped his partner and brought victory to his team.
Bowl-out in matches Twenty20 International
The Twenty20 International bowl-out was first used in 2006. Then New Zealand beat the West Indies with a score of 3: 0. The system was also tested at the ICC World Twenty20 in 2007. An additional series to determine the winner was needed in the match between the national teams of India and Pakistan (cricketers from India won 3: 0). In 2008, the International Cricket Council decided to use a Super Over as the primary system for determining the winner of a match. At the same time, in some games, it is allowed to determine the best one based on the results of a bowl-out. For example, in 2009, in the Twenty20 Cup with a score of 5: 1, Somerset was stronger than Lancashire in the Twenty20 Cup with a score of 5: 1 in 200.