Wisden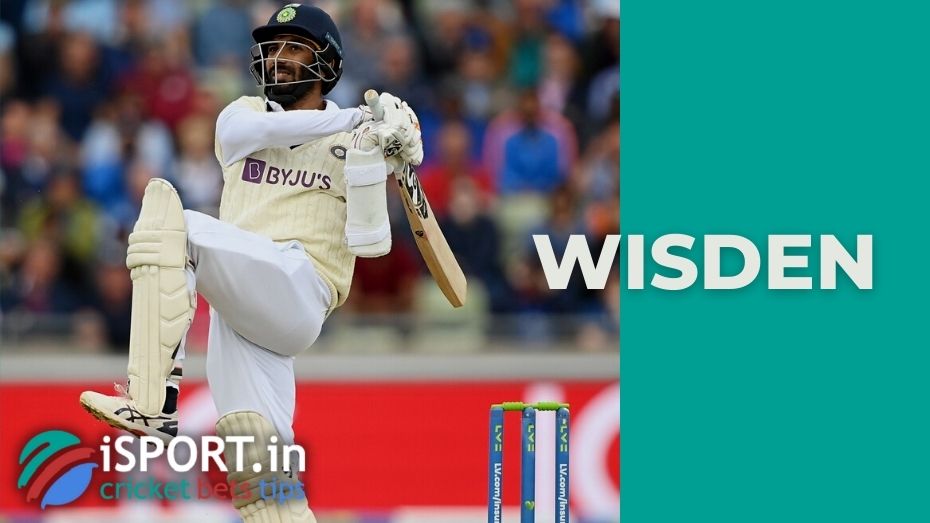 Cricket is a game with a long history. Interesting facts about cricket are passed down from generation to generation. Records are made of the loudest and most incredible matches, and general statistics are kept. Of course, it would be surprising if no publication would fulfill the role, so to speak, of a kind of chronicler of this game. Wisden can be attributed to this definition. We will tell you the basic information about this famous cricket edition in this article.
Wisden: a short history
To begin with, it is worth giving an official definition of this word.
Wisden (full name – Wisden Cricketers' Almanack) is a cricket guide published annually in the UK. In common parlance, it is called the "Cricket Bible."
Wisden first appeared in 1864, and John Wisden is considered its founder. He started publishing Wisden to create a competitor for Fred Lillywhite's The Guide to Cricketers. Since then, it has been published continuously once a year, making it the longest-running sports yearbook in sports history. Its current name – Wisden – the guide received only for the sixth edition. It was published under the name The Cricketer's Almanack before that.
Wisden is now published by A&C Black, which in turn is owned by another company, Bloomsbury.
The Wisden story was published in 2013. It is titled The Little Wonder: The Remarkable History of Wisden, and its author is Robert Winde.
Wisden: what the edition looks like
If you've never held a Wisden in your hands, you're probably wondering what this guide looks like. It is a small but thick book (in modern editions – more than 1,500 pages). The cover is finished in bright yellow, a style unchanged since the 75th edition (1938). The cover color could vary between yellow, brown and pink.
Wisden is published in two versions – hardcover and softcover. Publishers experimented and released a significantly larger format in 2006, as readers complained that they were not comfortable reading Wisden in their usual form. At the same time, the font size remained the same, and only the print size was changed. The total experimental circulation was 5,000 copies.
The Epub version, an abbreviated version of Wisden, has been available in many online bookstores since 2011. The publishers have tried to put in this version the best that is in the mainstream. The abridged version lacks cricket statistics and reports.
In general, the appearance of Wisden has constantly undergone minor changes, but the concept itself has been preserved since those ancient times.
Content of Wisden
Now let's talk about why the Wisden is published – about its content. Given the really large volume of the publication, it contains several different thematic sections. Each of them raises a different issue related to cricket.
Let's briefly describe the existing Wisden partitions:
A comment. This section spans approximately one hundred pages of the publication and includes an introductory Editor's Note. The articles in this section address controversial issues related to cricket, which have recently sparked debate around the world.
Records. This section was once used as a key source of historical cricket statistics. However, now it is an addition since all statistics are available in detailed form on thematic Internet resources.
Awards. Getting into this section is considered very honorable by any cricketer. The Wisden Player of the Year awards have been presented since 1889 and the World Cricketer Award since 2004.
English cricket. Since the edition is in English, this section is naturally the largest. It examines in detail all the events that took place in English cricket over the previous year. It covers the matches in great detail, provides tables of all top-notch games and summaries of minor cricket matches.
Foreign cricket. Same as the previous section, except that it reviews important cricket events outside England. Of course, not as detailed as the English ones, but you can learn about the most interesting.
Reviews of Wisden. In this section, readers can find a chronicle of noteworthy events from the past year, reviews of various cricket books that have been published over the past year, the most important retirement news, and so on. Among other things, the section is complemented by highly regarded obituaries.
Almanac. Wisden readers in this section can find schedule information for the upcoming international cricket season and information on the England domestic games. In addition, the almanac contains unusual and even bizarre stories from the world of cricket.
The Book of the Year Award, awarded annually by Wisden to the authors of the best books about cricket since 2003, is worth a separate mention. If you are looking for cricket reading for the near future, check out the list of winners of this nomination for the entire time of its existence.
Author- Book Title – Year
David Frith – Bodyline Autopsy – 2003
Stephen Chalke and Derek Hodgson – No Coward Soul – 2004
Ed Smith On and Off the Field – 2005
Gideon Haigh – Ashes 2005 – 2006
Wasim Khan – Brim Full of Passion – 2007
Stephen Chalke – Tom Cartwright: The Flame Still Burns – 2008
Duncan Hamilton – Sweet Summers: The Classic Cricket Writing of J. M. Kilburn – 2009
Duncan Hamilton – Harold Larwood: The Authorized Biography of the World's Fastest Bowler – 2010
Eric Midwinter – The Cricketer's Progress: Meadowland to Mumbai – 2011
Chris Waters – Fred Trueman: The Authorized Biography – 2012
Ed Hawkins – Bookie Gambler Fixer Spy – 2013
Andrew Strauss – Driving Ambition – 2014
Peter Oborne – Wounded Tiger: A History of Cricket in Pakistan – 2015
Simon Jones – The Test: My Life, and the Inside Story of the Greatest Ashes Series – 2016
Emma John – Following On – 2017
Jonny Bairstow and Duncan Hamilton – A Clear Blue Sky – 2018
Geoff Lemon – Steve Smith's Men – 2019
Tim Wigmore and Freddie Wilde – Cricket 2.0: Inside the T20 Revolution – 2020
Daniel Melamud – This is Cricket: In the Spirit of the Game – 2021
By the way, the list of authors includes people associated with journalism or literature and professional cricketers.
List of editors throughout Wisden history
Wisden has a pretty long and great history. Naturally, a publication should always have a manager. Throughout its existence, Wisden has changed 17 editors. We invite you to familiarize yourself with the list of these people and over the years of their position:
W. H. Crockford / W. H. Knight (1864-69);
W. H. Knight (1870–79);
G.H. West (1880–86);
Charles F. Pardon (1887–90);
Sydney Pardon (1891-1925);
C. Stewart Caine (1926–33);
Sydney J. Southerton (1934–35);
Wilfrid H. Brookes (1936–39);
Haddon Whitaker (1940–43);
Hubert Preston (1944–51);
Norman Preston (1952–80);
John Woodcock (1981–86);
Graeme Wright (1987–92, 2001–02);
Matthew Engel (1993-2000, 2004-07);
Tim de Lisle (2003);
Scyld Berry (2008-11);
Lawrence Booth (2012 to present).
Also, the current editor of Wisden has a deputy. Hugh Chevallier holds this position.
Some more interesting information about Wisden and the price in 2022
We will give you some more interesting information about Wisden, which will be useful to get a complete picture of the publication.
Circulation. Interestingly, the edition had the smallest editions in 1969 – 1971; collectors are ready to pay big money for their purchase. And the most expensive edition of Wisden is considered to be the 1916 edition, which contains the obituary of W. G. Grace. In recent years, the circulation of the publication has reached at least 50,000 copies.
First appearance of color photographs on the pages of Wisden. As strange as it may sound, this event happened very late – in 1988. It is despite the fact that color printing has existed for many years.
Price of the first edition. Strange as it sounds, the first edition, with only 112 pages, sold for one shilling. Probably, in ancient times it was quite a lot of money. Now, however, cricket aficionados assembling the collection from Wisden are willing to pay thousands of pounds for the originals of early editions.
By the way, about the prices. The 2021 Wisden edition can be purchased for as low as £ 55. However, there are discounts periodically, and the cost may drop. For example, at this writing, the regular 2021 paperback version of Wisden could be purchased on Bloomsbury for £ 35. The reduced e-version is priced at £ 15.
Now you know all the fun about Wisden. You can find out more details on the official website of the publication.
You can bet on your favorite team with 10cric promo code.