Pinch hitter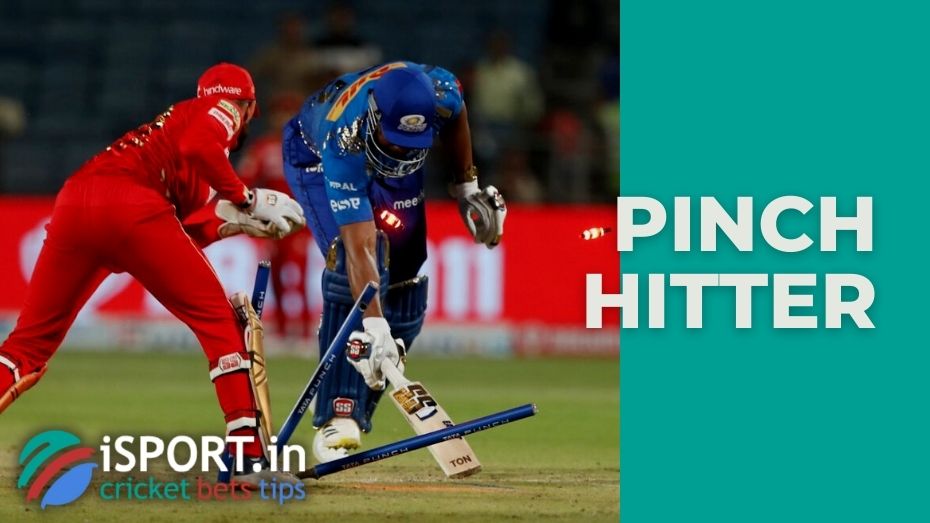 Pinch hitter / Slogger is a cricket term used to describe a batsman being promoted up the batting order to earn quick points. It should be immediately clarified that the term is similar to baseball, but does not characterize the replacement of a batsman.
Since rapid scoring attempts involve more aggressive throws and, therefore, an increased likelihood of being dismissed, it is considered short-sighted for a top-order batsman to perform this function. In this regard, from time to time, a lower-ranked batsman is promoted (often a bowler). His playing time is given less importance, so he is freer to choose his actions. In ODI format competitions, this tactic is popular and is used more often than in more responsible Test meetings.
This term was introduced into cricket relatively recently. Many viewers did not know it until the 1992 World Cup. The popularizer of this tactic is considered to be the New Zealand national team that used pinch hitter (although in a slightly modified format). Most importantly, New Zealand bowler Mark Greatbatch has been successful as a slogger.
At that time, it was one of the varieties of innovative tactics effectively used by New Zealand during the group stage. Naturally, after getting into the playoffs, the experiments ended, although the team flew out in the first meeting against the future world champion of that year, the Pakistan national team.
Since then, the term has often been heard from commentators in ODI cricket to refer to aggressive batsmen known as pinch-hitters or sloggers.
Even though today the tactics of pinch-hitters are much more well-known, its use is limited. A player who has risen in the batting order is used very carefully when a quick set of points is more important than a measured defensive game or the team is significantly behind in points and has nothing to lose.
As a rule, pinch-hitters are players with powerful punches with a high percentage of hits. Unfortunately, they lack technique and composure before top-level batsmen, so they are in lower positions.
Prominent representatives of the pinch hitters category are Shahid Afridi, Mitchell Starc, David Miller, Chris Morris, Mohammad Rafique, and Ash Gardner among women.