Maximum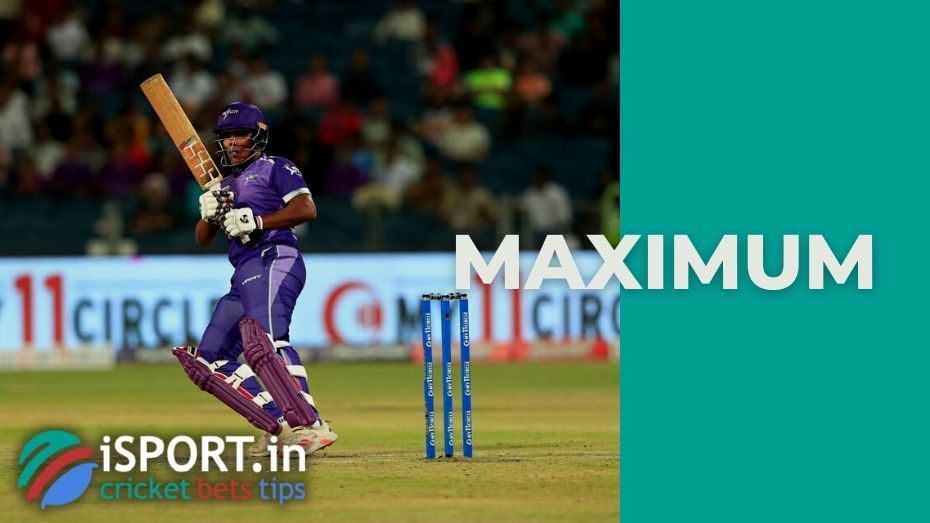 In this article, we explain what the terms maximum and the meat of the bat mean. Did you know that the longest flight of the ball, after hitting the batsman, is 158 meters long? We recall who Thomas White is and why certain requirements for a cricket bat were established after him. All this is in our article.
Maximum – a lot of wounds
In all cricket matches, there is a run count. For certain actions, a different number of runs are awarded. For example, when the batsman dashes from one gate to the second, this is one run. After being hit by a batsman, if the ball touches the field and then crosses the court's boundary, it is four runs. Well, if the ball, on impact, flies out of the playing field without bouncing, the team will receive a maximum number of points – 6 runs. Let's recollect some interesting maximum cases.
Pakistani player Wasim Akram scored 12 maximum in a test match between Pakistan and Zimbabwe in October 1996(that is, he knocked the ball 12 times so that he received six runs at once). According to statistics, this is the current world record.
In the England-Afghanistan match (One Day International format), the Englishman Eoin Morgan earned 17 maximum for 71 served in 2019 (he scored 148 runs in total).
As for the matches of the Twenty20 format, here today, the record belongs to the Afghan player Hazratullah Zazai. Hazratullah was able to take 16 maximum for his exit in a match against Ireland in 2019!
And Jamaican cricketer Chris Gayle became the first player to score six runs from a debut ball in a match. It happened in 2012 in the test game Bangladesh – West Indies. By the way, Chris set another unique record in 2017 – he became the first player to reach 1000 maximum in T20 matches.
In addition to overall records per match or per inning, the achievement is very much appreciated when a player earns six runs in a row, that is, for one over (one over is six innings). So, the Barbados cricketer Garfield Sobers became the debut player who took six maximum in a row in a first-class status match in 1968. The last such event occurred in March 2021 at the T20I status game between Sri Lanka and the West Indies. It was registered by Kieron Pollard of the Republic of Trinidad and Tobago.
Pakistani player Shahid Afridi set another unique record. During his game, he not only earned the maximum but also delighted the local audience. The ball from Shahid's bat flew out of the stadium and landed on a nearby golf course (it flew 158 meters).
You can bet on your favorite team with Helabet promo code.