Maker's name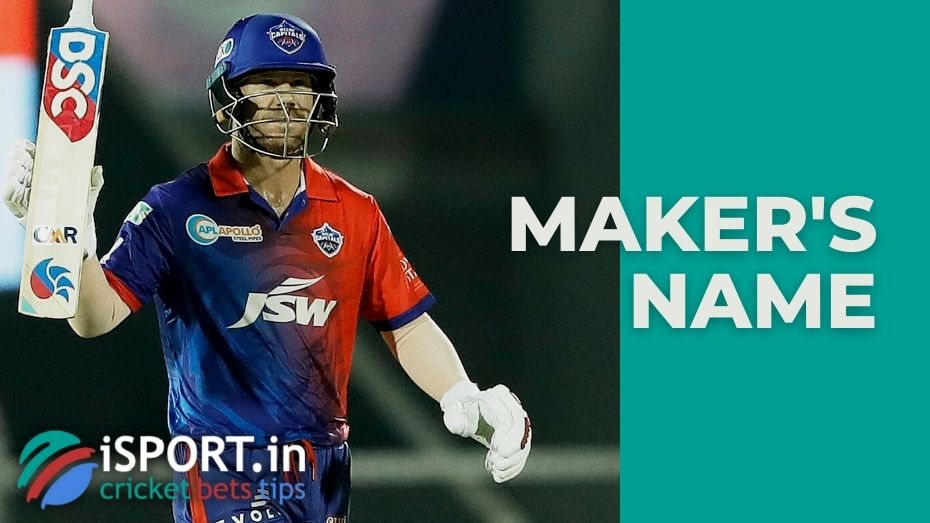 The phrase maker's name in cricket refers to the batsman's punches. On the bat, the maker's name is presented in the form of an engraving or sticker. All this is usually applied to the front of the bit (flat). At matches, you can hear people saying that the batsman likes to show the maker's name bats to the bowler when he hits. It means that the batsman often throws punches called drive.
How is the beat related to the maker's name? Everything is understandable: a drive is a direct hit, where the beat of the bat goes vertically from the ground upwards. And since the bat is set vertically, the maker's name is clearly visible in this position. Typically, drive hits are delivered during the first serve of each batsman. They are needed to assess the field's condition, take a closer look at the bowler, etc.
There are many companies that make cricket bats. The most popular of these are:
Gray-Nicolls (England);
Gunn and Moore (England);
Puma (Germany);
Kookaburra (Australia);
Adidas (Germany);
Reebok (USA);
Sanspareils (India).
According to the Laws of Cricket, since 1979, all bats have been made exclusively from wood (usually willow wood). The bats are treated with a protective line-up to reduce wear. Bat length must not exceed 38 inches. Bats are available in weights from 2.4 to 3 pounds.