Helmet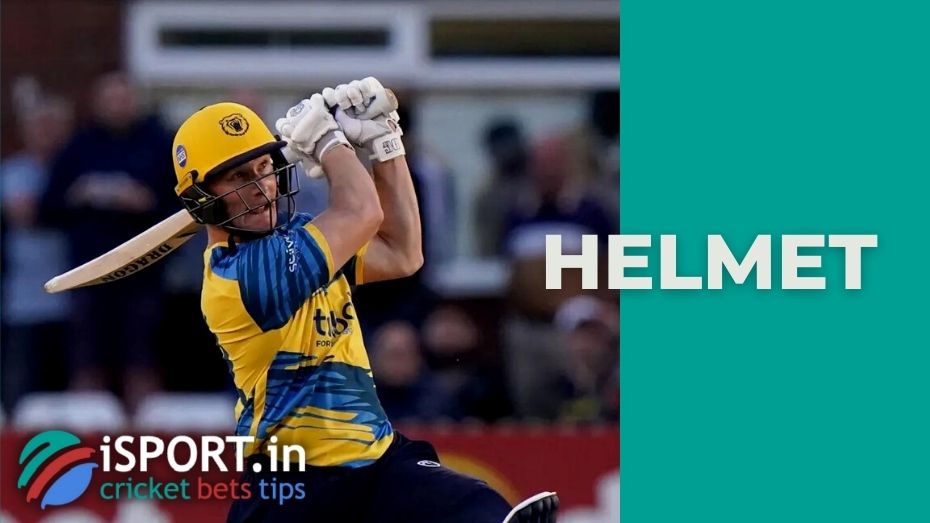 Helmet – a cricket helmet, an essential piece of equipment. It began to be widely used in the second half of the twentieth century.
Cricket is not the most traumatic game, but additional protection is indispensable in some positions (for example, the wicket-keeper). It is known that players tried to create the necessary equipment items on their own already in the 30s of the last century – for example, Patsy Hendren entered the field in a homemade hat designed to protect his head. However, prototypes of the first helmets did not appear until decades later.
One of the first cricketers to make them fashionable was Dennis Amiss, who wore a specially fitted motorcycle helmet before pitching. Later, he was joined by Mike Brearley, who developed his protective cover design, and then Graham Yallop, who was the first in the history of test cricket to go to a match in a helmet (March 1978).
Even though some cricketers (for example, Tony Craig) considered helmets not only unnecessary but also outright dangerous, explaining this by the fact that bowlers would no longer rely on force on impact, they quickly became fashionable. Viv Richards was the last batsman to not wear a helmet on principle in test matches, who retired in 1991.
Currently, cricket helmets are manufactured according to ICC standards. Interestingly, the organization refused to make the wearing of helmets strictly mandatory in 2017, leaving the final decision to each country with test status (the only exception is players who are under 18). For example, the England and Wales Cricket Board has ordered that batsmen and wicket keepers and fielders who are less than 8 yards from the wicket must wear helmets. At the same time, batsmen in India and New Zealand are not forced to do so if they think they can do without additional protection.
According to the current ICC rules, a batsman who intends to protect himself can enter the field only in a helmet that meets the British standard BS7928: 2013. Helmets are made from ultra-modern shock-resistant materials – ABS plastic, titanium, steel, high-density foam, and so on.
There are six standard Helmet sizes:
Size Girth, cm
Small Junior 51-54
Junior 53-54
Youths 54-56
Small Senior 56-58
Senior 58-60
Large Senior 60-62
Modern cricket helmets are made from the following materials:
Outer shell – ASB-plastic, fiberglass, carbon fiber. ASB plastic is a type of lightweight thermoplastic that is easy to manufacture and process. ASB plastic is not the most durable of the existing materials; its wear resistance is lower than fiberglass, but it is cheaper and provides good impact protection. Fiberglass is less popular because it is heavier than ASB; thus, most professional cricketers opt for the third option (carbon fiber). It is reliable and durable, which is especially important for players involved in test matches.
Padding – high-density foam. Provides high shock absorption and, at the same time, flexibility of parts. As a rule, cricketers choose between two options – with a dense arrangement of small bubbles in the base material or with larger bubbles. The second type of padding makes the helmet more springy but less resistant to impacts.
Lattice – steel or titanium. The first option is not only traditional but also more budgetary. However, most players opt for titanium, a lightweight and comfortable material that puts less pressure on the helmet on the neck.
Chin strap – nylon. It is the most common material for this Helmet part, as it is durable and able to withstand prolonged tension. In addition, it does not irritate the skin, which is especially important in many hours of matches in high humidity and heat conditions.
Interesting: The most popular brands of cricket helmets are Gunn & Moore, Sanspareils Greenlands and Sareen Sports Industries.
Our team always prepares interesting and informative articles about cricket and gambling for example Jeetwin promo code for you. Follow this sport on our website!