First innings points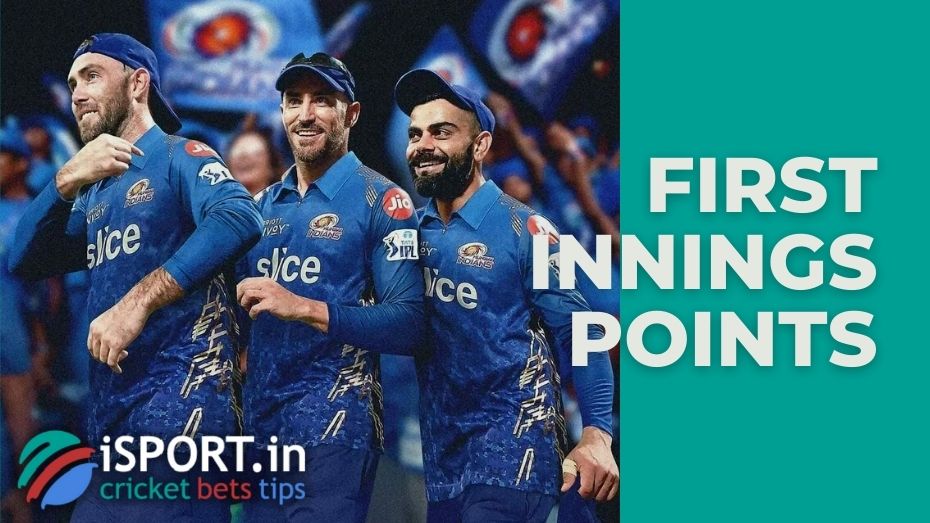 As you know, cricket competitions can be held in 2 formats:
In turn, first-class cricket can be domestic and international. International competitions are also called test competitions.
Cricket with a limited number of overs can be played within one country or between countries. However, this cricket is also divided into several types: One Day, Twenty20, The Hundred, T10 and others.
The main difference between first class and limited cricket is the timing of the matches. Cricket with a limited number of overs is played for one day (there is a reserve day for force majeure). There are only two innings at these tournaments.
This is not the case for first-class cricket. One match takes place within 3 to 5 days. Teams play four innings (club kicks in twice and hits twice). So, the phrase first innings points refers exclusively to first-class cricket (it was important to bring you to the number of innings).
Each country, each tournament has its own scoring. Accordingly, there are standings at the championships. If there are only two reasons to award a team with points in football, then in cricket, in addition to victories and draws, there is a place for bonus points.
First innings points mean that the club that won or was leading for a certain time in the 1st inning can be awarded additional points, regardless of the match's outcome. Here are some examples of popular domestic championships from different countries:
The Sheffield Shield (Australia). There are no specific opening inning bonus points in this tournament, but there are points for each team's 1st innings. So, during the first 100 overs of the 1st inning, the slugger club receives an additional 0.01 point for each run, after the team has already run 200 runs. Bowlers, on the other hand, in the 1st inning for themselves, receive 0.1 point for each wicket;
The County Championship (England). At this championship, the essence is the same. Only not for 100 overs, but 110. Batsmen get one point for every additional 50 runs (after 200 runs). Bowlers for 3-5 wickets – 1 point, for 6-8 wickets – 2 points and for 9-10 wickets – 3 points;
The Plunket Shield (New Zealand). Likewise, up to 110 1st inning overs for each team. For batsmen who scored 200 runs – 1 point, 250 runs – 2 points, etc.). For bowlers, 1 point – 3 wickets, 2 point – 5 wickets, etc .;
The Ranji Trophy (India). Here the calculation is different. If the match ends with a draw, then the club that won the 1st inning gets three additional points, and the second team 1 point (but only if the game ends in a draw);
The Quaid-e-Azam Trophy (Pakistan). Likewise, the 1st innings for each team are counted (within 110 overs). For the battering team, one point is awarded for 200 runs, two points for 250 runs, etc. For the serving team – 1st point for three wickets, 2nd point for six wickets, etc .;
4-Day Domestic Series (South Africa). Bonuses are valid for 100 debut inning overs for each team. 1 point – for 150 runs or three wickets. After that, for each run, 0.02 points are awarded, and for the next two knocked-out wickets – a point;
Regional Four Day Competition (West India). Perhaps the most interesting bonus points. If the club lost the match but won the 1st inning – 4 points. The team lost the match but drew in the 1st inning – 3 points. In case of an incomplete match for a win in the first inning – 6 points, a draw – 4 points, and a loss – 3 points. If the whole game is tied – for the same score in the 1st inning – 4 points-a loss in the 1st inning – 3 points.
Find out more useful information about world cricket for example Melbet promo code on other pages of our information site!