Dafabet Weekend Power Play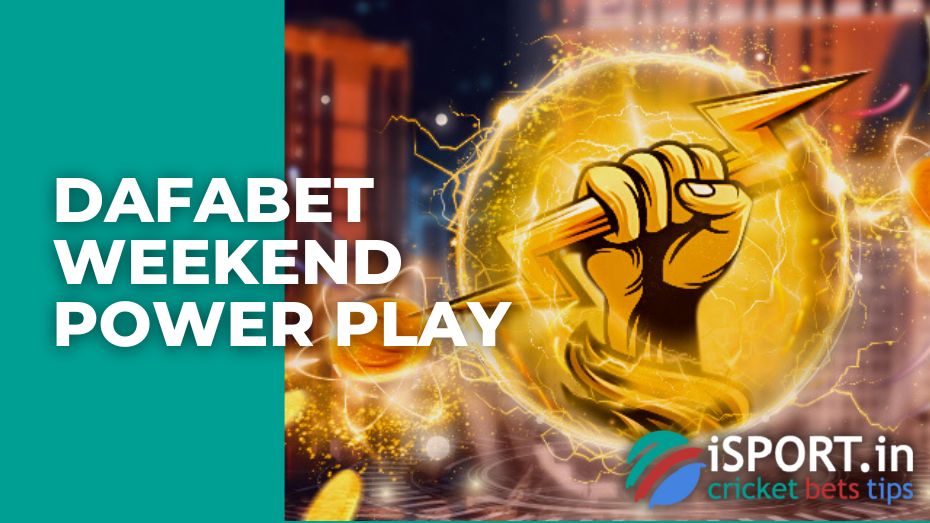 A rare bonus can be compared in popularity with cashback. This applies to large trading platforms and online casinos, where even the most experienced players actively use the refund option. They are used to carefully planning their banks. Advanced companies consider this point, often offering customers several cashback options. We will tell you how it works on the Dafabet Weekend Power Play example.
Dafabet Weekend Power Play: how to get a weekend bonus
The main advantage of the Dafabet Weekend Power Play cashback bonus is that all of the company's customers, without exception, can claim it, regardless of how much time they spent on the portal and how many bets they managed to conclude. Even if you registered yesterday and purchased only one spin at the lowest price, this will not be an obstacle to activating the bonus.
Does it sound tempting?
Then let's start with the elementary – registration of access:
Log in to the Dafabet website. There's nothing complicated with the process itself. Select the Login button in the right part of the upper menu bar and specify the username and password (if you forgot the access key, click on Can't Login?). However, you must register first if you still need to get your account. Especially for beginners, we have developed detailed instructions with which you can easily create an account, becoming a full-fledged client of Dafabet. If you use a unique bonus code simultaneously, be ready to receive a gift of up to 30 thousand INR!
Subscribe to participate in the event by pre-selecting Dafabet Weekend Power Play in the promotional list, specifying the user name in the proposed form and clicking Play Now. The step is elementary, but it should not be skipped because the cashback calculation will not be started without it. In contrast, there is also no need to repeat this action – every time you launch slots on weekends, the system will automatically count the bets placed and determine the percentage set by the rules.
Weekend cashback is relevant for all entertainment in the Casino section. You can choose any board game or live game you like or prefer one of the slots – the result will not change from this. As soon as the total amount of net loss for three days (Friday, Saturday, Sunday) reaches 10 RM, you will be credited with the required percentage of cashback.
Attention: according to the rules, weekly cashback is calculated for all stakes placed in the Casino section between 00:01 on Friday and 24:00 on Sunday (CMT+8).
It is worth considering that the Dafabet Weekend Power Play is available in two formats – basic and VIP. This moment is significant because it determines the final percentage of cashback that a single player can claim.
The basic level is equivalent to the "Bronze" stage of the loyalty program, in which all site customers who have completed verification become participants. There are four steps in total ("Silver", "Gold", "Platinum"), and for each, there is a separate set of benefits and privileges, including, of course, weekend cashback.
Currency of the user's account
Dafabet Weekend Power Play cashback for "Bronze" (base level) – 5%
Dafabet Weekend Power Play cashback for "Silver" – 6%
Dafabet Weekend Power Play cashback for "Gold" – 8%
Dafabet Weekend Power Play cashback for "Platinum" – 10%
RM
up to 428
up to 638
up to 858
USD
up to 100
up to 150
up to 200
EUR
up to 85
up to 130
up to 170
GBP
up to 75
up to 115
up to 155
RUB
up to 7340
up to 11000
up to 14680
PLN
up to 375
up to 560
up to 745
Thus, the higher your status in the loyalty program, the more funds you can return to the account.
An attentive reader will surely ask: how to achieve the most prestigious "Platinum" stage? The recipe is again simple because gifts are guaranteed to the most active players in Dafabet. So, for example, if the "Bronze" status is guaranteed to every beginner (and with it a lot of daily bonuses, as well as the help of the support service 24/7), then to move to the "Silver" stage, he will need to qualify by putting at least 16 thousand euros in equivalent during a calendar month. For "Gold" clients, this amount increases to 120 thousand, and it is already 200 thousand for "Platinum", but with one important clarification: you can become a confirmed "Platinum" only after receiving an individual invitation from the client department.
An individual approach, in this case, is logical: the fact is that some of the opportunities that "Platinum" clients can operate with are closed to "Bronze", "Silver" and "Gold". First of all, this applies to invitations to exclusive events, particularly VIP tables, but not only: Platinum has access to the express withdrawal option and increased deposit limits.
Our review is complete mentioning another important nuance. The fact is that Dafabet Weekend Power Play is one of many types of cashback that regular online casino customers can claim. We wrote about some of them, for example, cricket cashback, in separate reviews. Since the online casino bonus line is constantly being updated, we recommend you follow our updates to stay current with the latest information.
And one more thing. Regardless of which stage of the loyalty program you have reached, you can withdraw the cashback you received only under one condition – after wrapping it with an x10 wager. At the same time, it does not matter which slot or game from the Casino section you choose for this; the only exceptions are the machines "Jungle Wild", "Shields of Rome", "Wild Lava", "Lucky Streak", "Space Savages", "Midnight Wilds" and "Mr. Cashback" (bets placed on them do not count towards wagering).
In rare cases, it is allowed to change the conditions of the cashback bonus and the list of exceptions. In case of disputes, the last word remains with the organizers of Dafabet.
Dafabet Weekend Power Play: FAQ
Who can participate in the Dafabet Weekend Power Play?
What is the maximum amount of cashback within Dafabet Weekend Power Play?
How to increase the size of cashback in the Dafabet Weekend Power Play?