Dafabet Loyalty Program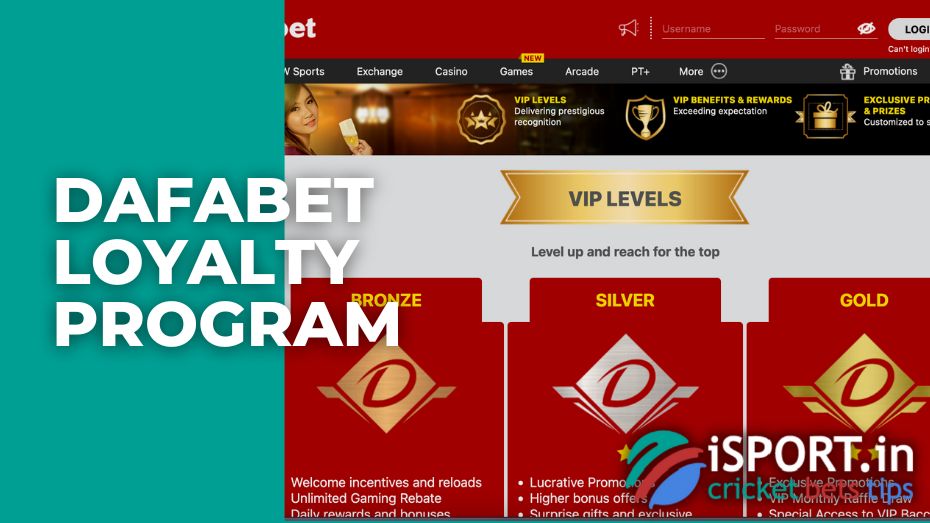 Is it worth taking part in the loyalty program? This question was probably asked by any novice gambler who chose a playground for the game because this type of encouragement is widespread. However, their specifics directly depend on the company's bonus policy, which can offer the client an impressive set of benefits or, on the contrary, limit itself to one or two, for example, cashback and the help of a manager. Today we will tell you how the Dafabet Loyalty Program works and what you can get by subscribing to it.
Dafabet Loyalty Program: from "Bronze" to "Platinum"
Unlike the vast majority of bonuses offered by an online casino, Dafabet Loyalty Program is activated automatically. To launch it, you do not need to contact support, nor make a particular application, nor pass a probationary period. By registering with a promo code, you automatically receive a "Bronze" status, which guarantees:
Round-the-clock support service assistance;
Access to daily rewards and bonuses;
Game discount.
At the same time, it is essential to consider the limitations of the "Bronze" level. So, for example, at this stage, the client can request a withdrawal of funds no more than twice a day. If your deposit history is empty, then before withdrawing funds from the account for the first time, you will need to wrap them once in any section you like.
In total, the Dafabet Loyalty Program includes four levels. The "Bronze" is followed by the "Silver", "Gold" and "Platinum" stages. If you need to qualify to move from the first to the second, and from the second to the third, then invitations to the latter are sent strictly individually.
How does it work?
Level
How to get access
Benefits
"Silver"
To place at least 16 thousand EUR (2.5 thousand mBTC) per month
·      A wide selection of bonuses;

·      Gifts;

·      Access to exclusive tournaments;

·      Discounts

"Golden"
To put down at least 120 thousand EUR (15 thousand mBTC) per month
·      Exclusive promotions;

·      Monthly VIP draw;

·      Access to VIP Baccarat tables;

·      Limits of VIP tables for high rollers;

·      Access to recently released games;

·      Discounts

«Platinum»
To place at least 200 thousand EUR per month and wait for a personal invitation
·      Round-the-clock specialized VIP support;

·      Increased deposit limits;

·      Access to exclusive VIP games from the Live Table category;

·      Invitation to exclusive events;

·      Discounts
As you can easily see, the further you have managed to advance, the more discounts and benefits you will be able to receive within the framework of the Dafabet Loyalty Program. So, for example, if "Bronze" and "Silver" players cannot count on priority in withdrawing funds, then "Gold" is guaranteed a high priority, and "Platinum" is a priority.
The same applies to the package of basic services. Suppose clients can participate only in standard tournaments at the first two stages, then after the transition to the "Golden" level. In that case, they are provided with access to closed elite events, exclusive games and many individual bonuses that are awarded by the decision of the owners of the site.
A special mention deserves the percentage of basic discounts, which increases from level to level. Absolutely any member of the loyalty program can receive cashback or a reload bonus, regardless of which section of the site he/she prefers to spend money in:
Level
Discount
Sports cashback and reload bonus
«Bronze»
Up to 3%
Up to 25%
«Silver»
Up to 3,25%
Up to 30%
«Gold»
Up to 3,50%
«Platinum»
Up to 35%
Dafabet Loyalty Program provides regular status updates. Simply put, not a single achievement in it is counted as final. For example, having reached the "Golden" stage, the client is obliged to maintain gaming activity at the same level not to lose a significant part of the bonuses received and not roll back to the beginning.
Dafabet Loyalty Program: FAQ
How do you join the Dafabet Loyalty Program?
How many stages does the Dafabet Loyalty Program include?
What does the Dafabet Loyalty Program give?