1xBit VIP Cashback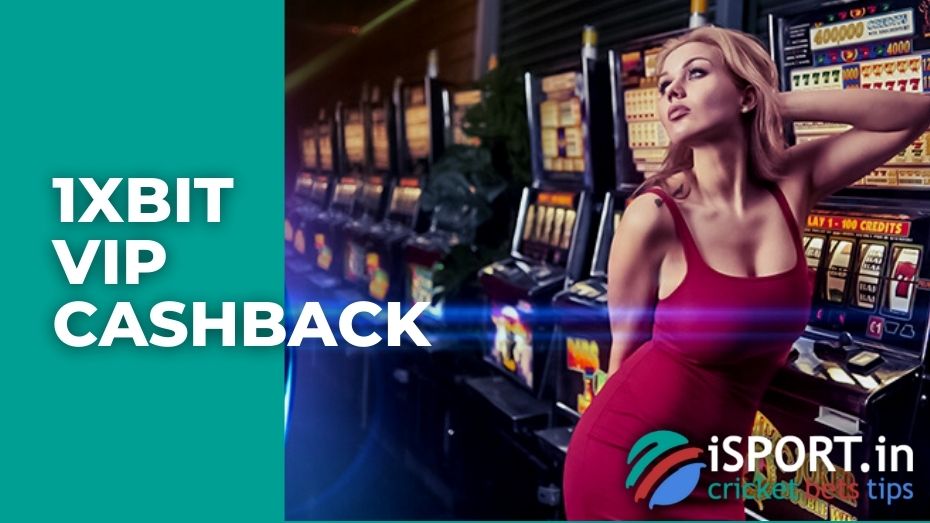 Anyone who has bet on live money at least once in an online casino has probably heard about cashback – a special kind of incentive with which you can return part of the money spent. As a rule, its size is stipulated by the owners of the company and does not exceed 12-15%. But is it possible to get more, and if so, how to do it? We tell you about the example of the 1xBit VIP Cashback bonus.
1xBit VIP Cashback: weekly dynamic bonus
1xBit VIP Cashback is part of a loyalty program in which anyone can participate, provided that:
He/she has his/her account on the 1xBit website;
The loss amount for the last seven days has exceeded the total amount of funds won.
Attention: if you have not yet registered at 1xBit, we advise you to start with the ISPORT 1xbit promo code, which entitles you to receive a starting bonus package totaling up to 7 BTC.
The loyalty program consists of eight basic levels. As they pass, the percentage of cashback increases, which means that betting becomes even more profitable:
| | |
| --- | --- |
| Client Status | Cashback percentage |
| Copper | 5 |
| Bronze | 6 |
| Silver | 7 |
| Golden | 8 |
| Ruby | 9 |
| Sapphire | 10 |
| Diamond | 11 |
| VIP | Individual |
As it is easy to notice, 1xBit VIP Cashback is awarded to those who have reached the last stage. The percentage set by the rules remains unchanged and is calculated using a simple formula for the first seven levels:
(The total amount spent on stakes since the last cashback withdrawal -the amount of winnings) x percentage of cashback
At the same time, cashback is due only to those gamblers who managed to go into the red (for example, if you place 700 EUR and won a thousand within seven days, you will not be able to claim cashback).
Attention: you can check your current status in the loyalty program and find out the timing of cashback withdrawal on the event page in the "Promo" section.
1xBit VIP Cashback is calculated individually. Its size directly depends on which of the gaming subsections of the online casino you placed bets in:
So, in particular, 0.25 is required for bets in "Slots"%;
1% is received by those who bet in Live-casino;
If you have tried your hand at lotteries (for example, Bingo), then the percentage of deductions will be 0.2;
05% is required for bets in board games and games from the "Other" list.
Attention: you can withdraw cashback only if the amount of money in your main profile does not exceed 0.2 mBTC.
At the same time, it is important to keep in mind that the final calculation does not take into account thousandths of a percent, and bets that were placed one day before the application for cashback withdrawal do not receive bonus status.
Let's analyze an example.
Let's say that you gamble five hundred euros on slots and the same amount in a live casino seven days before the request. Therefore, your 1xBit VIP Cashback will be:
1,25 EUR + 0,5 EUR = 1,75 EUR
It is not allowed to request cashback more than once a week, but in this case, you can influence its size, which means that you can manage your bank more effectively. The only strict restriction that the organizers remind about is the ban on stakes from different accounts (in case two or more accounts registered for one user are detected, their owner is automatically blacklisted, and funds in his accounts are frozen until the end of the proceedings).
Finally, we will clarify that the bonus program excludes games from the Games section, as well as several slots and board games, in particular, "Chinese Roulette", "Fishermaen Gold", "Chicago Nights", "Penalty Shoot Out", "Blue Oceans", "Birds of Paradise", "Romeo" and others. You can get acquainted with the full list in the information section (Rules, p. 25.4).
1xBit VIP Cashback: FAQ
How is 1xBit VIP Cashback calculated?
At what level of the loyalty program is 1xBit VIP Cashback activated?
How often is 1xBit VIP Cashback credited?