GGpoker freeroll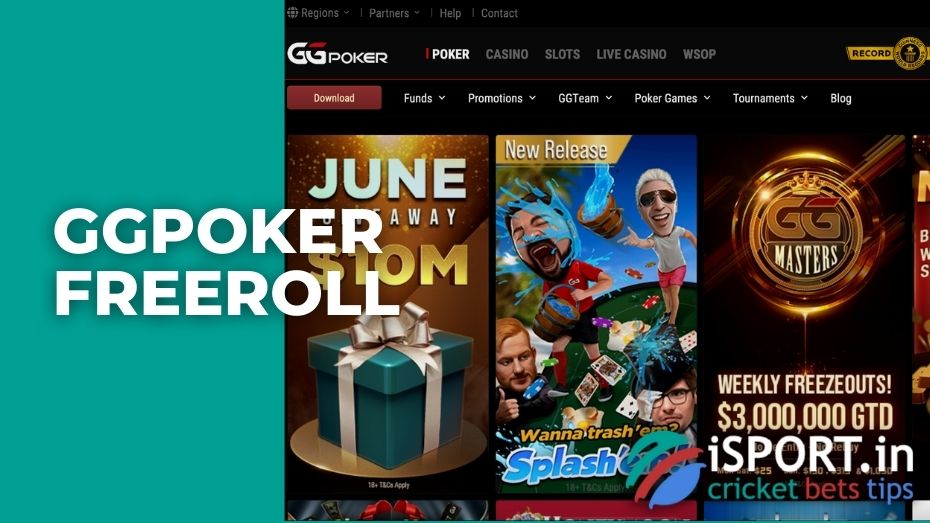 GGPoker is one of the flagship poker rooms with a huge number of visitors worldwide. Large streams of players visit the official website every day to play their favorite games for real money. Find GGPoker freeroll published by the platform, receive exciting prizes, generous bonuses and promo codes. During its existence, the site has won awards and hundreds of positive reviews from bettors. The quality of this licensed poker room speaks for itself.
In the proposed article you can find out: how GGPoker freeroll works as a type of loyalty program, where to find freerolls and how to apply them. We recommend reading the article in full.
GGPoker freeroll as a type of loyalty program
Every poker client wants to start with a win and get a good amount of money. But not every beginner has enough courage or readiness for a tournament game. The site would not be so famous if it did not provide special privileges for new customers and for regular users. GGPoker freeroll as a type of loyalty program, in which players receive bonuses and promo codes, can be confidently attributed to such a privilege.
The loyalty program has an intriguing name on the official website − Fish Buffet. The rules of which provide for 8 different levels, each still consists of its own sublevel with types of interesting awards that are assigned for gaming activity on the site. The program has an interesting structure and is made in the form of various inhabitants of the ocean environment, starting from plankton and ending with a shark (the highest level of available bonus).
Such an approach as getting pleasant bonuses available as the level progresses will certainly interest many bettors and will contribute to the desire to reach the bonus top. Next, let's take a closer look at GGPoker freeroll. After all, freerolls are simple and fun poker tournaments, in which any registered user can participate!
GGPoker freeroll: types
Freerolls are great. They are free, and the user has a chance to earn real money without spending anything but his time on it. There are a lot of hold'em freerolls on GGPoker every day, in the freebie format. GGPoker freeroll types:
guaranteed cash fund for playing at the tables;
tournament cache;
tickets to larger tournament events;
prizes from the collaboration room.
Freerolls on GGPoker are classified into two types:
Any bettor verified on the site will be able to participate in these events, which interests a large number of players. The prize pool of such events is not very large, while the competition on the contrary is great.
It will ask the player for a reason to enter, allowing them to take part in limited events with special features. As invitations, it is allowed to present subscriptions to the social networks of the poker room, the presence of a mobile application promoted by the site, to register through an affiliate. In this case, we are talking about impressive prize money with reduced competition.
GGPoker offers freerolls where people can play for free. This is a place where inexperienced players can learn the basics of the game. This opportunity cannot be missed, so hurry up to increase your bankroll for further gaming events.
GGPoker freeroll: where to find
In this subtitle we will tell GGPoker freeroll where to look for the current list. The freerolls available on the site can be found in the main lobby, following these instructions:
Visit your own poker room profile.
Open the Tournaments section in the main lobby.
Sort the standings by clicking on Buy−in, so that free tournaments appear at the top of the list.
Decide on the available option and register as a participant in this event.
If the tournament turns out to be a closed type, you must enter your login details (password/ticket).
Wait for the tournament to start. The platform will automatically redirect you to the table.
It should also be borne in mind that the site offers a convenient and constantly updated schedule of GGPoker freeroll, which contains tournaments for those who have made a deposit, satellites, freerolls with conditions. This, in turn, will help save valuable time spent searching for the right event.
GGPoker freeroll: passwords
It happens that a punter is interested in participating in a closed freeroll, but where can you find GGPoker freeroll passwords to access events of this kind? In order to discover the required character sets and get private access to freerolls, it is necessary:
Visit the official GGPoker page, where passwords are often published in honor of holidays and other socially important dates.
Subscribe for free to the available social networks of the poker room. They periodically publish free passwords for GGPoker freeroll closed types.
Subscribe to the platform's newsletter. Sometimes written notifications will be sent to the players' e-mail, which will contain the cherished character sets or tickets to closed events.
You can be sure that GGPoker freeroll is 100% real and there are no hidden tricks in them. This is a place where you can practice the game, play with the best and go champion. And if you want to earn money at the same time, then you are guaranteed to have come to the right place.