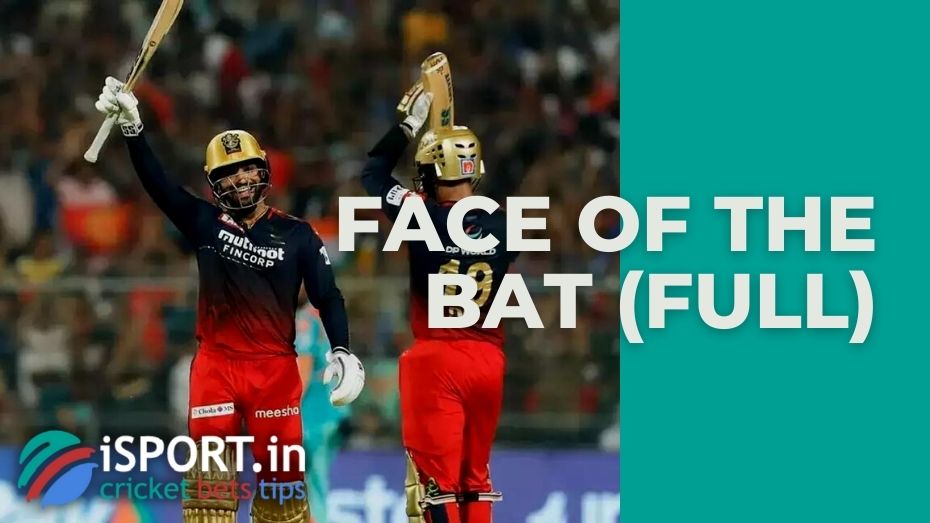 Bat in cricket is a special tool with which batsmen hit balls. Bat consists of 2 elements: a handle and a breaking part (one side is flat, the second is convex in the form of a triangle). The maximum bat length can be 38 inches, and the width is 4.25 inches. According to the Laws of Cricket, since 1979, bats are made only from wood.
What is the face of the bat? It is logical to assume that players hit balls with the flat part of the bat in cricket. It is this side that is called as face of the bat. Most often, the logo of the bat manufacturer is drawn on it. In cricket, they say: if the bowler served the ball towards the bat so that the central part of the face hit the ball, then the batsman met face to face with the bat.
Did you know that some organizations made cricket bats that were not the right size? So, as of November 2020, the Guinness World Records indicates that the largest size of the bat is 51.27 feet (15.62 meters). Such a tool was made by the Indian company Classic Mall Development Company (engaged in the sale of real estate).
Other cases of large bits are also recorded:
A synthetic bat with a height of 100 feet and a width of 10 feet is installed at the cricket stadium in the Indian city of Vijayawada;
The company LEMU Soft Drinks from Bangladesh demonstrated in 2007 a bat with a length of 70 feet and a width of 8 feet. Thus, the company wished good luck to its national team at the Cricket World Cup;
LG Electronics in 2003 introduced a bat with dimensions of 52 by 6.6 feet (in fact, they are all larger than the one listed in the Guinness World Records, but this is not officially recognized).
By the way, the bats were not always of this shape. Until the XVIII century, they looked more like a modern hockey stick.
You can bet on your favorite team with Betonline promo code.