BetAndYou Refer a Friend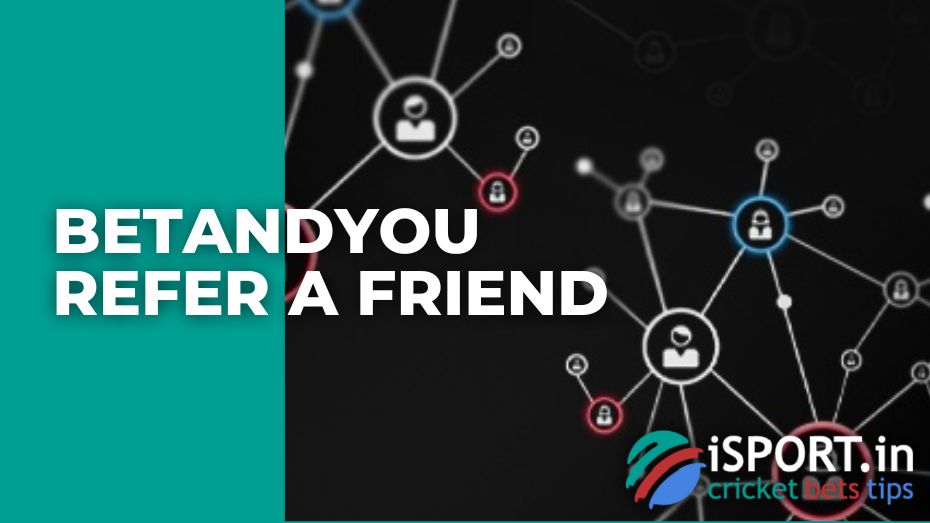 Take part in the BetAndYou Refer a Friend loyalty program. Invite your friends to the online platform using a unique referral link, and receive income up to 15% weekly. We disclose all the details in our note.
BetAndYou Refer a Friend: terms of the promotion
The essence of the BetAndYou Refer a Friend is that the site's customers are invited to have additional income from the company by simply inviting their friends or acquaintances to the virtual BM platform. You can receive 15% of BetAndYou's net profit as much as possible, and the funds will be credited within 14 days.
How does the event work? Let's say you invite your friend to register on the website of the BetAndYou office. You will be provided with a personal referral link. Your friend registers on it, and you receive income from his every contribution of funds to the account and bets made.
You can create a multi-level system to get even more money. If your friend brings his friends, and they bring their own, you will get even more! There are 4 levels in total:
Level 1 – the company's net profit income is 15%.
Level 2 – the company's net profit income is 8%.
Level 3 – the company's net profit income is 5%.
Level 4 – the company's net profit income is 2%.
According to the organizers, users' profit is calculated every day every 60 minutes. Withdrawal of funds earned in one day is available after 14 days. You can accumulate them to withdraw a more substantial amount later.
It is important to consider that if the balance of your affiliate program is negative, then you can withdraw funds only when it becomes positive.
BetAndYou Refer a Friend: how the procedure goes
We have prepared detailed instructions for you, in which we will tell you how to participate in the loyalty program from BetAndYou Refer a Friend:
To participate in this program, you must have filled in all the data on the company's website, and the first deposit must also be made.
Log in to the BetAndYou bookmaker's account.
Find a personal referral link and copy it.
Share the link wherever possible: forward it to your friends and acquaintances, specify it in your social network profile, blog, forum, work chat, and so on.
Wait for someone to register using your link and start betting.
As soon as this happens, income will appear on your profile.
To make your friends more willing to make a deal, you can promote them with a welcome bonus from BetAndYou. If you specify a unique promo code – isport when registering in the questionnaire, you can receive a monetary reward of up to 143 euros.
BetAndYou Refer a Friend: important rules
Before participating in the BetAndYou Refer a Friend action, read the basic rules of the offer carefully:
The income from your friends' stakes will go to your piggy bank if they are made at the expense of real funds from the main balance. Also, bets on sports events will be counted only.
If your level 1 referral did not bring you profit, then you can refuse it.
It is not allowed to advertise under the name of the company BetAndYou.
The use of cookie stuffing techniques is prohibited.
The user cannot register again on the bookie's website using a referral link as a sub-partner.
Please contact the company's support service if you have any additional questions.
BetAndYou Refer a Friend: FAQ
How long will the BetAndYou Refer a Friend promo last?
How many friends can you invite as much as possible for the BetAndYou Refer a Friend promotion?
How much is the maximum percentage of income in the BetAndYou Refer a Friend promotion?